Chelsea Houska's New Boyfriend Is So Good For Her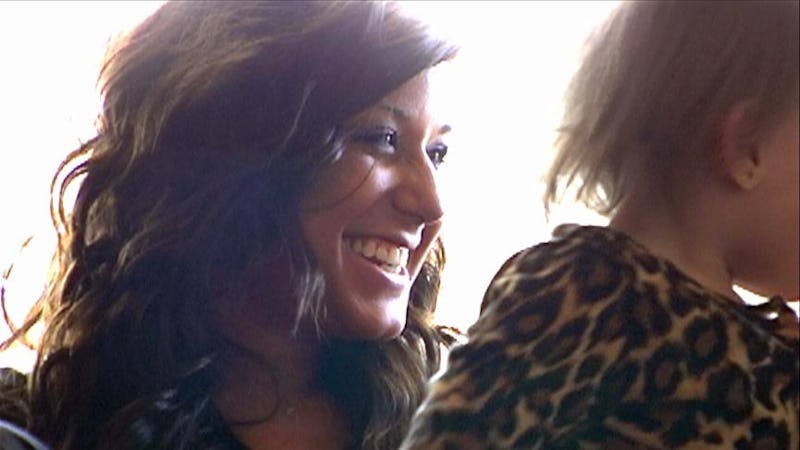 Chelsea Houska was always a little unlucky in love on Teen Mom 2. Her ex, and the father of her daughter Aubree, Adam Lind, was never a good match for her and has gotten himself into nonstop trouble since they split. But, now, it seems like Teen Mom 2 star Chelsea's new boyfriend Cole DeBoer is a much better match for her.
Even though Chelsea and Cole have been dating for about a year already, they've just recently decided to make their relationship public, in an interview with US Magazine. And, they told the story of how they met, which I'm positive will be adapted into a romantic comedy... they went from meet-cute to an online connection.
Houska describes their meeting to Us Weekly at a gas station: "We didn't even talk. We just kept looking at each other because we're both shy. And then we were passing each other when we left because we lived out towards the same way." She though that they'd never see one another again, but for once, I bet she was excited to be a celebrity — because DeBoer was able to recognize and contact her via social media in order to ask her out. Not only is this super adorable, but it also proves that their connection really was mutual. I think this relationship actually has a chance to succeed, and here's why.
1. DeBoer Is A Self-Sufficient Outdoorsman
Compared to Adam, who had trouble nailing down a job and staying responsible for the past five years of fatherhood, Cole is an ice fisherman. Professionalism for the win!
2. They Adopted A Pig Together
Since Chelsea and Cole are taking it slow, they haven't make any huge commitments to one another yet. But recently, Cole posted this photo of their brand new pet pig — painfully cute!
3. They're Not Afraid To Be Goofballs Together
Willing to post the awkward photo? That means you just might last.
4. He's Got An Artistic Side
OK, pumpkin carving doesn't quite make you Picasso, but I admire a guy who can be both tough and also channel his inner arts & crafts camp counselor.
5. They're Just Moving In Together Now
Again, the thing that really bodes well for this relationship is that they're taking it slowly. They dated for a year before planning to move in together, Houska told US Weekly.
6. He's In Amazing Shape
What?! Like Chelsea doesn't deserve a solid guy who also happens to be super cute? I'm all for it.
7. Aubree Likes Him
And, in the end, that's what really matters. Although I'm pretty sure Aubree's handwriting isn't quite that neat yet, I'm sure her mom wouldn't express the sentiment for her daughter if it wasn't true. Cole DeBoer seems like a good guy — and Chelsea deserves just that.
Images: MTV