10 Vegan Thanksgiving Side Dishes You Will Love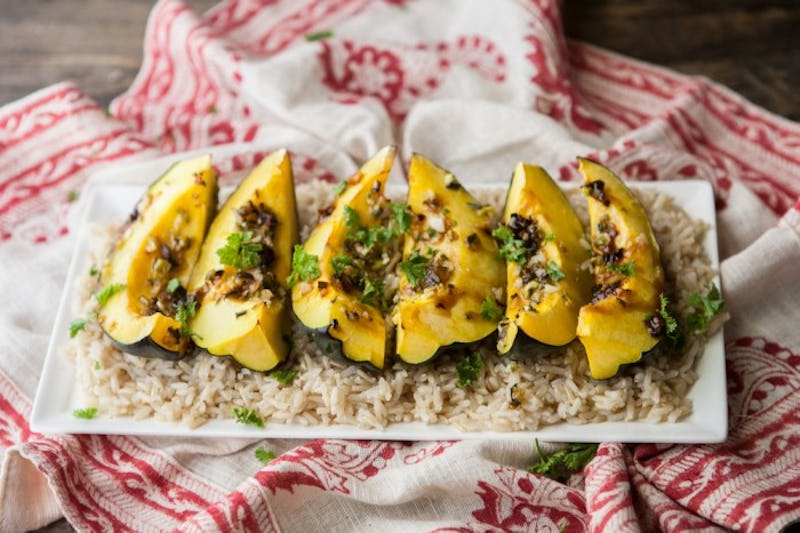 On the traditional Thanksgiving table, you'll find a turkey and a smorgasbord of side dishes that call for entire sticks of butter. But for those who don't partake of animal products, preparing for Thanksgiving can require an extra helping of creativity. These vegan Thanksgiving side dishes are ones that everyone can enjoy, because it never hurts to take a break from the butter.
According to a Harris Interactive study, almost eight million people in the United States are vegan. And vegans, just like anyone else, like to eat delicious food. I wager that most people do not choose to go vegan because of a general apathy toward eating in general. So, rather than inviting your guests' schoolyard comparisons to a real, fresh Butterball turkey by going the imitation meat route (let's be real, tofurkey and fake-on don't taste that wonderful to begin with), check out these deliciously original recipes that just happen to abstain from all things animal-related.
Sometimes, when people hear the words "vegan food," they picture molded tofu and waxy imitation cheeses, which certainly doesn't paint a complete picture of vegan cuisine. It sounds obvious, but, for the purpose of a dinner party, it helps a ton that all vegetables are vegan. Simple things you can do with vegetables and olive oil alone are not only healthy, but also are ubiquitous. Veggies, legumes, squash and seeds are already frequently served side by side with non-vegan items, so they are low-key vegan, as the youth might say.
I do recommend that omnivorous readers not knock vegan nachos until you've tried them though, and this is coming from a Southern person, so you can trust me.
1. Coconut Creamed Spinach
I've recently become obsessed with all things coconut milk. It is an amazing replacement for non-vegan creamy ingredients like cheese, mayonnaise, and heavy cream, plus it's about a million times healthier. This modern take on traditional creamed spinach will surprise and impress your omnivorous audience. Head over to Love & Lemons for the treasure map to Spinachland.
2. Lebanese Bean Salad
Tell me that rainbow of colors doesn't make you want to rush right out and buy all the ingredients for this Lebanese salad with lemon and parsley. It's protein-rich, full of antioxidants, and it doesn't scream "rigid, disciplined diet" to anyone. And if your guests are looking for relief from the conveyor belt of butter and cream, this can be the first stop on the healthy train. Cookie + Kate has the details.
3. Honey-Jalapeño Roasted Acorn Squash
This one might start a wee bit of a debate, since the jury is apparently still out on whether honey is vegan or not (honey is produced by bees). Some disagree with honey being lumped in with the likes of chicken and cheese, but, either way the hive buzzes, there are bee-free vegan honeys out there, so get on board with this delicious roasted acorn squash recipe brought to you by the healthy food wiz Naturally Ella.
4. Roasted Fingerling Potatoes & Brussels Sprouts
No debate here — potatoes, Brussels sprouts, herbs, spices, and olive oil are all very much vegan. So are Oreos, so if you weren't convinced about vegan food before, now you have no excuse. Get on board. Plus, roasted veggies are on loads of non-vegan people's Thanksgiving menus anyway, so really, as the vegan friend, you're being a real team player by whipping up this ridiculously simple and delicious dish. Head over to Oh She Glows for the instructions, if you need 'em.
5. Pumpkin Hummus
Pumpkin spice hummus?! This sounds like a college girl's dream snack. Hummus has the added benefit of being scarily easy to make. My friend, who makes the best homemade hummus, will just roll up to a dinner party with the ingredients and throw it together in seconds, though if you're starting this recipe from scratch with a real pumpkin, it will take a little extra effort. Check out the recipe at Naturally Ella.
6. Butternut Squash & Leek Risotto
Risotto is a great cold weather dish to begin with, and once you add butternut squash and leeks, you're channeling fall on all cylinders. This risotto would also work well as a quick dinner all by itself. Love & Lemons can teach you how to make it.
7. Thai Curried Butternut Squash Soup
It's the revenge of the butternut squash! This time, the orange ambassador of fall cuisine is coming at you in soup form with some added kick from Thai curry paste and the creamy swirl of a coconut milk garnish. Don't forget the cilantro and coconut flakes on top for that pop of color. Find the complete recipe at Cookie + Kate.
8. Mashed Cauliflower
I've had this once, and it is like traditional mashed potatoes but better and healthier. The intersection of those two phenomena is pretty weird in the food universe, but, alas it's true. There are actually a couple of potatoes in this recipe, but there's zero butter, which will reduce your food coma time by at least eight minutes. This wizardry is brought to you by Love & Lemons.
9. Crispy Smashed Potatoes
These bites of goodness look fantastic, and are topped with a vegan avocado garlic aioli. Aioli is having a moment right now. Like, it's everywhere on everything. So the existence of a healthy alternative is music to my ears. Plus, who doesn't love a good, crispy potato? Oh She Glows has the details.
10. Impressive Stuffed Squash With Farro & Cranberries
These gorgeous, individually sized stuffed squash creations are great as a side, or as a main course. The roasted squash are loaded up with a mixture of mushrooms, farro, and more, flavored with soy sauce and sautéed to perfection. This savory fall dish is a creative and simple solution to the no-turkey table. Find the recipe at The Kitchn.
For more Thanksgiving ideas, check out Bustle on YouTube.
Images: Love & Lemons (3); Cookie + Kate (2); Naturally Ella (2); Oh She Glows (2); The Kitchn