Carly Rae Jepsen's Christmas Song Is Perfection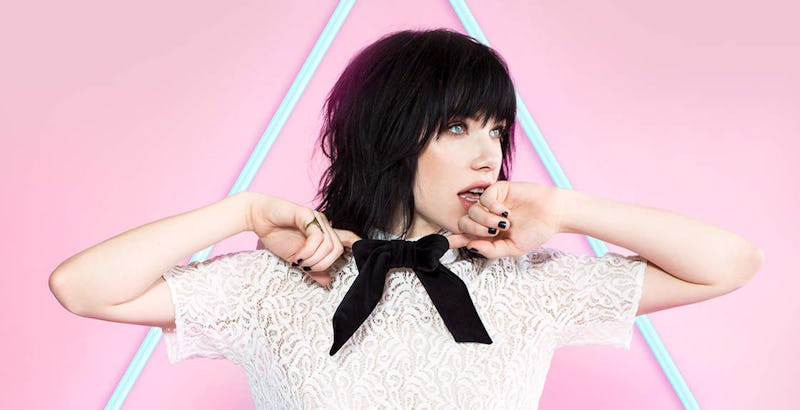 When Carly Rae Jepsen tweeted that she was heading back into the studio on Monday, she sent her fans into a tizzy. "What is she working on? What's it for? And when will we get to hear it??" we wondered/screamed with alarming intensity. Now, all has been made clear: she was recording a Christmas song, of course! And not just any Christmas song: Carly Rae Jepsen covered Wham!'s 1984 classic, "Last Christmas" — and believe it or not, it's even better than the original. "No way," you're thinking. "That's impossible. Wham!'s version is untouchable!" Well, I don't know how else to put this, but... you're wrong. (Just kidding! Everyone's entitled to his or her own opinion, etc. etc.)
"Last Christmas" was the perfect song choice for Jepsen because it's super pop, super emotional, and super '80s. I mean, c'mon, that describes the majority of the tracks on the "Call Me Maybe" singer's latest album, EMOTION! This was a match made in pop music heaven. Jepsen's version is superior to Wham!'s for two key reasons: it's about a minute shorter (it clocks in at three minutes and 30 seconds — the perfect running time for a pop song), and it's chock full of jazzy '80s sax. (I can't get enough jazzy '80s sax, so... that really sealed the deal for me.) Check out Jepsen's superior take on "Last Christmas" below.
Christmas songs are fun and all, but I'm kinda sorta hoping Jepsen spends a little more time in the studio over the holidays. Wouldn't it be incredimazing if she recorded four or five new songs to throw onto an EMOTION re-release at some point in the near future? I'll answer for you: "Yes, that would be incredimazing. I would buy, like, 6,000 copies!" Ha, you're so funny! I completely agree. More new music from CRJ is definitely near the top of my Christmas list this year. Hopefully, she'll make my wish come true.
"Last Christmas" is available on iTunes now.
Image: School Boy/Interscope Records