7 Outfits To Show Your 'Mockingjay' Spirit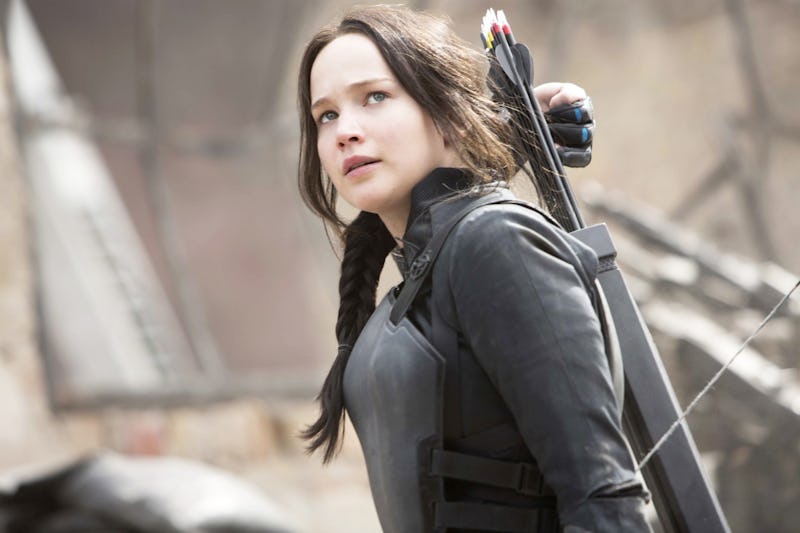 Friday evening has a different definition for everyone. For some, this translates to a night-in armed with Netflix and takeout — for others, it's about bar-hopping and restaurants carefully researched on Yelp. But, for film fanatics and J. Law worshippers, Friday evening means popcorn and flicks. The final Hunger Games installment, Mockingjay, Part 2, hits theaters Nov. 20. Audiences are about to embark on one last trip to Panem, but the question is: what to wear?
For a universe filled with strife and corruption, the Hunger Games franchise is remarkably fashion-forward. The style formula for dystopian films is rather predictable: a monochromatic color scheme of grays and blacks, triple the leather, and heavy on the draping. However, the Hunger Games contests all of these notions — fashion is not just restricted to dull black-on-black ensembles, but extends far into couture-worthy masterpieces.
Case in point? Effie's style affair with Alexander McQueen, where her vibrant confection is anything but ordinary. Meanwhile, Catching Fire had a melting pot of contributors — costume designer Trish Summerville recruited the talents of Nicholas K and Juun J to craft the magnificent wardrobe. I mean, how could anyone forget about Katniss Everdeen's flaming gown?
To celebrate the release of Mockingjay, Part 2, here's how to steal style inspiration from your beloved Hunger Games characters. Get ready to take part in the revolution.
1. Requim In Denim
I'm going to be honest here: I never thought a denim playsuit was achievable until Katniss Everdeen proved me wrong. It's casual and polished without straying into utilitarian territory. The leather belt is a chic touch that also adds structure to the silhouette. A double whammy!
ASOS Denim Jumpsuit, $63, asos.com
2. Bridal Party
If Katniss didn't convince you to start wedding prep early — early as in, years early — than you're doing it wrong. There's nothing wrong with dreaming about your future wedding gown after all, especially when Katniss radiates human perfection in this extravagant number. But until those wedding bells ring, settle with an elegant white frock, appropiate for a gala event or birthday celebration.
ASOS Petite Red Carpet Leaf Dress, $323, asos.com
3. Keeping Up With Katniss And The Knits
Even when Katniss abandons the heels and gowns, she still manages to look put-together. Staying cozy and toasty this season is all about embracing the knitted scarves and lace-up boots.
ASOS Chunky Knit Scarf, $54, asos.com
4. Butterfly Effect
Of course, no Hunger Games fashion recap is truly complete without an Effie Trinket appearance. When it comes to imitating the Effie essence in real life, the secret is in the unique flair. Rock your own Effie-approved ensemble with a butterfly print dress.
ASOS Butterfly Skater Dress, $48, asos.com
5. (A Peeta) In White
Josh Hutcherson in an all-white tuxedo? Yes, please— it's sleek, sophisticated, and easy to whip up. Start with a crisp white blazer, then pair with a collared blouser and pants. And just to represent your Mockingjay pride, incorporate a pop of red somewhere.
ASOS Tuxedo Cape, $90, asos.com
6. Roses Are Red
Channeling the Girl on Fire begins with a show-stopping number: the red hot, one-shouldered dress. But you can't cut corners and go for a safe burgundy — it's all about the flaming red.
ASOS Red Carpet Illusion Dress, $323, asos.com
7. Bows Of Glory
Dystopian chic is no longer a mysterious concept of the past. Pay tribute to Katniss and prepare to enter the battlefield with a structured jacket — emphasis on the gray and black.
ASOS Structured Biker Jacket, $82, asos.com
Images: Lionsgate (8), Courtesy Brands