The Women of Hollywood Have A Lot To Say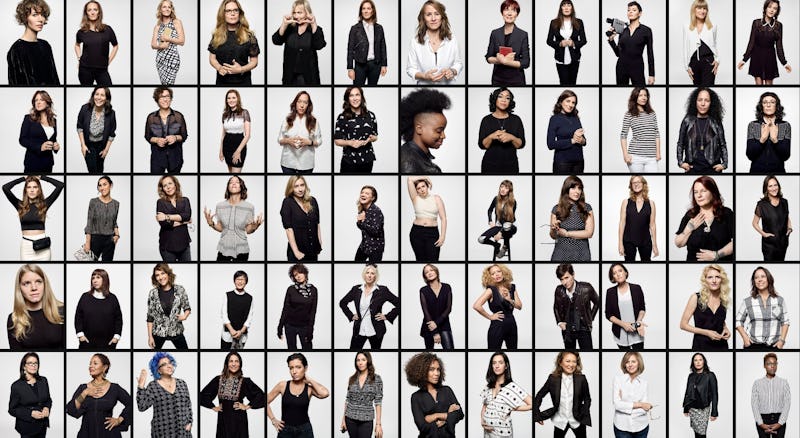 In this week's issue of The New York Times Magazine there is a spectacular article on women in Hollywood, but you won't see the familiar faces that walk the red carpet during award season. This isn't another article where get an actors take on the gender gap in the film industry. This is an in depth conversation with the ladies behind the scenes — the producers, executives and directors who are fighting to work in a field that is frustratingly and continually dominated by men.
The article includes dozens of women and they all had important, enlightening opinions on the current state of the industry. It's easy enough to acknowledge that there is a problem when only three major studio films released last year where directed by women and a federal investigation into the issue is well under way, but it's a different and incredible thing to talk to the women who are trying to fix the gap.
Written by the reliably awesome Maureen Dowd, the article talks to established female directors like Catherine Hardwicke, Lisa Cholodenko, and Geena Davis as well as directors of indie darlings like Leslye Headland and Gillian Robespierre. There are so many great points made in the piece and it's well worth reading in its entirety, but here are 11 of the most powerful quotes to takeaway.
1. From Gina Prince-Bythewood, writer/director/producer
"Last year there was only 7 percent of us making movies that fell into the top 250. That means 93 percent of movies, even with a female protagonist, were from a male point of view, and that is really scary because films really can shape how you think about things, and thus shape your view of women."
2. From Gillian Robespierre, writer/director/producer
"Hollywood just needs to catch up, be more radical about who runs the ship— Everything is so similar and so vanilla."
3. From Jill Soloway, writer/director/producer
"I'm always proselytizing to women, 'You know how to do this.' It's almost so simple. I feel like Dorothy. I had the ruby slippers all along. Men may not be doing it on purpose, but they are doing it on purpose. If they were able to see how the production of these things that they like perpetuates their privilege. You have to grab it from the, you have to grab the means of production, grab it out of their hands. You have to wrestle it away."
4. From Lucy Fisher, producer
"I used to assume that Hollywood would let anyone who could make them money get behind the wheel. But now I think that there is a deep-seated aversion to letting women drive."
5. From Lena Dunham, writer/director/producer/actress
"The thing that's so hard is, most of the female directors I know are spending a significant amount of their lives waiting around."
6. From Maryam Keshavarz, writer/director/producer
"Male directors are plucked out of Sundance after directing one feature and immediately given big-budget projects. Women have to wait and see how their films do at the box office to see if funding their second film is financially sound. Why this double standard? Because the industry is banking on developing male directors' careers."
7. From Marielle Heller, writer/director
"I think somehow we became convinced it's more about technology than about being human, and that's just not true. I think the male power structure needed to perpetuate the idea that there's some secret language that we don't know or some reason why we are not capable of doing this job—when the truth of the matter is, what you need to do this job, women are really good at."
8. From Patricia Riggen, director/producer
"The idea that women don't like each other or undermine or sabotage each other is a big myth. It is not true at all. Smart women connect with each other instantly and help each other."
9. From Leslye Headland, writer/director
"Maybe even to the great men, a woman directing is like a dog playing the piano: at best, a novelty or fad; at worst, an aberration."
10. From Callie Khouri, writer/director/producer
"At some point, it just becomes impossible to deny that there is a bias against women in this industry. The numbers support no other conclusion. And Hollywood is one of the last places on Earth you'll find a thriving meritocracy."
11. From Nancy Meyers, writer/director/producer
"When I made 'The Parent Trap' in 1998, they told me girls will go to movies about boys but boys will not go to movies about girls. And I think that might have been true back then. But 'Frozen' changed all that. And I'm hoping if little boy can change, maybe big boys can change."
Images: Getty