The 'Pretty Little Liars' Scattered For College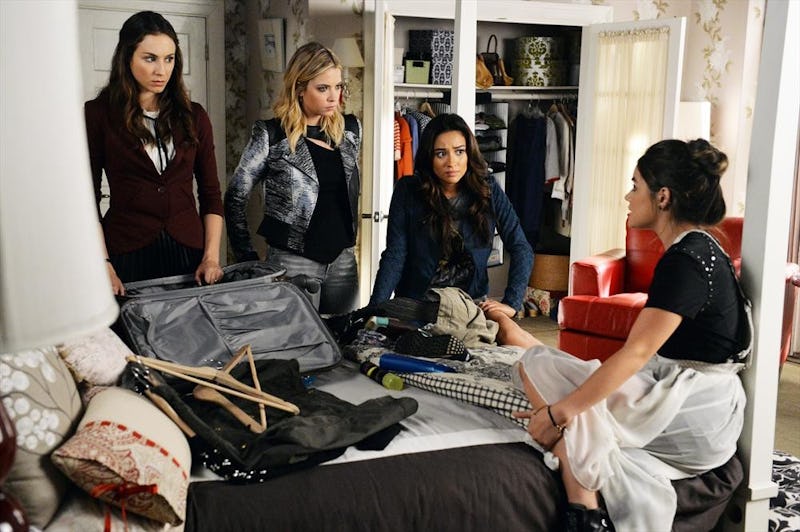 There have always been countless mysteries on Pretty Little Liars — ranging from A's true identity to who attacked Ali with a rock to just how many ruffled yellow tank tops exist in Rosewood. (I'm still waiting for an answer on that last one.) But another question that was constantly on my mind was, "how many years does high school last in Rosewood?" For a while, it seemed like Aria, Emily, Hanna, and Spencer would be students at Rosewood High for the rest of their lives. But, in the Season 6A finale the Liars headed off to college.
Although time jumps can be tricky to pull off, I think showrunners made the right decision in this case. Aria, Emily, Hanna, and Spencer all have vastly different interests and goals that should be pursued at the right schools — and there's really no college that would have been a good fit for all four girls. Plus, it was definitely time for all of them to leave Rosewood and have a clean slate.
Before they left to start the next chapters of their lives, Spencer provided the best parting words ever (courtesy of Winnie the Pooh): "How lucky I am to have something that makes saying goodbye so hard." When Season 6B kicks off, the Liars will be recent college grads who are busy building their careers. Although we won't see their college years on screen, I'm sure they'll be influential in shaping the Liars' identities. So, where did they go to college? Here are the institutions that were lucky enough to have them:
Spencer — Georgetown University
Charlotte may have foiled Spencer's plans to attend University of Pennsylvania, but it's no surprise that our resident brainiac landed on her feet and headed off to one of the top universities in the country. Troian Bellisario recently told People that Spencer spent a semester studying at Oxford University during undergrad and she's living in Washington, D.C. working in politics when Season 6B kicks off. Georgetown has a strong Government program, and politics seems like an obvious career path for Spencer. (I would never want to face off with her in a debate.)
Aria — Savannah College Of Art & Design
Aria headed south to attend Savannah College of Art & Design. Since it's primarily an arts college, many of us expected that Aria would study photography — after all, she's immensely talented and it became her creative outlet as she coped with the aftermath of her kidnapping. However, the time jump preview shows that Aria is working in book publishing after graduation. So, does that mean she transferred? Not necessarily. SCAD has a strong writing program so it seems likely that Aria studied writing, and perhaps minored in Photography or simply pursued it as a hobby rather than a career path.
Emily — Pepperdine University
Em headed to sunny California with a trunk full of flip-flops to attend Pepperdine University. In the Season 6B promo, she expresses that college wasn't what she thought it would be, before stashing her graduation picture out of sight. Pepperdine is considered to be one of the most conservative colleges in the country, which could explain why it wasn't an amazing fit for Emily.
Hanna — Fashion Institute Of Technology (Probably)
Although Hanna's college wasn't specified, she was headed to New York City with Caleb and she's working in the fashion industry after the time jump. She expressed an interest in the Fashion Institute of Technology earlier in the series, and it seems like a natural fit for her. FIT offers programs focusing on everything from design to entrepreneurship to marketing, so it would be the perfect place for Hanna to explore her options within the field. I picture her working in a fashion PR role, but I could be wrong. (Kind of like I was wrong about Wren being A.)
I hope the Liars made the most of their college years — because it looks like they're about to be thrown into a whole new nightmare. These girls cannot catch a break.
Images: Eric McCandless/ABC Family; Giphy (4)