This Is Where To Buy A Coat On Black Friday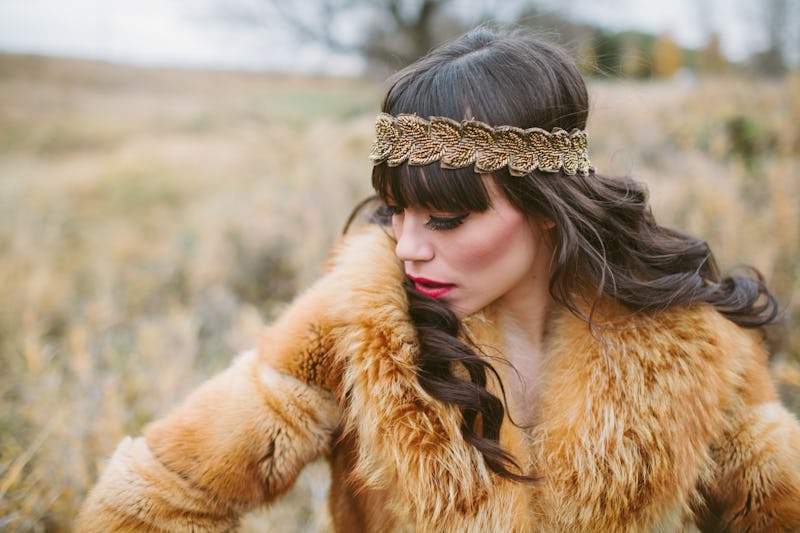 While Thanksgiving weekend is arguably about leftovers, movie marathons and long overdue get-togethers, I'd be totally lying if I didn't say that Black Friday deals are one of the best things to come out of the holiday weekend. OK, so maybe strictly planning a shopping game plan takes some serious work, but some Black Friday steals are so good, they are totally worth waiting up all night for. And while the crowds and overall madness surrounding the weekend can be ultimately discouraging, hitting big on Black Friday is possible, if you know exactly what items to look for of course.
Take coats and outerwear for example. While you could wait till Monday to check out online deals, some stores are rolling out offers for Friday only that you'll definitely want to take advantage of. But if long lines really aren't your thing, hitting the Internet to find amazing deals is definitely a viable option, being that some Friday deals easily rival that of Cyber Monday.
So, whether you plan to wait in line at the stores or score some deals in your pajamas, here are the best Black Friday deals on coats and outerwear to save you time and money.
1. Boohoo
Whether you are looking for a leather jacket or some faux fur pieces, expect a whopping 40 percent off the entire Boohoo site through the whole weekend.
2. Desigual
On Thanksgiving and Black Friday, score up some Desigual outwear deals thanks to a special 40 percent discount, available at season stores and online.
3. Armani Exchange
While you can expect to see up to 50 percent off site-wide on Cyber Monday, there's some 50 percent items (including chic jackets!) you can grab all weekend.
4. Gypsy05
This Southern California-based brand is letting shoppers enjoy ​30 percent off (check out some light jackets and outerwear sweaters) ​the ​entire site using the promo code​ ​BohoHoliday.
5. Porte Mode
From Thursday through Monday, enjoy 30 percent off all regular priced items (excluding made to order items & Cmplt Unkwn Handbags). Just be sure to use the discount code PMTHANKS30 at checkout.
6. Old Navy
On Thursday and Friday, enjoy 50 percent off the entire Old Navy store. Doors open at 4 p.m. on Thursday, and will remain open until midnight on Black Friday. And if you are looking for deals continuing into the weekend, know that 40 percent off the entire store will remain on the Saturday after Black Friday.
7. Aeropostale
The Aeropostale brand is giving away free clothing for a year to ten lucky shoppers and five of their friends on Black Friday.
8. LuLu*s
Black Friday deals start Monday Nov. 23 and runs through Sunday Nov. 29 for Lulu*s. But if you really want to score big, LuLu*s has created a VIP program that will give customers exclusive early access to Black Friday sales.
This includes site-wide savings up to 90 percent off. By signing up to be a VIP, customers can shop the sale before anyone else. In addition, customers will also receive additional savings on top of Black Friday markdowns.
9. Macy's
If you are a fan of door-buster deals, Macy's is offering a special 60 percent off of women's wool and down coats from 6 p.m. Thursday, through 1 p.m. Black Friday. The deal also continues Saturday from 8 a.m. to 1 p.m.
10. ModCloth
Including coats and outerwear, ModCloth's Black Friday sale is up to 40 percent off new and favorite styles.
11. Pretty Attitude
Offering a unique selection of apparel, enjoy 30 percent off site-wide from Thursday to Sunday. Be sure to use code THANKS30 at checkout.
12. Forever 21
Perfect for those seeking the best jacket deals, enjoy up to 50 percent off outerwear and sweaters.
13. Free Country
From Wednesday through Monday, prices will be reduced site-wide up to 75 percent off. Also boasting door-buster deals, pieces like down jackets, fleece and soft-shell jackets will be available for amazing prices.
14. Kora Rae
Using the code BLACKFRIDAY at checkout, expect to get 40 percent off select Kora Rae site-wide. Sale ends Saturday at midnight.
Happy shopping!
Images: Nathan Walker/Unsplash