'Crazy Ex-Girlfriend' Deserves Another Season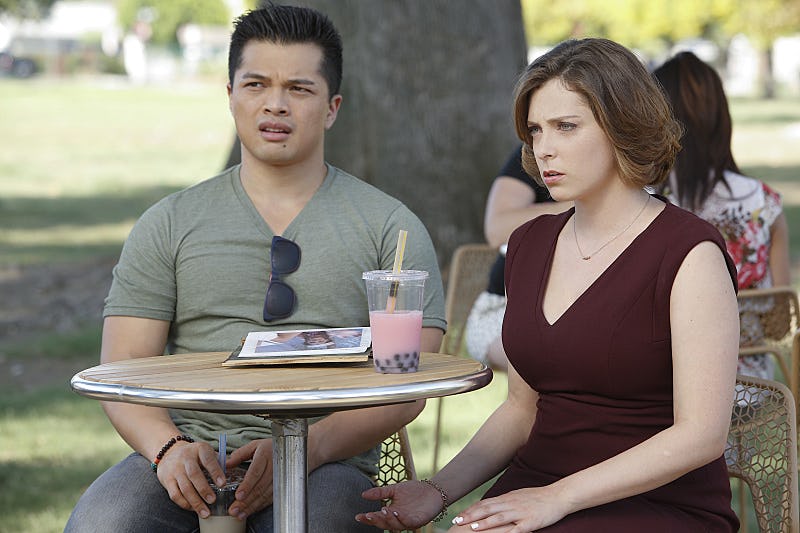 It's that nerve-wracking time of year, when all the beautiful new shows TV networks gifted us with in September are up for cancellation or renewal. There's nothing worse than when a show you're completely in love with isn't doing great in the ratings, and it looks as though it might not make it to Season 2. Unfortunately, that's exactly what I'm going through right now as I try to figure out if Crazy Ex-Girlfriend will be cancelled by The CW, or live to see another season.
Not only is the series unusual, it's totally cute, and has made some of the funniest pop culture references of all time ("We have a Sam and Diane thing going on, except it's unpleasant and unsexy"). Somehow, despite some of the best performances on television, Crazy Ex-Girlfriend has low ratings, as TVBytheNumbers has shown it consistently coming in tenth place on Monday nights. E! even said "it seems like the CW will break-up with the musical dramedy after its first season run." For a show that Vanity Fair called "wickedly funny" and "unlike anything else on TV," this is devastating news. And for those of us who have quickly gotten hooked on the antics of Rebecca Bunch, it's basically the end of the world.
Obviously, it's too early to tell if Crazy Ex-Girlfriend will be cancelled, but with ratings holding steady at 0.3, which is less than Jane the Virgin was averaging last year, things aren't too promising for another season of what's proven to be a truly feminist gem. Still, the ratings aren't dire, and like Rebecca's pursuit of Josh, we shouldn't give up just yet. Here are nine reasons why Crazy Ex-Girlfriend deserves a second season.
1. Career-Based Compliments
Instead of the stereotypical compliments revolving around looks alone, the object of Rebecca Bunch's affections continually compliments the fact that she's super successful, brilliant, and kickass! It's a feminist vision of the rom-com, and I couldn't be more ready for this brand of romance. More please!
2. It's Filthy!
There's nothing I love more than a shockingly rude punchline, particularly when it's delivered in song, which makes it even more unexpected! You go, Rebecca Bunch!
3. It Understands Pop Culture
Crazy Ex-Girlfriend really understands pop culture and how to make a spot-on movie reference.
4. Like, Really Understands Pop Culture
Look! A "Team Jennifer" reference! How awesome is that?!
5. And Body Positivity
Feminist through and through, Crazy Ex-Girlfriend is never not body positive. Even in its innate sarcasm, its characters deliver brutal societal truths.
6. Rebecca Has A Relatable Need To Be Liked
The show is super insightful in so many ways, especially in its understanding of the common urge to be liked. Many people want to feel like we do good things (I certainly do), but often this desire gets jumbled up into wanting other to think you're good. The show examines this contradiction constantly.
7. The Perect Use Of Sarcastic Laughter
Nothing more genuine than that, is there?
8. It's Co-Created By Aline Brosh McKenna
Only the genius screenwriter behind 27 Dresses , The Devil Wear Prada, and Morning Glory!
9. Crazy Ex-Girlfriend Simply Can't Get Cancelled!
Maybe the public just needs a little more time to realize this show exists, because to see it is to love it. From its hilarious hip hop parodies, to its dissemination of the female role in the romantic comedy, Crazy Ex-Girlfriend is the best thing that's happened on TV in ages. Don't let it end, I beg you!
Images: Greg Gayne/The CW; talesofthenorth; bunchofbloom; kingdollophead; austinlanghams; eliotaldersons/Tumblr