Putin Wants Global Cooperation To End Terrorism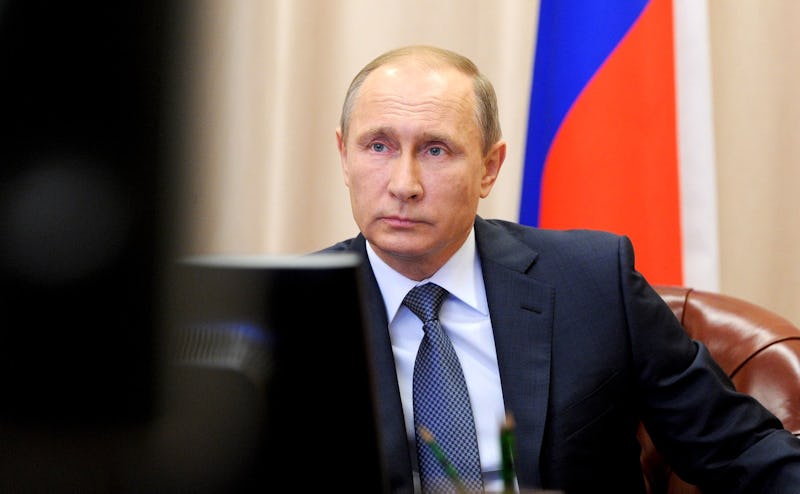 Following the terrorist attack on a hotel in Mali, Russian President Vladimir Putin called for international cooperation to combat global terrorism. Putin, who launched airstrikes in Syria in late September to take out ISIS targets, sent a telegram Saturday to Malian President Ibrahim Boubacar Keita, expressing his condolences and reaffirming his commitment to fighting terrorism both at home and abroad. Russia's Foreign Ministry confirmed Saturday that six of the 21 victims in the Mali hotel attack were Russian nationals, and another six Russians were rescued by security forces who stormed the hotel, ending the deadly hostage situation.
"The Russian President stressed in his message that the inhuman crime committed in the capital of Mali confirmed that terrorism knows no borders and presents a real threat to the whole world," the Kremlin said in a statement Saturday. "The only way to counter this threat is through broad international cooperation."
According to Russia's Foreign Ministry, the six nationals killed were employees of the Russian airline Volga-Dnepr. The Russian News Agency reported that Volga-Dnepr and the government would arrange for the bodies to be returned to Russia in the coming weeks.
At least two militants stormed the Radisson Blue Hotel in the Malian capital of Bamako around 7 a.m. Friday morning, opening fire on hotel guests and visitors eating breakfast. The gunmen reportedly yelled "Allahu Akbar" before opening fire. An al Qaeda-linked militant group has claimed responsibility for the deadly hotel assault, revealing the deep conflict between al Qaeda and ISIS.
Russia has become ensnared in jihadist-linked terrorism in recent months. Earlier this week, Putin confirmed that a bomb had brought down Metrojet Flight 9268, which crashed in the Sinai Peninsula on Oct. 31, killing all 224 passengers and crew members on board. The crash occurred about 30 minutes after the jetliner departed from Sharm el-Sheikh, an Egyptian resort city. The Sinai arm of ISIS claimed responsibility for the crash, and the Russian government has stated that the jetliner was indeed a terrorist target.
ISIS members alleged that Flight 9268 was downed as retaliation for Russian-led airstrikes in Syria. Putin launched the controversial airstrikes, in alliance with Syrian President Bashar al-Assad, in late September. The Russian president increased his military offensive in Syria this week following confirmation of the ISIS bombing of Flight 9268.
According to the Kremlin, Russian Defense Minister Sergei Shoigu reported to Putin on Friday that the latest round of airstrikes was successful. Russia's defense ministry claims 15 ISIS oil and storage facilities in Syria have been destroyed, depriving the militant group of $1.5 million a day in revenue. Shoigu said 826 enemy targets have been hit overall.
"We are continuing elimination of terrorist groups and their leaders," Shoigu reported to Putin, via a statement from the Kremlin. "We have destroyed 23 militant training bases, 19 arms and explosives production plants, 47 warehouses with ammunition and material supplies, and other facilities."
Meanwhile, Malian President Keita has declared Mali in a 10-day state of emergency as security forces there conduct a manhunt for several suspects. The president has called for three days of national mourning.