A Gift Guide For Plus Size Trendsetters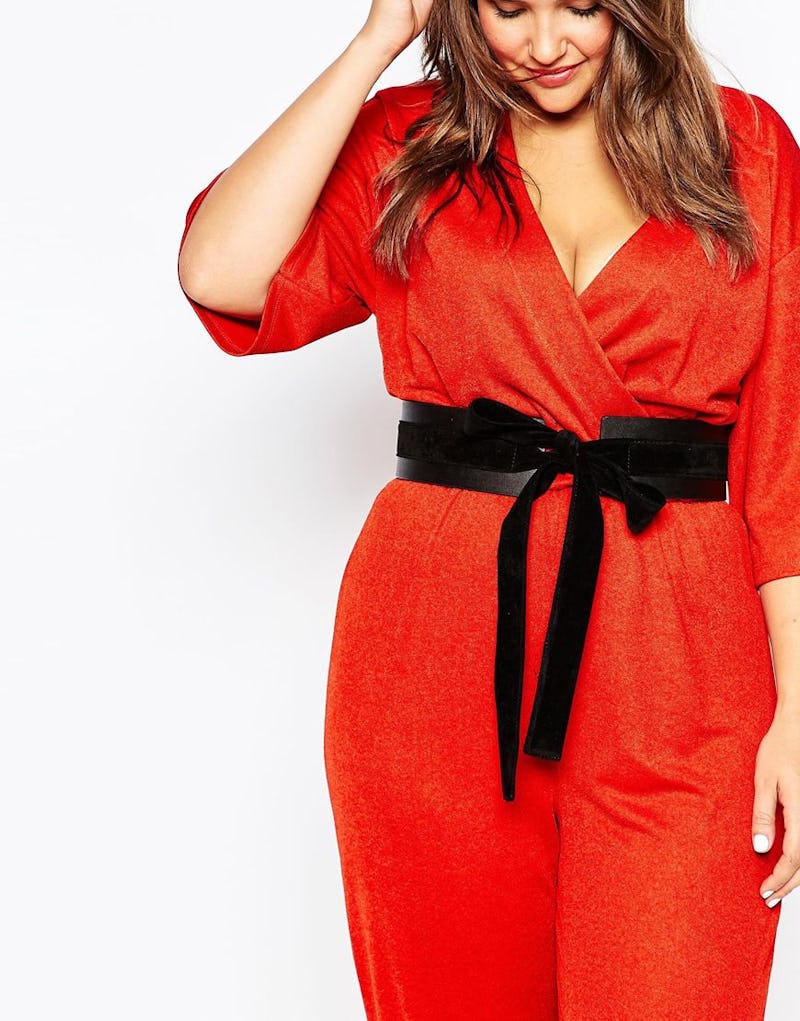 She's a magnificent and beautiful showstopper who takes up space and is always the best dressed in the room — and you love her for it. Whether you're her partner, her friend, or her family member, the holidays are close by, and it's time to find some seriously jaw-dropping gifts for plus size fashionistas in your life.
Buying fashionable gifts for people who love clothes is often an overwhelming task, particularly for those who don't spend a lot of time thinking about clothing, accessories, and shoes. Plus size fashion is especially difficult, as there are fewer options to choose from and so-called "fat girl fashion rules" to navigate through. That being said, there's something you should know before you start the process: The plus size fashionista in your life likely believes that rules are there to be broken, and simultaneously appreciates classic pieces while also enjoying taking a dip into styles unknown.
Still stumped? Never fear, because as a plus size fashion lover myself, I know just what to do come gift-giving season. Consider this the gift consultation you never knew you needed, and the one that will have the plus size sartorial sovereign in your life hugging you clear into next year.
1. A Wild Faux Fur
Alice & You Shaggy Colored Fur Jacket, $108, asos.com
Faux fur is incredibly hot this year. To the plus size shopper's pleasant surprise, the options are vast and totally badass. The fashion-forward plus size stunner in your life will definitely appreciate one of these. The furrier, the better.
2. A Great Pair Of Wide Fit Boots
Madden Girl Dominicc Chelsea Boot, $59.95, dsw.com
It might be difficult to buy a statement shoe for someone else, but you can't go wrong with a classic ankle boot under the holiday tree. These particular boots from Madden Girl are wide fit and more accommodating to plus size feet, and they come in chic shades of black and tan. These boots are sure to impress a plus size fashionista — as long as you manage to covertly learn her shoe size.
3. A Rare Piece Of Vintage
Vintage Ladybird Dress, $112, redressnyc.com
Plus size vintage is tough for a few reasons. Firstly, it's difficult to find larger pieces from decades past, as the sizes were generally cut much smaller. It's also tough to find unique garments in good condition, particularly those that will appeal to a plus size fashion connoisseur. Stores like Re/Dress NYC cater specifically to the plus customer, and you can also find great plus vintage on Etsy.
4. A Dress Made Specifically For Her
The Rose Off The Shoulder Dress, $60-$65, smartglamour.com
A gift like this requires a particularly trusting relationship between giver and receiver. The receiver has to be willing to share their measurements, but if you've got a bestie or a sister or a mom who is willing to take your lead, the payoff will be incredible. That's because you can actually purchase a custom-made garment for your beloved plus size clotheshorse, and at a reasonable cost. SmartGlamour caters to all sizes, and is willing to work with buyers to make a garment that specifically suits them, down to the very last inch.
5. A Dope Body Chain
Layered Body Chain, $49, readytostare.com
A body chain is something that even the riskiest fashion-lovers might hem and haw over. But if you buy it for them, they'll have no choice but to experiment with this bold look. Indie designer Alysse Dalessandro of Ready To Stare creates body chains for people of all sizes, and they're the perfect accessory to pop into a plus size fashionista's stocking.
6. A Hot Bra To Wear Under Her Amazing Outfits
Peekaboo Shelf Lace Bra, $21.95, hipsandcurves.com
From the right person, a sexy bra can be a great gift. Hips And Curves has some seriously sensual merchandise that fits up to sizes 4X. Just make sure she doesn't open this in front of grandma.
7. A Classic Knit
Eileen Fisher Merino Wool Cardigan, $178, bloomingdales.com
If you want to gift your plus size fashion maven with something timeless, start browsing for a wool or cotton sweater that she can keep in her collection forever. Pieces like this are pricey, but are sure to make an impact on the receiver's fashion sensibilities. True clotheshorses knows that a good wardrobe can't just be about trends-of-the-month.
8. A Cozy Robe
Jockey Wrap Robe, $38.99, kohls.com
Most folks will never, ever be upset about receiving a robe as a present. A gift like this says, "I appreciate you and the hard work you do; here's something to wear while you relax like the goddess that you are." A plus size fashion-lover will surely appreciate a chic, all-black soft jersey version.
9. A Statement Belt
Wide PU Belt With Faux Suede Tie Detail, $27, asos.com
This one's perfect for those gift-givers who aren't comfortable buying clothing. A statement belt can completely transform an outfit. The sizes are generally in "XL to XXL" formatting, so you'll likely have to make an educated guess when purchasing. I know plenty of plus size beauties who would be thrilled to find a plus size belt like this under the tree — myself included.
These are just a few gift ideas for the plus size trendsetter in your life. Prepare to impress her beyond all logical reason. If you succeed, she'll probably wear your present for Christmas dinner.
If you loved the bra in No. 6 and think the world should be full of more diverse women in sexy lingerie, check out the video below, and be sure to subscribe to Bustle's YouTube page for more inspo!
Images: Courtesy Brands