Someone Made A 'GOT' Gingerbread House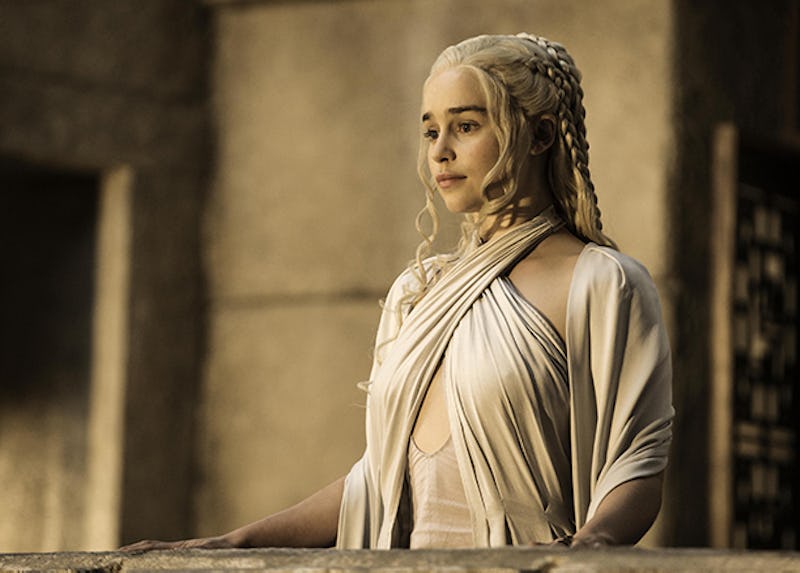 Game of Thrones may be nearing its final chapters (well, if George R.R. Martin hurries up, at least), but that doesn't mean fans will stop shelling out major Gold Dragon coins for memorabilia anytime soon. HBO clearly knows this, as the series' official site features hundreds of items, from swords to stuffed animals to shot glasses, all based around the show and its characters. In September, HBO announced it will soon release a GOT -themed pinball machine (no word on how many Silver Stags that'll run you), and just last week, the network revealed the star attraction of its "Taste of HBO" room at the 2015 Taste of London festival: an enormous replica of King's Landing, made entirely out of gingerbread. Yes, really: There actually is a Game of Thrones gingerbread house, and it's as amazing as you'd expect.
To create the house, HBO employed British sugar artist and cake designer Michelle Wibowo, who is no stranger to extraordinary confections: In 2012 she sculpted a very passable replica of Queen Elizabeth II made entirely from sugar, then followed it up with a full-scale model of Michaelangelo's "The Creation of Adam" using 10,000 marshmallows. And now it seems that she's moved on to Game of Thrones, as shown by this incredible — and edible — King's Landing gingerbread house.
In the spirit of all things weird, wacky, and Westeros, here are five other outrageously great GOT items for the Thronians among us. Be warned, they'll cost ya — but isn't that to be expected when you're dealing with dragons, duels and more?
Aegon Targaryen's Iron Throne Of Westeros
A cheap version of the iconic throne (just $38.71), and a great deal for a show that can cost upward of $6 million per episode.
Unsullied Armor
For all those times you just want chill out in a set of armor while eating ramen and re-watching the first five seasons. Plus, you could totally pull this $700 armor off with a pair of jeans... Maybe. I don't know.
Fire And Blood Perfume
With notes of amber, vanilla, and sandalwood in this, you can smell like a Khaleesi any day of the week thanks to this $74.99 perfume. Plus, you have to admit that bottle would look pretty good in your bathroom.
Margaery Tyrell's Wedding Gown
A $7,000 couture replica of Margarey Tyrell's wedding gown from Season 4? Why not. Take a cue from Sean Parker while you're at it: Throw yourself a wedding in the woods and make all your guests wear themed costumes.
Steel Dragon
It's funny because I was just telling someone how much I needed a seven-foot-tall steel dragon for my living room. This $10,146.74 item would be perfect for yours, too.
Images: Helen Sloan/HBO; HBO ; Amazon; ThinkGeek; Etsy (2)