How To Shop Cyber Monday Deals Like A Pro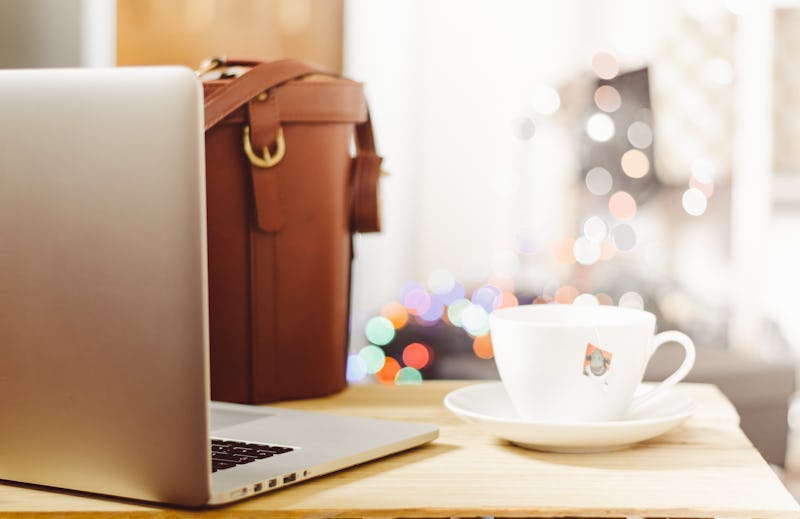 As Thanksgiving draws near, many families are already rushing to the grocery store to grab last minute dinner items and maybe a bottle of wine — or four. For those of us more shopping-oriented, here's how to shop Cyber Monday deals since we all know that there's nothing better than a great bargain grasped from the comfort of your own couch. While others are already coming up with strategic plans for how to get the most bang for their buck come Black Friday, Cyber Monday shoppers will be warmly snuggled into their bed during the — quite frankly — dangerous shopping day.
When thinking of holiday shopping, most people immediately begin to concoct a plan on how to best score that television or cosmetic gift set without getting trampled by a soccer mom with a terrible buggy-record. If you're not one of those people though — and even if you are — there is a better alternative to facing the masses, and it's Cyber Monday. Come Nov. 30, you can expect Black Friday level deals all posted onto mass retailers' websites, and the 2015 Cyber Monday deals definitely don't disappoint. While you'll definitely be able to hang out in your cozy holiday PJs on this sale day, you'll still need some tips for shopping Cyber Mondays deals. So, how are you going to score the best items on Nov. 30?
Prioritize
Much like Black Friday sales, Cyber Monday deals will go fast. That's why it's important to prioritize what you're looking to buy. That new Kindle for your brother may sell faster than the cosmetics for your aunt.
Set Your Alarm
Don't procrastinate when it comes to Cyber Monday. Just look at how quickly the Urban Decay Naked Vault II sold out, and it wasn't even a shopping holiday! If you're looking to nab that item — since you missed out last time — be sure to set an alarm so you can purchase your prioritized items all bright-eyed and bushy-tailed.
Decide What Is Worth Purchasing
There are some items that are totally worth holding off until Cyber Monday for. If you're shopping for electronics, tons of them are going to be priced at a great value on Cyber Monday. If apparel is more your thing, I hate to say it, but it may be best for you to brave the cold and venture out on Black Friday.
Budget
Never go into shopping without an idea of what you'd like to spend. This is true of any sale but especially on Cyber Monday when you'll be tempted to spend gobs of money under the guise of a good deal. Be sure to budget before you shop.
Cut Coupons
On days like Black Friday and Cyber Monday, tons of retailers allow you to stack coupons while other reject coupons altogether. Brush up on what the retailers you're planning to purchase from do or do not take.
Keep Your Eyes Peeled
Keep your eyes on social media and your e-mail in the days leading to Cyber Monday. Retailers may send out notifications for free shipping or even more coupons for bigger deals.
Check Throughout The Day
Flash sales are a thing, and as such, you should be sure to periodically check the sites you love for deals throughout the day, not just in the mornings.
With these tips in mind, you definitely know how to shop Cyber Monday Deal. So, ready, set, wait for Nov. 30!
Want more style tips? Check out the video below, and be sure to subscribe to Bustle's YouTube page for more hacks and tricks!
Images: Unsplash (8)