6 Legit Reasons To Just Stay Home On Black Friday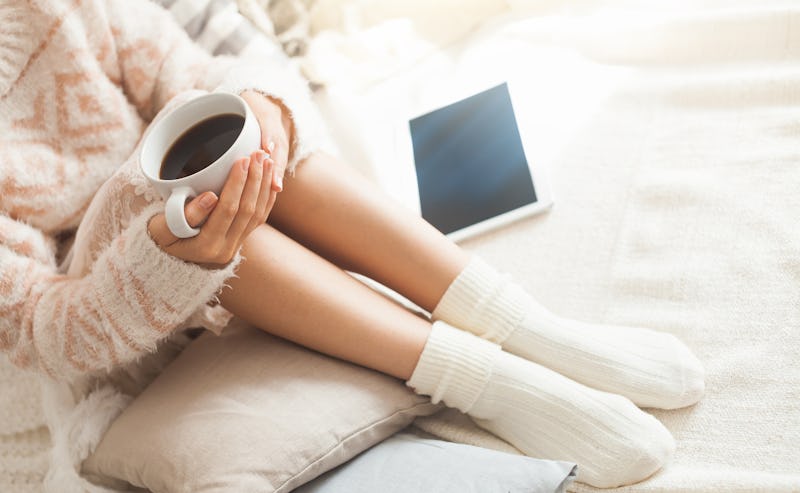 One of the darkest days of the year is upon us, and I don't mean dark as in the day with the least amount of sunlight. I mean Black Friday. There are plenty of reasons why you should stay home on Black Friday instead of competing with the exhausted masses that wake up early to snag door busters from the hands of their fellow man. I mean, why does anyone participate in this retail tradition? I've been delighted each year to skip it entirely, because I highly doubt any 3 a.m. Black Friday deals anywhere are better than the extra sleep I get, along with the ability to have leftover apple pie for breakfast.
Black Friday has historically been a chaotic mess of traffic, crowds, and sometimes, even violence. Therefore, leaving your house on such a day seems like a mistake, especially when you can have a much better time at home. I mean, any scenario in which you choose to just stay inside and chill over stepping foot outdoors is a brilliant call, am I right? Because it's not like Black Friday shopping entails exploring the great outdoors or helping the less fortunate. It's all about buying stuff that you probably don't need. Here are all the reasons you should skip the Black Friday madness, and just stay home instead.
1. Thanksgiving dinner leftovers are infinitely better than eating at the mall
You just spent the day before stuffing yourself with delicious, home-cooked treats, so settling for greasy mall food court junk just seems tragic. Stay home and keep the munch marathon going with a plate of turkey and mashed potatoes for breakfast. Yum.
2. Two words: Sleep. In.
You should not drive when you're exhausted. You should not shop when you're on the verge of sleepy madness. You really should not make any major decisions until you're fully rested. Hence... just stay home.
3. Black Friday deals are now digital
Black Friday is becoming more and more of an online shopping day, which is fantastic, because it's so much better to shop from home at midnight, than out anywhere in the middle of the night. Amazon has already started rolling out Black Friday deals, and other retailers are following suit. Do your shopping from bed and you'll be glad you did.
4. Hangover shopping is a reckless mistake
When you're hungover, you feel terrible, you're cranky, and you basically want to die, yes? So why would you get behind the wheel and face off against an army of hungover shoppers? BAD. IDEA.
5. There's always Cyber Monday
Let's say you sleep all day on Friday and don't even take advantage of the online Black Friday deals. It's not the end of the world. You still have Cyber Monday, when you can absolutely still score amazing prices on holiday gifts for your loved ones.
6. No pants are the best pants
When you don't leave the house, you don't need to put on pants. And above all else, pants are the real enemy here, folks.
Image: Fotolia; Giphy (6)