Everything We Know About Dr. Rollins On 'PLL'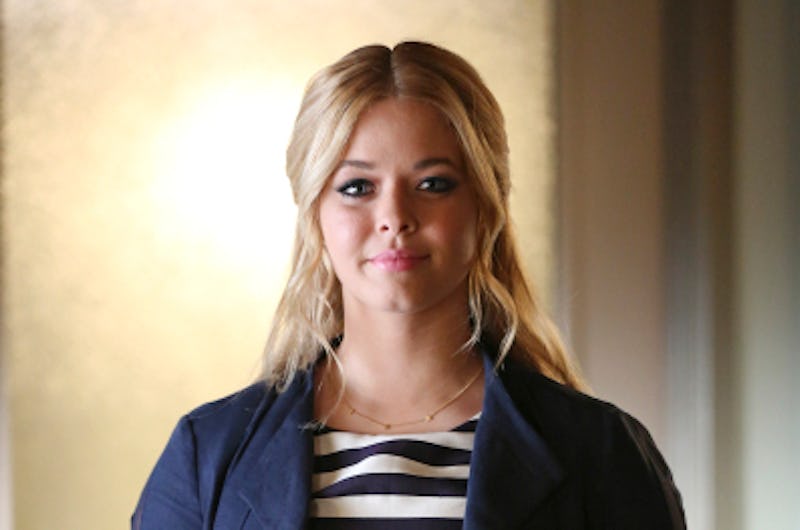 As if we needed another surprise in the Pretty Little Liars midseason finale, it was revealed that five years in the future, Alison DiLaurentis is married. The final moments of Season 6A showed that in the future, Ali is a teacher at Rosewood High School, but she's dropped her maiden name. On the chalkboard in front of her, she writes in big, cursive lettering, "Mrs. Rollins." There's never been anyone on the show before with that last name, so who is Ali's new husband, Doctor Rollins? He must be important to the new season.
Though Season 6B won't premiere until Jan. 12, ABC Family is giving fans a super early holiday present on Tuesday, Nov. 24 in the form of a PLL "5 Years Forward" special. It'll serve as a behind-the-scenes look at the series, while also refreshing our memory with all the drama of Rosewood. One thing we might not see, however, is anything that reveals too much about the mysterious Dr. Rollins, because the show is probably trying to keep much of his character a secret — just like Ali would want.
Luckily, PLL has taught us how to sleuth. Below is everything we know about Ali's new husband, but first, check out more theories and updates with Bustle's podcast Taking This One To The Grave.
He's Been Cast
As reported by Deadline, British newcomer Huw Collins will play Dr. Rollins, and he can actually be spotted in the Season 6B premiere sneak peek above.
He's A Doctor
According to E! News, Dr. Rollins is actually a psychiatrist and will be "sticking around for a little bit." Uh, I hope he sticks around for longer than a little bit, because he's kinda married to Ali...
It Doesn't Look Like Sparks Fly Right Away
Based on those first four minutes of the premiere, Ali and Dr. Rollins do not appear to be madly in love. Also, neither one of them are wearing wedding rings. That means we'll likely see their love story play out on screen in Season 6B.
He May Have Ties To Radley
I shouldn't say that we haven't met him before on the show, because there's actually a possibility that we have. When Mona was first admitted to Radley — all the way back at the end of Season 2 — she had a doctor named, "Dr. Rollins." We never actually met them on-screen, but it's possible that this could be Ali's new guy.
However, that age different might be a little extreme, way more than even the age difference between Aria and Ezra. The Liars would have been 16 or 17 at that time, and seeing as Rollins was already working at the hospital, that means he'd already have gone through college and med school. Maybe it was just a coincidence, or this is a relative of Ali's husband.
There Could Be A Huge Charlotte Connection
Last we saw Charlotte DiLaurentis, she was apprehended for everything she'd done as A, and was presumably going to jail. But seeing the torment she was put through, it's more than likely that she either was sent to a mental institution, or was given some other kind of psychological treatment after her arrest. Since in the preview of the Season 6B premiere, Dr. Rollins goes to talk to Ali about Charlotte's court hearing, it's very likely that he is her doctor. That could even be how the future Mr. and Mrs. Rollins met.
Also, in the preview clip, Ali mentions an appointment for her. Rollins could just as easily be her own therapist, making this doctor/patient relationship very complicated. But hey, this is Pretty Little Liars, where love is nothing if not complicated.
If you forgot what happened in Season 6A, check out the Pretty Little Liars (drunk) recap video below.
Images: Adam Taylor (2), Eric McCandless, ABC Family (2)