Miss Piggy In The "Hello" Video Is So Perfect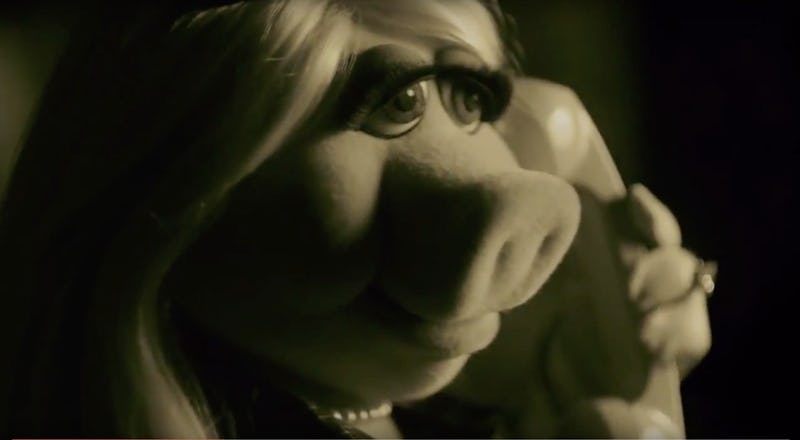 At this point, it's a well known fact that 2015 has been a horrible year for celebrity love. The world said goodbye to so many couples — Ben Affleck and Jennifer Garner, Blake Shelton and Miranda Lambert, Kourtney Kardashian and Scott Disick, Amy Poehler and Nick Kroll. Perhaps no celebrity break up came as more of a surprise this year than that of Miss Piggy and Kermit the Frog. The duo had been together on and off since 1978, when The Muppet Show brought them together, but they called it quits again this fall. In a brilliant clip released by ABC during the American Music Awards over the weekend, we got a hilarious reminder of the somber music video when Miss Piggy parodied Adele's "Hello" music video.
It was revealed that the unlikely pair split up because Miss Piggy's fame drove a wedge between them, but, in ABC's glimpse into how she's doing after the break up, it looks like Miss Piggy is handling it the way many of us do: by singing Adele and reminiscing about the past. We see Miss Piggy and ex (Boyfriend? Husband? Weren't they married at one point? I can't remember. Those two are always up and down, ya know?), Kermit, recreating the emotionally charged sepia-toned scenes of Adele's now famous video.
It's a short clip, but here's a breakdown of the best moments.
1. Miss Piggy Has A Fittingly Dramatic Start
Like Adele, Miss Piggy isn't one to be subtle. Both ladies show off their signature dramatic eye makeup in the opening shot, too.
2. Miss Piggy Standing In A Sun-Drenched Field
Piggy really sets the scene while standing in the autumn sun. Also, her hair looks amazing.
3. Miss Piggy Making The Call
After gathering her strength, Miss Piggy is ready to call this mysterious former lover.
4. Her Ex Is Revealed
Unsurprisingly, we see that it's Kermit she is singing about. Those two just have so much history.
5. Miss Piggy Shows The Downside To Singing In The Woods
Because singing in the woods isn't always glamorous, especially on a windy day where heavy foliage is present.
6. Miss Piggy Recalls A Nice Moment
Piggy lovingly caresses Kermit's face. Ah, what once was.
7. Miss Piggy Gets Really Into The Song
Piggy starts to belt it out and release all those emotions.
8. Miss Piggy Recalls A Not-So-Nice Moment
Love between two puppets isn't always easy. Sometimes things get messy.
9. Miss Piggy Comes To Terms With The Past
Piggy, looking fab, seems to be at peace with all that's happened.
10. Kermit Might Still Have Some Stuff To Work Through
Although he's clearly moved on, Kermit seems like he's still got some emotions to sort out. I would recommend listening to the full Adele discography on repeat to help get him through it all.
Images: Giphy