11 Books To Give Your BFF For The Holidays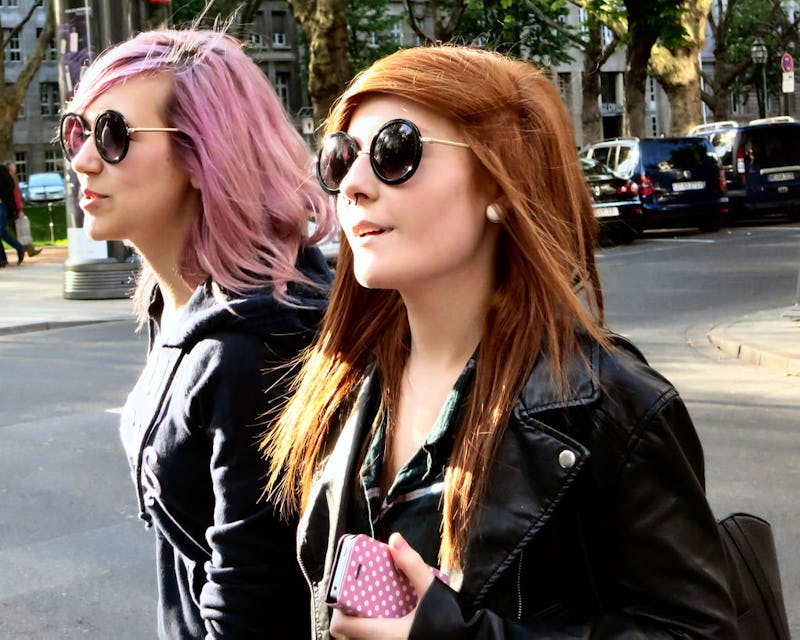 Nothing quite makes a book-lover's day like a bestie and a good read, am I right? After all, friends who read together, stick together. And if your BFF loves the written word as much as you do, then holiday shopping for her should be a breeze — except for the ultimate question: what book gift for your best friend should you gift this holiday season?
Maybe you've spent the last few weeks sneaking subtle peeks at her bookshelves looking for ideas. Or you've tried to recall all those book club meetings you chatted through this year — even though you totally meant to read the books, too. You've been keeping your eyes and ears open for any signs of new interests or rekindled obsessions, hobbies she'd like to take up, or unexpected destinations on her dream vacation list. Still, you're having a hard time narrowing down all of the great books to gift your best friend this year.
Well now you can take a break from perusing her Goodreads to-read shelves on your lunch break, and check out this list of titles instead. Here are 11 books to get your BFF for the holidays — titles that definitely won't have her heading for the holiday gift returns line at the mall this year.
You should probably give Cheryl Strayed's Brave Enough to EVERYONE on your holiday gift list this year, but if you only give one (because you're keeping the other copies for yourself) definitely show your BFF some book-love with this beautiful collection of the best words of wisdom Strayed has ever penned to page — how she managed to decide which quotes to include I'll never know, because pretty much everything she's ever written is brilliant.
2. Popular by Lauren Urasek
Nobody's experienced your dating disasters (and those few successes) alongside you quite like your best friend has. As such, she'll love Lauren Urasek's Popular , a collection of essays on the highs and lows of dating in New York City. You'll laugh, you'll cry, you'll reminisce about all those last-minute "emergencies" you faked for one another.
Because you'll never be too old to eat chili mac 'n cheese together at 9 a.m. The recipes in The Hungover Cookbook (which, on the cover is awesomely spelled "Hungoevr Cookbook") take morning-after cuisine to a whole new level.
A sort-of memoir in flashcard form, Questions I Ask When I Want to Talk About Myself is part-collection of personal anecdotes by the laugh-out-loudly hilarious Mindy Kaling, and part-collection of conversation topics for you and your besties — all designed to give you plenty of opportunities to talk about yourself. Hilarious.
No matter how many times you and your BFF take that "last big trip together before we [insert grown-up obligation here]" you both secretly know you'll be finding excuses to hit the road together forever. The Best Women's Travel Writing is perfect for your wanderlusting partner in crime.
You'll finally have an organized place to write down all those amazing things you want to do together before you book those adjoining suites in the nursing home. My Future Listography covers everything from foods to try and books to read to those even bigger lifelong dreams.
We all have that one irreverent, punk-rock, feminist, no-holds-barred, total badass of a bestie — and this book is definitely for her. Written by feminist punk-rocker Carrie Brownstein, Hunger Makes Me a Modern Girl is one of 2015's most gift-able memoirs, IMO.
A book for the truly ambitious bestie, Sisters in Law tells the story of a friendship that really did change the world — from the gender discrimination the faced in law school to becoming the first two (and totally badass) female Supreme Court justices, Sandra Day O'Connor and Ruth Bader Ginsburg have built a friendship on working toward equal rights for women everywhere.
9. Yoga Girl by Rachel Brathen
You've been sharing her Instagram posts with one another since forever — now you can share her book. In Yoga Girl , yogi and ultimate girl-power inspiration Rachel Brathen shares her journey from destruction to transcendence, all while showing you peaceful poses to incorporate into your own yoga practice.
For that BFF who always answers "Samantha" in those "Which Sex in The City Character Are You?" quizzes, Barbara the Slut and Other People is a hilarious collection of stories that celebrate sexual freedom and foibles alike and shame the slut-shamers. You'll want to borrow this one when your favorite gal pal is finished.
To remind you how important your relationship really is, She Matters is a collection of friendship-inspired stories that tell all there is to tell about the good, the bad, and the ugly experienced in a lifetime of friendships. You'll recognize yourselves in some of these tales (and be glad you don't in others).
Image: Street Photography Addict/Flickr