What Does 'Glee's NYC Move Mean for Lima Kids?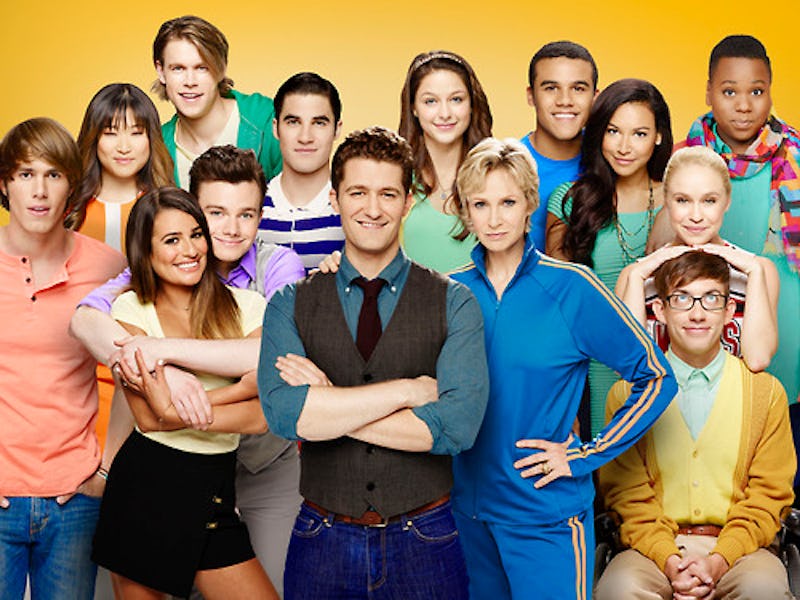 Well, folks: it seems as though Ryan Murphy is taking Glee in a (wait for it) new direction (cue: groans) for the remainder of the series run. Namely: Glee is moving to New York City, effective immediately and permanently, which means when the show returns to its fifth season following a winter hiatus on February 25th, we will no longer be privy to the doings in mixed-up Lima, Ohio. Really!
Fox's entertainment chairman Kevin Reilly confirmed the news that the series will focus "exclusively" on New York during his executive session at the Television Critics Association's winter press tour. Considering the fact that series creator Murphy lost out on his lovey-dovey dream ending, it all makes sense. As soon as viewers return to the series following an extended hiatus to make up for the unexpected loss of Cory Monteith, the series will leave its Ohio-set, McKinley High stomping grounds.
Which, of course, got us wondering: if the series is heading off to focus on the doings just south of the Great White Way, what does that mean for the fate of the students back in middle America? "Some are going to be graduating and moving," explained Reilly. But not so fast: it's not as easy as moving the entire ensemble cast to Manhattan — even in the Glee universe. "Creatively, it would be ridiculous that everybody moves to New York. There will be some that will graduate and move on and they'll arc back in when we do special episodes. They'll always be a part of it. The way it's going to dovetail next season, we'll see some familiar faces coming around in some capacity. But for this season, there will be a graduation, several of the castmembers will move on, and a few others will go to New York."
Though not everyone's fate is uncertain, as Jayma Mays has already confirmed her exit. Reilly went on to confirm at least one star's move from little town to big city: "As long as there's a show, there's Jane [Lynch]," so start thinking up reasons now as to why Sue Sylvester would drop the Cheerios and head east. It seems likely that Matthew Morrison (a.k.a. Mr. Schuester) will also stay in some capacity, too.
Reading between the lines, of course, it's easy to see that some of the students (especially those who've yet to graduate) might not make the cut when it comes time to shift focus. So we've decided to hypothesize on what this major change-up means for the fates of its cast members.
Jake Puckerman: More likely than not, Jake Puckerman will probably see his days on the series cut short with this new twist. Never a major player in most of the series' storylines, his youngest Puckerman won't be one to miss (though there's certainly a chance for the return of Puckerman the Elder).
Marley Rose: Another newbie — though a bit more central to some of the storylines — it seems likely that Marley will also see her stories end when the graduation rolls around. Meh.
Blaine Anderson: Played by the beloved Darren Criss (and also a graduate this year), it's highly unlikely that Blaine won't be making his way to New York to be with his betrothed, Kurt. Ryan Murphy has such a hard-on for this kid the biggest shock of all would be if he left the series.
Ryder Lynn: Considering his main function on the show was to be the wedge that got between Jack and Marley, my money's on Ryder being booted and scooted once Lima's left behind.
Artie Abrams: Artie, another cast member from the beginning is a bit of a wild card (he seems like more of an LA lad, don't you think?). I wouldn't be surprised if he did not make the move to New York — if for no other reason than Murphy doesn't want to deal with him being a handicapped person in New York City.
Wade "Unique" Adams: Unique's character is a wonderful part of the series and though not graduating, it would be a shame for them to lose that point of view. Here's hoping Unique decides "to hell with this shit," gets her GED, and really finds himself in a city such as New York.
Sam Evans: Well, Sam is probably/definitely moving to New York, after his inadvertent confirmation about the New York move and his involvement in it on the red carpet for Hunger Games: Catching Fire.
Kitty Wilde: This one is a total toss-up. My money is on no, considering she's only a sophomore, but considering this is Glee we're talking about, literally anything can and will happen, probably twice, with a musical number to really drive home the point. We're thinking more "no way," than "pack your bags!"
Tina Cohen-Chang: You know, even though Tina is graduating this year, something tells me the character — whose storyline has been problematically uneven and mixed-up this year in particular — will not move to New York with the rest. Which is great because the writers seem more than a little confused as to who she really is, and doubtful heading to New York with no clear focus will fix all that.
Image: FOX