Ariana Grande & Meghan Trainor's New Track Is Here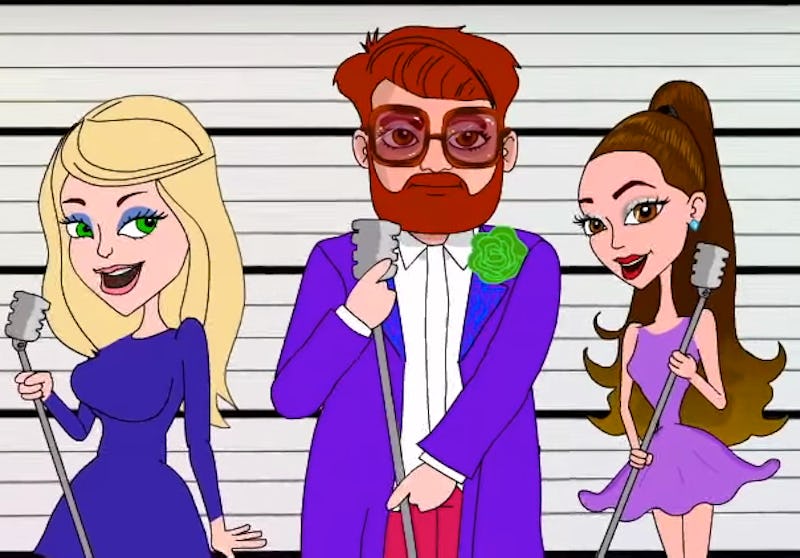 In need of a mid-afternoon dance break? You're in luck: Who Is Fancy's new song, "Boys Like You," with Ariana Grande and Meghan Trainor is guaranteed to get your body movin'. Who Is Fancy (real name: Jake Hagood) is a 24-year-old up-and-coming singer-songwriter from Arkansas. His debut single, "Goodbye," turned a few heads when it premiered back in February, but now, he's enlisted the help of two major superstars to help him land his first big hit. "Boys Like You" is an infectious retro pop anthem with fun verses and a slinky hook you won't be able to get out of your head. Fancy, Grande, and Trainor are set to perform the track live for the first time on Monday night during the Season 21 finale of Dancing With the Stars .
Grande and Trainor's names should definitely help "Boys Like You" attract some additional attention this holiday season; however, this is a notoriously tough time of year for new artists to "break through." Beginning in December, radio stations often enter what's referred to as the "Christmas Freeze" — a period when playlists remain relatively stagnant and seasonal favorites and end-of-the-year countdowns leave less room for new releases on the airwaves. But, "Boys Like You" is incredibly catchy, so I won't be surprised if it beats the odds. Check out the tune for yourself below.
Fancy's record label, Republic Records, called the above clip a "lyric video" on Twitter, so presumably, a live-action treatment is in the works (fingers crossed!). Don't get me wrong, the animation is cute, but I'd much rather watch Fancy, Grande, and Trainor have some fun together in real life. Hopefully, details on Who Is Fancy's forthcoming debut album will be revealed soon. In the meantime, "Boys Like You" is available on iTunes and Spotify now.
Image: WhoIsFancyVEVO/YouTube