Alicia Keys & Jamal Are Teaming Up On 'Empire'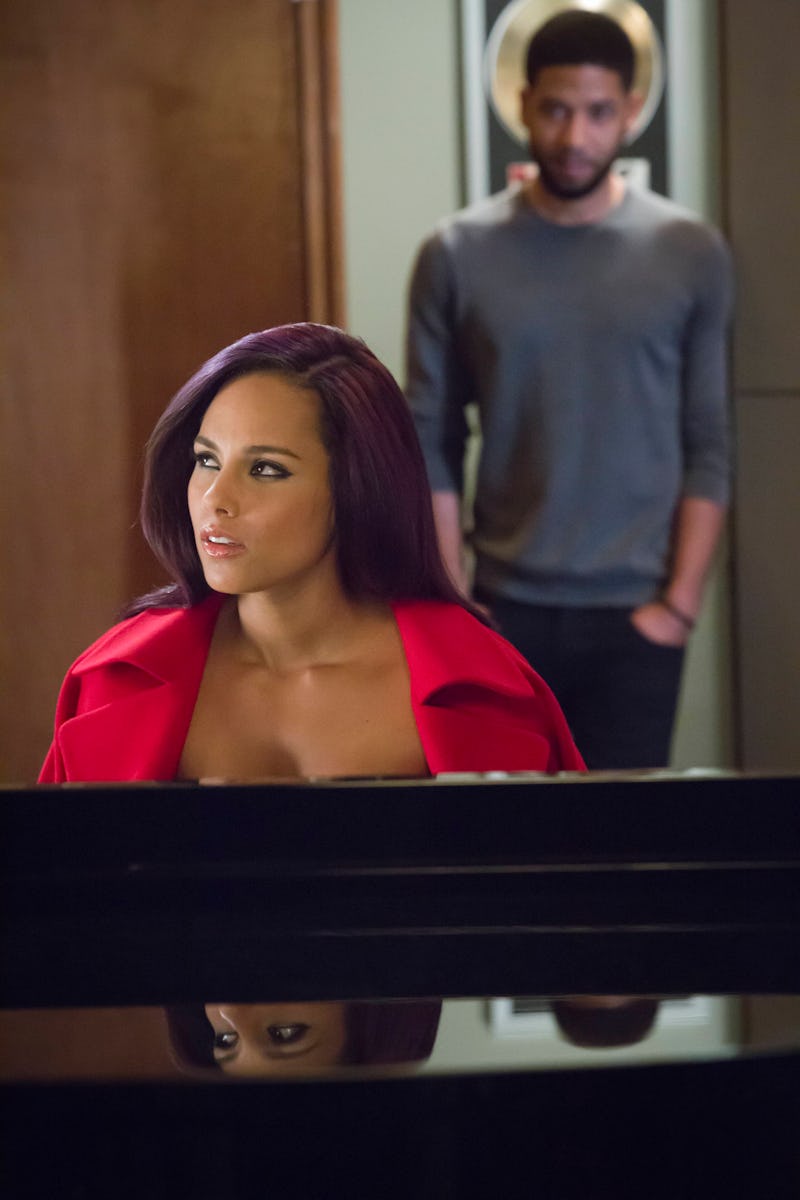 Empire is bringing the star power to Season 2 with the girl on fire (who isn't Katniss Everdeen). Music star extraordinaire, Alicia Keys, joins Empire Season 2 as Skye Summers. In case you missed the promo for "Sinned Against," Skye Summers seems to be teaming up with Jamal to create some sweet, sweet music that you should probably download yesterday. If you're a fan of Keys (or Empire), you might be wondering what there is to know about Skye Summers' on Empire. According to reports, Jamal and Skye will share a "deep connection" which we can hope only means that they'll keep connecting over music in the studio.
Keys isn't the first celebrity to appear on the show this season. So far, Kelly Rowland, Pitbull, and Chris Rock have made appearances, with more to come (two words: Mariah Carey). I think the fact that Keys is playing Skye Summers and not Alicia Keys is a good sign that she could possibly stay around longer than the usual cameo. Plus, the promo makes it seem like Skye is a character with a lot of depth and plot, so, don't expect her to just sing a song and walk away from the show.
Here's what we can expect from Skye Summers on Empire.
She May Be Joining Empire Records
According to Lucious, "Empire would be thrilled to have Skye Summers on its roster." I think I speak for everyone listening to that when I say we'd all be thrilled to have Skye Summers on Empire's roster. If Skye becomes a regular at Empire Records, hopefully we'll hear more from her.
She Is Teaming Up With Jamal For A "Powerful" Song
The song is living up to its "Powerful" name. The two performers are partnering up with a song standing for the end of racism and violence.
She Is Hiding Her Truth
In the preview, Skye tells Jamal that if she were to sing her whole truth, her fans would turn on her. Whether her truth is singing a power ballad or perhaps another secret she's keeping under wraps, hopefully her appearance on the show will allow her to live her truth.
She Won't Be Involved With Swizz Beatz
Keys' real life husband, Swizz Beatz, appeared in the first episode of Season 2 at Cookie's star-studded support concert. Unfortunately, the two won't be connected on the show, as he played himself at the concert. But, you have to admit that it's pretty great that the two are keeping guest appearances on Empire in the family.
We'll learn more about Skye Summers when she appears on Empire's "Sinned Against," but until then, I'll be playing "Powerful" on repeat.
Images: Chuck Hodes/FOX