10 Books To Give Your Sister For The Holidays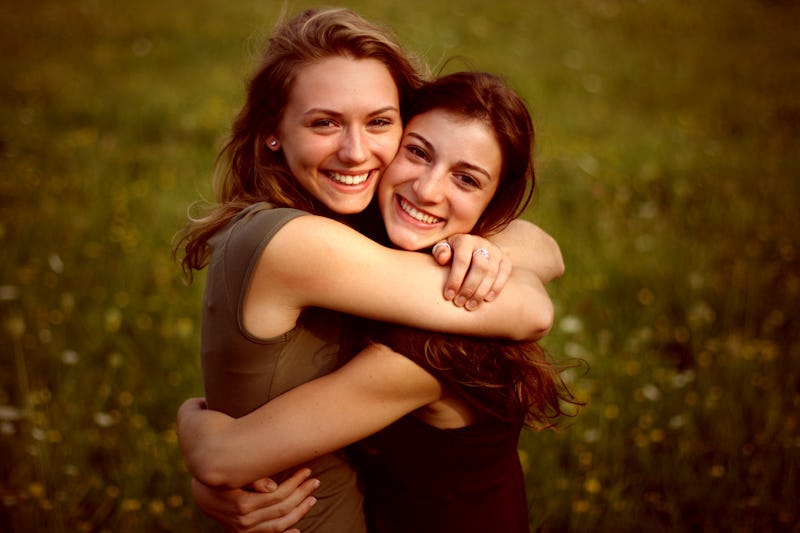 If you were lucky enough to have a sister who you grew up reading with, then you know that the bonds of sisterhood are only made stronger by the stories you share — definitely those from your real life, but especially from the stories you shared between the pages of books. So book gifts for your sister are the best idea when you're searching for what to give her during the holidays.
You've been sharing books since the days when you used to giggle over swiped copies of the Nora Roberts novels hidden in your mother's nightstand, and ran around the backyard together shouting "Alohomora!" while fighting over who got to play Hermione Granger. (Let's face it: sometimes you two still have those days.) You grew out of the Magic Treehouse series together and grew into The Baby-sitters Club, and you were definitely the first ladies in line to see Reese Witherspoon in your beloved Wild. One day you might even buy some Nora Roberts titles of your own — and although you won't be whispering over them from the floor of your shared closet, you'll definitely make a phone call or two for laugh.
Here are 10 books your sister is guaranteed to love receiving this holiday season — and that you'll definitely want to borrow from her when she's finished.
Giving the gift of Mindy Kaling must come with the caveat that you be allowed to borrow this book from your sister when she's done. From hilarious tales of falling in love at work, to being determined to lose weight without doing anything whatsoever, Kaling is at her hilarious finest in her essay collection Why Not Me? Your sister will want to start reading before she's even opened her other gifts.
You loved Judy Blume when you and your sister were sharing bunk beds, and as adults you'll love her all the more. Judy Blume's latest title In the Unlikely Event is a historically-inspired novel about how three generations of one community are changed forever by an unlikely event. It'll make you want to whisper about Are You There God? It's Me Margaret all over again.
3. Love Your Sister by Samuel Johnson and Connie Johnson
Siblings Samuel and Connie Johnson will do anything for one another — even ride a unicycle around Australia. Love Your Sister tells the story of one woman's struggle with breast cancer and her brother's commitment to keep her message and memory alive. Gift this one to your sister with a box of tissues.
4. The Book of Liz by Amy Sedaris and David Sedaris
Written by another tag team of sibling creatives, The Book of Liz by Amy and David Sedaris is a hilarious tale of a rebellious nun-like woman, life-altering cheeseballs, country diners, and sweat. You'll laugh, you'll cry, you'll love the unparalleled Sedaris family as much as ever — and maybe even be inspired to co-write a play of your own.
If your sis loves cooking, she'll love this offbeat cookbook; and if she hates cooking, Thug Kitchen: The Official Cookbook: Eat Like You Give a F*uck will teach her to love it in no time. With over 100 recipes for dishes like roasted beer and lime cauliflower tacos (uh, yum) you'll be hinting around for an invitation to dinner — and maybe even get inspired to help your sister in the kitchen.
Filled with family secrets and childhood photographs, Sally Mann's photographic memoir, Hold Still , is the perfect coffee table read — it'll have you and your sister reminiscing about your own shared hazy days of childhood (and some of your crazier family members) in no time.
If you and your sister have laughed and cried over Jeannette Walls before, then her most recent title, The Silver Star , is a must-give. The novel tells the story of two sisters — Bean and Liz Holladay — who have to learn how to survive together after being abandoned by their mother. Heartbreaking and beautiful, this novel will definitely make you appreciate your sis this holiday season.
Everyone could use a little creative jumpstart every once in a while, and Elizabeth Gilbert's latest feat of literary greatness, Big Magic: Creative Living Beyond Fear will do just that. Give your sister the gift of inspired living, empowered creativity, and the knowledge that you're totally behind whatever wacky endeavor she attempts next.
Hitting the road with your sister can be great (spring break in the Andes, 2013) and also not so great (Colonial Williamsburg in a minivan, 1997). But if you've got a wanderlusting sister who loves traveling the world whether or not you're in tow, this book is for her. A Woman Alone: Travel Tales from Around the Globe features a collection of stories by women who have taken on the world solo — and then returned home to tell about it.
Feminist and political campaigner extraordinaire, Gloria Steinem takes readers on her lifelong journey of fighting for equality, working for justice, and building unbreakable bonds of sisterhood along the way. My Life on the Road will have you feeling all kinds of sisterly love — all while inspiring you to commit great feats of girl power.
Image: Alex/flickr