Is 'Sanjay's Super Team' Based On A True Story?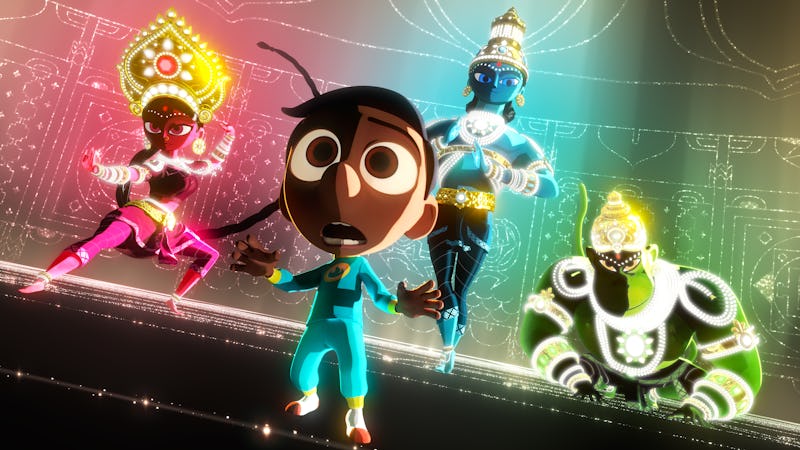 Watch out, "Frozen Fever," there's a new animated short coming onto the scene that may provide some competition yet when it comes to memorability and just plain ol' fun — it's called "Sanjay's Super Team" and it's pretty refreshing for a number of reasons. For one, there's the plot line: "Sanjay's Super Team" is based on a true story. Sanjay's Patel, the short's creator, told Variety in an interview that "Sanjay's Super Team" is "partly biographical." The animated short marks Patel's directional debut and will play before Pixar's newest feature, The Good Dinosaur , which opens in theaters Nov. 25.
You can expect nothing short of awesome with this animated short, as Patel's Pixar resume is impressive — he's worked on Ratatouille, Cars, Toy Story 2 and The Incredibles, just to name a few flicks. But good news for Marvel fans out there — the synopsis for the seven minute short suggests the it is packed with superhero goodies. The story is centric on an Indian boy who imagines the Hindu deities as a sort of Avengers squad, which is actually the coolest idea for a children's short that I've heard in a long while.
"Sanjay's Super Team" premiered in June at France's Annecy International Animation Film Festival. The short is a boon for diversity, as it is the first Pixar creation by an Indian director and the first to tackle the topic of the Hindu deities. In an interview with the Los Angeles Times, Patel explained that the idea for the short came from the conflict he felt between his Indian roots and American sensibilities during his youth. A child of immigrants, Patel grew up in California. He played with Transformers and liked reading the Superman comics, but also had to do daily meditation and prayer with his father, a Hindu ritual according to the Times.
"It took me a long time to feel safe with my identity," Patel said to the Times. "But [Pixar Chief Creative Officer] John Lasseter felt strongly about celebrating the personal side of the story."
What impresses me most about the concept of the short, which is a story about a father and son's bond as much as it dives into Hindu rituals, is the opportunity it presents to educate and expose to young moviegoers (and probably some adults) to a religion and culture they may not interact with otherwise.
The story of child of immigrants trying to reconcile between his heritage and American culture is also one that can resonate especially with the children of immigrants from any cultural background raised in the United States. As the daughter of immigrants myself, I fully relate to the struggle between both "worlds" and learning become comfortable with one's cultural identity as Patel has described in his interviews. I've learned the hard way that you shouldn't try to ignore your roots, but rather, embrace the good that comes with the traditional, with being your own sort of melting pot.
The generational divide between Sanjay (the character) and his religious father is also worth something of note. Sanjay is into cartoons and heroes, while his father is more concerned with religion and rituals. By reimagining the Hindu deities as a superhero team, Sanjay is closing the gap between his parent and himself by making the religion more accessible to himself as an Indian-American youth. That's how Sanjay starts to reconcile with himself and meet his father half-way, in a sense, with this short. While a simple concept, it ultimately provides a powerful moral.
As Patel said to the Times,
"If I could, I would go back to the 1980s and give my younger self this short ... I want to normalize and bring a young brown boy's story to the pop culture zeitgeist. To have a broad audience like Pixar's see this ... it is a big deal. I'm so excited about that."
Same here!
Images: Pixar; Giphy