The Best Ugly Christmas Sweaters In Holiday Movies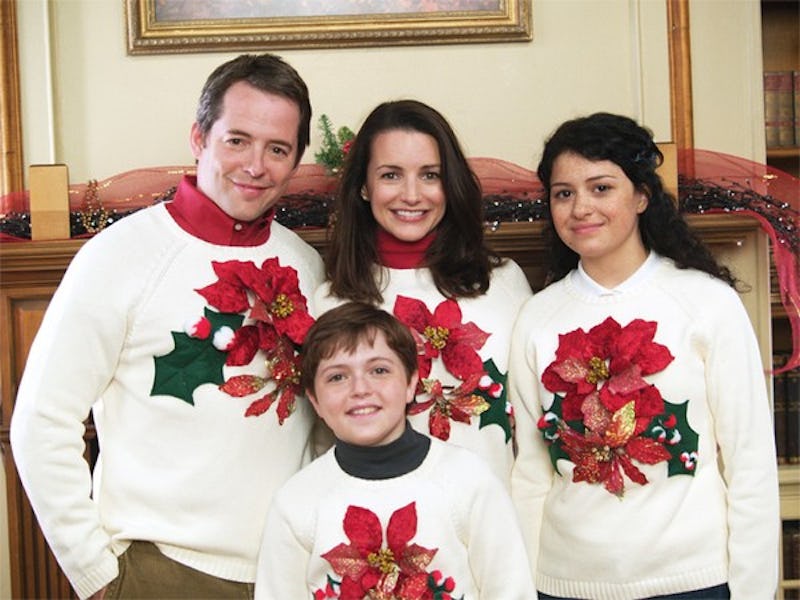 If you've been invited to yet another ugly Christmas sweater party and want some fresh inspiration, consider snuggling up with Netflix for some ideas. I'm shamelessly obsessed with holiday flicks, and scoped out the best ugly Christmas sweaters in holiday movies. Whether you want something super iconic or totally offbeat, the films below have you covered.
According to Time, we have Bill Cosby's character of Cliff Huxtable to thank for the rise of the ugly Christmas sweater. But the first film to really hone in on the hideously lovable trend was National Lampoon's Christmas Vacation, in which Chevy Chase rocks a variety of simple (and simply horrendous) ugly Christmas sweaters.
The trend has shown no sign of slowing down, and one quick google search will prove how insane the variety of cute ugly Christmas sweaters there are out there! In fact, you can even find the sweaters selling for over $1,000 dollars, and Justin Bieber reportedly splurged on a $1,650 dollar ugly Christmas sweater back in 2011 according to NYDailyNews.
Whether you've got $15 or $1,500 to drop on an ugly Christmas sweater this year, the films below are bound to get you pumped to find one.
1. Chevy Chase In National Lampoon's Christmas Vacation
Of course I had to feature the classic first. Chase's character Clark is rarely seen without his muted forest greens and deep maroon knit that inspired ugly Christmas sweaters for decades to come.
2. Colin Firth In Bridget Jones's Diary
OK, can we all just stop and appreciate the size of the red nose on that sweater?
3. Ryan Gosling In Lars And The Real Girl
"Hey Girl, There's room for two in this ugly Christmas sweater..."
4. Tim Allen In The Santa Clause
Is that a V-neck ugly Christmas Cardigan hybrid?? I'm impressed.
5. Paul Giamatti In Fred Clause
I know this is technically a vest, but come on. It's too good.
6. Tim Allen In The Santa Clause 3
At this point, Tim Allen's character has clearly fully embraced his Santa-ness.
7. James Gandolfini In Surviving Christmas
That glimmer of fair isle knit is on ugly Christmas sweater point.
8. The Cast Of Deck The Halls
Like, I can't even get over how many horrific poinsettias are staring back at me right now.
9. John C. Reilly In Step Brothers
The fact that the holly on this sweater is actually made of little red pom poms is just too much.
Images: Warner Bros.(2); Universal Pictures; MGM; Walt Disney Studios(2); Dreamworks; Twentieth Century Fox; Columbia Pictures