You're Going To Want To Shop Sephora Cyber Monday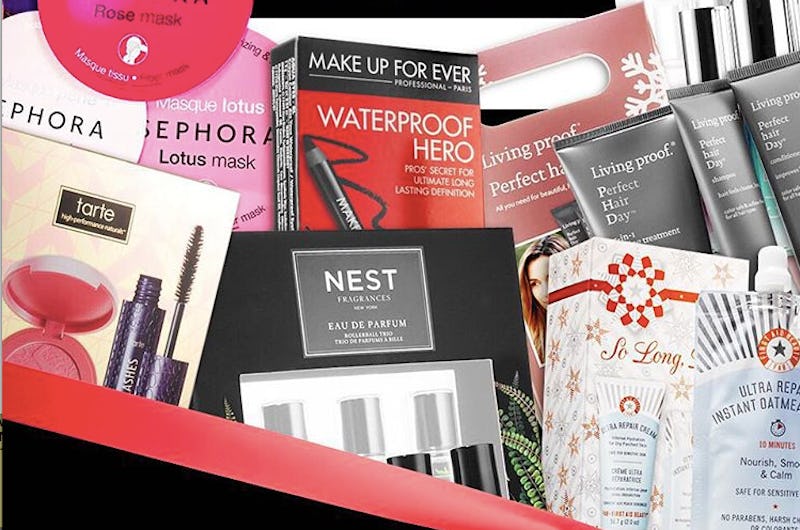 OK beauty junkies. I know we all wait in eager anticipation every year for Sephora's covetable, $10 Black Friday deals. But what about Sephora's Cyber Monday sale? Can it even come close to those little bundles that coax us into spending way more money than we intended on all this beautiful makeup because "they're only $10, a few more won't hurt?" Why yes, yes it can. That is, if you're willing to go a bit bigger than Black Friday.
This year, Sephora's Cyber Monday offerings are all about gifts sets that will save you a boatload of money. Seriously, lovers of makeup vaults are going to be some very happy campers. (Figuratively of course, because you won't have to sleep outside of the store to take advantage of these deals.) Because this year, some of the most desirable beauty items are being released in limited edition, collector's sets. So if you can never have too many lipsticks or eyeshadow palettes (can anyone really?), you're going to want to get your mouse-clicking finger nice and warmed-up to take advantage of these steals. Here are just a few of the Sephora Cyber Monday deals that you seriously won't want to miss.
1. BITE Beauty Lip Lab Limited Release Set
$298 ($432 value)
Every month this year, BITE Beauty released a limited-edition lipstick shade. And every month, they sold out almost immediately. So if you missed out on any or all of these lipsticks, Cyber Monday is the day to have it all, because all 12 will be sold as a set at a discounted price.
2. Make Up For Ever Artist Shadow Collector's Palette
$280 ($714 value)
If you're a fan of the Make Up For Ever Artist Shadows, this set of 30 shades will be available for a steal-of-a-price on Cyber Monday. Seriously, you'll die when you see how beautiful and pigmented each of these best-selling shades is.
3. Urban Decay Naked Vault II
$165 ($274 value)
Missed out on the Naked Vault II the first time around? No worries, it'll be back on Cyber Monday. Whether you've always wanted to try the Naked palettes or want to round out your collection (and have giftable leftovers!), this set is the perfect way to get your hands on these cult-favorite palettes.
4. tarte Lips For Daze LipSurgence Set
$34 ($120 value)
Every lipstick junkie knows these are basically the Holy Grail of lip crayons. They're super pigmented, easy to apply, and come in a variety of finishes from matte to glossy. Just one usually goes for $26, so this set of five is a serious steal.
5. GLAMGLOW GIFTSEXY Ultimate Anti-Aging Set
$69 ($127 value)
If you've been dying to try some of GLAMGLOW's legendary skincare products, now's the time to do it. This kit comes with two masks, a cleanser, and an applicator brush that makes the whole process a little less messy.
6. Free Mystery Bag
And while you're picking up one of the awesome bundles above, don't forget to snag your free (with a $25 purchase) mystery bag. This grab bag is guaranteed to include one full-sized mask along with seven other beauty samples. Enter code SURPRIS3 at checkout to unwrap your surprise from Sephora.
Happy shopping!
Images: Courtesy Sephora