'Grease Live' Is Going To Be Amazing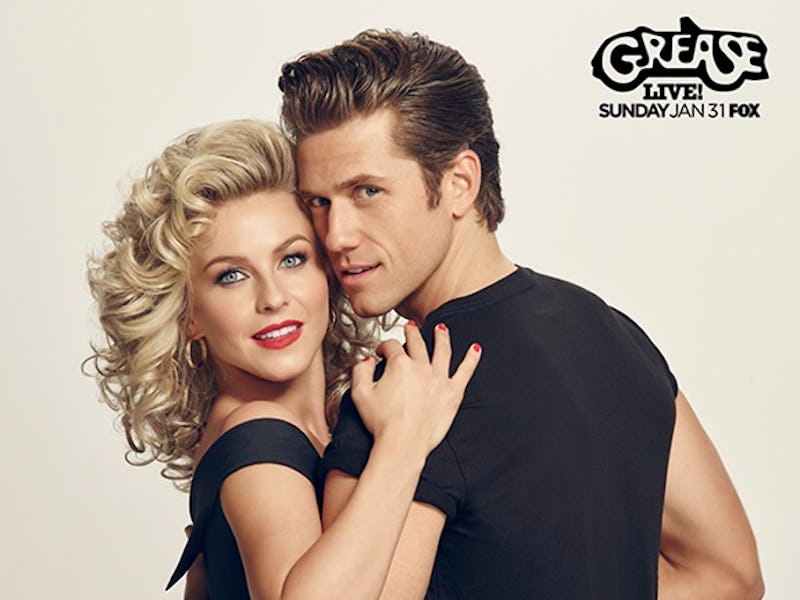 I grew up watching Grease on repeat. I'm not sure why, really, given that the movie came out in 1978, a full six years before I was born. But I'm not one to look a gift horse in the mouth, and having a childhood shaped by Pink Ladies and a rather suave John Travolta certainly isn't a bad thing. Of course, it also means I'm fiercely loyal to the original and can't really deal with the various reboots, sequels, and tributes that have popped up over the years. The one exception, however, is the upcoming Grease Live! TV musical, which just looks like such kitschy fun that I can't not be excited about it — even I'm not that curmudgeonly. And now that the first Grease Live! trailer has been released, I'm even more into it than I was originally (and that's saying something).
In case you've been living under a rock and have no idea what I'm talking about, Grease Live! is a TV musical version of the classic movie starring Julianne Hough as Sandy, Vanessa Hudgens as Rizzo, and Aaron Tveit as Danny, among other amazing cast members (Keke Palmer and Carly Rae Jepsen also star, if you weren't already freaking out enough). It's going to feature a lot of dancing, all of the songs we all grew to love in the original, and a whole lot of camp, too, I'm sure (FOX hasn't promised the latter, but I'm sure it's in store).
Admittedly, the 30-second promo leaves a lot to be desired in the fact that I basically need to see the entire production of Grease Live! now, but it's also really vibrant, energetic, and a great teaser for what's to come. After all, part of Grease's original draw was that it had such a cool kid vibe. It was a high school fantasy story set to really catchy tunes, and bore little to no reality to real life in the 1950s, but that didn't even matter. It was saccharine sweet and overly dramatic and just blissfully dreamy in all the best ways — and anyone who's ever seen it will know exactly what I mean by that description. The great thing is, it seems the TV musical could do a good job in living up to the original.
Grease Live! doesn't air until January 31, so we've got a while longer to wait before we can sing along to "Grease Lightning" at the top of our lungs while doing the dance in our living rooms. Don't lie, you know you'll be doing that, too.
Image: Tommy Garcia/Fox