Have A 'Jane The Virgin' Thanksgiving Marathon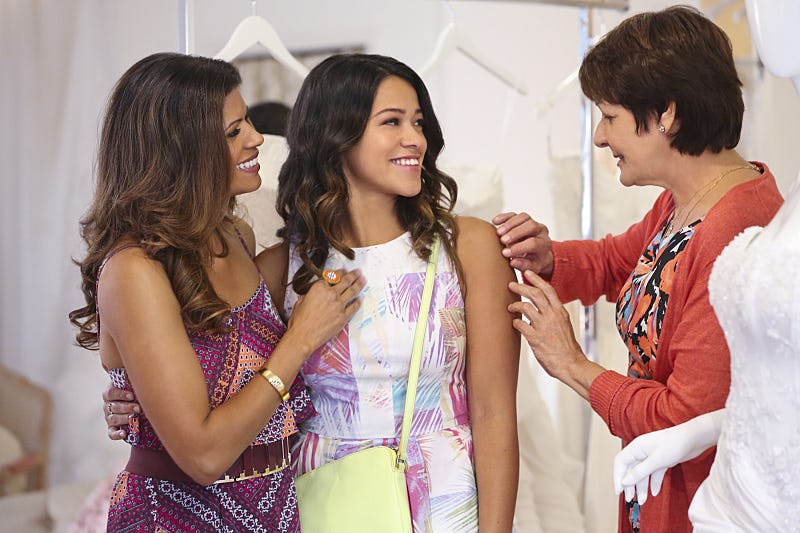 This Thanksgiving, after the turkey has all been eaten and you're ready to relax in front of the television in your tryptophan-induced haze, give thanks by watching Jane The Virgin. The CW rom-com telenovela, which is now in its second season, is a good choice for the whole family because it celebrates family — specifically Jane Villanueva's, which is made up of her mom, Xiomara, and her grandmother, Alba. As the title makes clear, Jane is a virgin who gets accidentally inseminated and then chooses to have the baby. Crazy storyline, we know, but if you can believe it, it gets even crazier once people start getting murdered. While that all seem a bit too much, this show makes it work by having a lot of fun with the material. Somehow they make sure each episode is more addictive than the next.
For anyone who thinks, "This just all sounds too silly." You're right. The show, which is broken down into chapters (a shout-out to Jane's dream of being a romantic novelist), is always in on the joke, laughing at itself along the way. It's a smart satire of Spanish soap operas that takes cues from that genre, creating a sort of hyper-reality where the characters all seem much too grounded for all the weird things they have to deal with. We're talking kidnappings, drug rings, Czech mobsters and murderous stepmothers. Jane The Virgin definitely lives by the motto, go big or go home. There's even a narrator that keeps everything in check for you. And believe me, with all these characters and plot twists to keep track of, you need him to help you keep it all in line. We haven't even mentioned Rogelio, Jane's formerly estranged dad, who just happens to be the star of her favorite Spanish soap opera, Passions of Santos, and loves hashtags.
One of those storylines you'll want some intel on is the show's love triangle that has Jane having to choose between her good guy ex-fiance Michael Cordero and her (for lack of a better term) good looking baby daddy Rafael Solano. No doubt you will be picking sides, declaring yourself Team Michael or Team Rafael before the third episode is done. Not that it matters what you think, Jane will make her own decisions, thank you very much. Jane is one of the most feminist characters on TV right now. A headstrong, independent woman who sticks to her guns. She may be trying to figure out her love life, but her baby is the most important thing. Followed then by family and career. Who she's going to end up with is the least of her worries right now. Not to mention, she's got to make time to daydream, which sometimes includes dancing with Britney Spears. Oh yeah, Britney was on the show, as was Kesha.
Amidst it all, the show does take on some more serious issues, such as immigration reform, which has been a running storyline since the first season. The show does not hit you over the head with it, but subtly throws it in as a reminder that this TV show does take place in the real world. It's a storyline not many feel-good shows are taking on, but since this one features a mostly Hispanic cast, it's something that speaks true to these characters.
The show also portrays a more realistic portrayal of what it's like to be a young mother trying to balance everything. Vulture even called its depiction of early motherhood "radically frank" since you so rarely get to see a new mom actually being a mom. Jane has to make tough choices when it comes to her baby and she worries about how those choices will end up affecting him, constantly questioning those choices even after they're made. It's an unglamorous portrayal of the early stages of motherhood, and it's refreshing to see on TV.
That's the thing about Jane The Virgin, so much of it seems like things you haven't really seen on TV before. They've taken a show that could have just been silly, and made it groundbreaking. That's why the real reason to watch this show is that it's really fun. You'll enjoy watching it, and maybe even feel a little guilty afterwards. Though you absolutely shouldn't — Gina Rodriguez is a Golden Globe winner for a reason people. This show isn't a joke, it's just good at telling them.
Images: Danny Feld/The CW; Giphy (3)