12 Thanksgiving Quotes About Family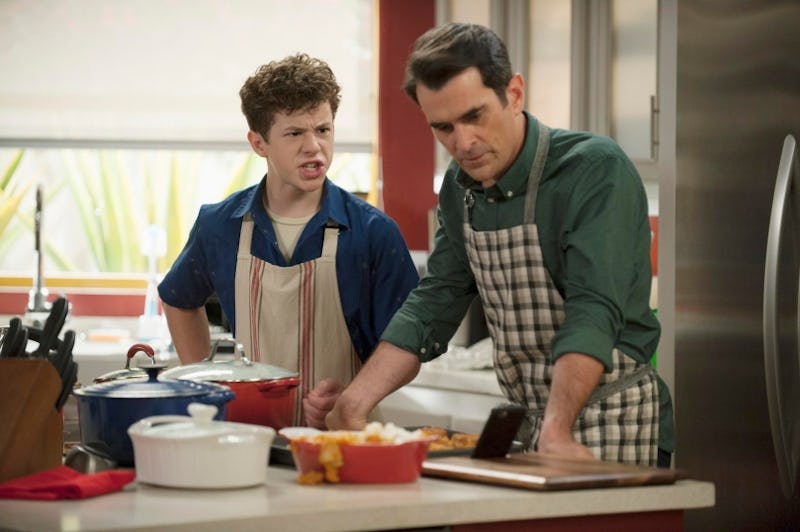 Not sure what to say to your relatives this year as you all crowd around the table for the first time all year? Look to one of these Thanksgiving quotes about family to help you out. After all, family is a funny thing. Whether you love them or hate, them, you're kind of stuck with them, and that's never more clear than on Thanksgiving, the ultimate gathering of people who are allegedly bound to you by blood (or so they say).
Granted, there's not likely to be any shortage of conversation as you and the fam take your seats at dinner. Chances are, you'll spend the first five minutes going around the table listing off the things you're all thankful for (it's the tradition that just never dies), and then you'll probably spend the next 20 minutes fielding all manners of unwanted questions from the aunt you only see at the holidays, who seriously can't imagine why you aren't dating anybody right now, and also wants to know what the heck you were thinking when you got that nose piercing earlier this year (today, she greeted you by exclaiming "is that a hole in your face?!?!"). Next comes the uncomfortable conversation about politics, current events, and world affairs, followed by an awkward silence that's only interrupted when your mom, bless her soul, asks if anyone is ready for dessert. If, at any point, you find yourself at a loss for words, pull out one of these quotes. They're sweet, they're sentimental, and some of them are even a little funny. Say one of these, and save yourself from saying something else you might regret.
1. "Family is not an important thing. It's everything." — Michael J. Fox
2. "There is no such thing as fun for the whole family." — Jerry Seinfeld
3. "I sustain myself with the love of family." — Maya Angelou
4. "Insanity runs in my family. It practically gallops." — Cary Grant
5. "Family is the most important thing in the world." — Princess Diana
6. "I love Thanksgiving because it's a holiday that is centered around food and family, two things that are of utmost importance to me." — Marcus Samuelsson
7. "Families are like fudge — mostly sweet with a few nuts." — Unknown
8. "A family is a place where minds come in contact with one another." — Buddha
9. "I don't think anyone has a normal family." — Edward Furlong
10. "When our relatives are at home, we have to think of all their good points or it would be impossible to endure them." — George Bernard Shaw
11. "When everything goes to hell, the people who stand by you without flinching — they are your family." — Jim Butcher
12. "America's a family. We all yell at each other. It all works out." — Louis C.K.
For more Thanksgiving ideas, check out Bustle on YouTube.
Images: ABC; Giphy