9 'Cool Runnings' Facts You Didn't Know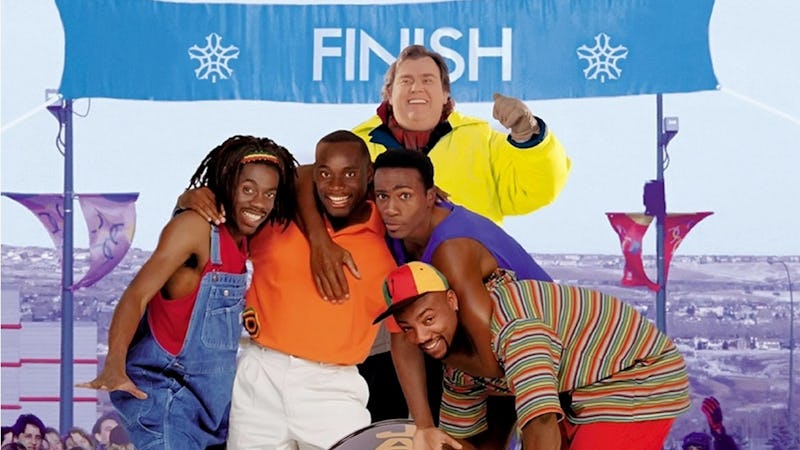 Are we having deja vu, or did our favorite childhood film just become reality? The Jamaican bobsled team just qualified for the winter olympics. But unfortunately, our favorite underdogs need a lot of money (and fast) to get their butts to Sochi. The team is trying to raise upwards of $80,000 in the next few weeks to cover travel and equipment costs. A story not unsimilar to a certain family-friendly tale.
Cool Runnings, that movie you watched on the Disney channel as a child, is more than 20 years old. And while the 1993 flick has delighted audiences for more than two decades, it's safe to say the film, just like a fine Bordeaux, has gotten better with age. So to celebrate our favorite snowy underdogs, just in time for the winter olympics, let's take a look at nine things you might not know about Disney's based-on-a-true-story, Cool Runnings.
1. A poll conducted by LOVEFiLM ranked Cool Runnings as the number one feel good movie of all time, beating out Ferris Bueller's Day Off, Forrest Gump, It's a Wonderful Life, Little Miss Sunshine and more.
2. Derice Bannock, played by Leon, was a role originally offered to Denzel Washington, but he turned it down. Similarly, Eddie Murphy turned down the role of Sanka because the pay offered was too little.
3. Shiva Keshavan, only one of three Indian athletes who will compete in the Sochi games beginning on Feb. 7, credits Cool Runnings for inspiring him to qualify for the luge races.
4. Screenwriter Tommy Swerdlow wrote Cool Runnings while high on heroin. Seriously!
5. If you look closely, you'll recognize Leon Robinson as the baby daddy of Cynthia Bailey's daughter on Real Housewives of Atlanta. Yep, that's him!
6. The real life Jamaican bobsled team didn't face such harsh opposition from other teams as was depicted in the film. One team even offered the Jamaicans a backup sled so they would be better suited to qualify.
7. Malik Yoba, who played Yul Brenner, portrayed Ice on Arrested Development . If you need a refresher, Ice was the bounty hunter/professional caterer that Lindsay tried to seduce on multiple occasions, even wearing her sparkly "SLUT" T-shirt to no avail.
8. Raymond J. Barry, aka Kurt Hemphill in the film, recently appeared on an episode of New Girl where he played the older version of Nick Miller appropriately dubbed "older Nick".
9. According to Bleacher Report, the Jamaican bobsled team never raised money from a kissing booth to fund their trip. Instead, two wealthy Americans paid for the team, and money was never an issue for the Jamaicans.
Images: Disney; Tumblr