'The Revenant' Set Photos Are Unbelievable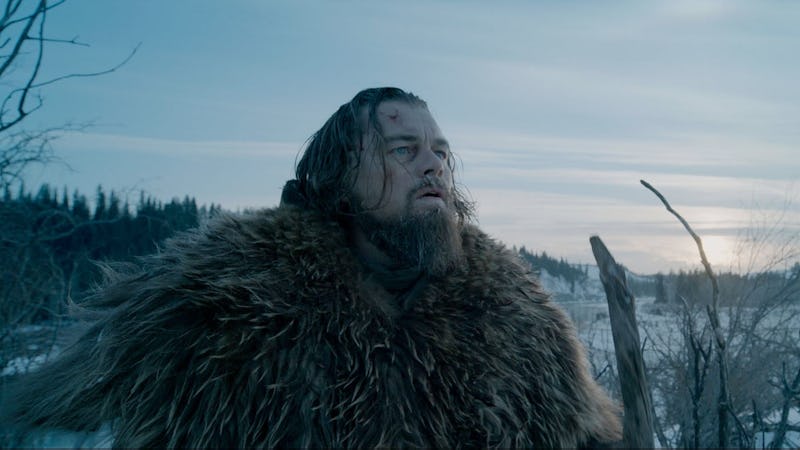 If you've been paying attention to the trailers and posters from Alejandro G. Iñárritu's The Revenant, then you're already aware of the film's visual grandeur. Oscar winning cinematographer, Emmanuel Lubezki, paired up with director Iñárritu for a second time since last year's dark and vividly bold comedy, Birdman, to create another cinematic experience worth fawning over. And, guess what? Fans of the DOP have been able to view some stunning sneak peaks from The Revenant — that is, if they are following the cinematographer on instagram. Lubezki and has been sharing The Revenant set photos and, no surprises here, they are breathtaking.
The Revenant, which stars Leonardo DiCaprio as Hugh Glass — the 19th-century explorer that was famously left for dead by his own hunting team after a gruesome bear attack — was filmed in Calgary, Canada. According to The Hollywood Reporter, the shoot was excruciating for all those involved. Iñárritu and Lubezki made the decision to only film with natural light, which limited filming hours and made for an incredibly difficult shoot. It may have been well worth it for everyone though, as the film is already garnering Oscars buzz.
The photos from set feature both the vast and snowy landscape we've seen in the trailers, with that same wide-screen scope feel. But along with that, we're also given tight shots of who are presumably extras and secondary characters from The Revenant, in a series titled, "Faces of R." The snaps echo the film's themes of isolation and man vs. nature. By the looks of these, Lubezki, having won back-to-back Best Cinematography Oscars for Gravity and then Birdman, has arguably just solidified a third win. Here are some of the best shots.
By the Fire
Lubezki's rendering of the night fires on set mimic the moody, atmospheric feel of the film.
Canadian Scenery
Lubezki's wide angle lens captures the vast landscape of Canada, where the movie takes place.
Portraits
The "Faces of R" series showcases the raw emotion and gritty realism found on set.
For more photos follow Lubezki, @chivexp on instagram, and witness his cinematographic work when The Revenant opens on Christmas day.
Images: 20th Century Fox