I Dressed Like A '90s Teeny Bopper For A Week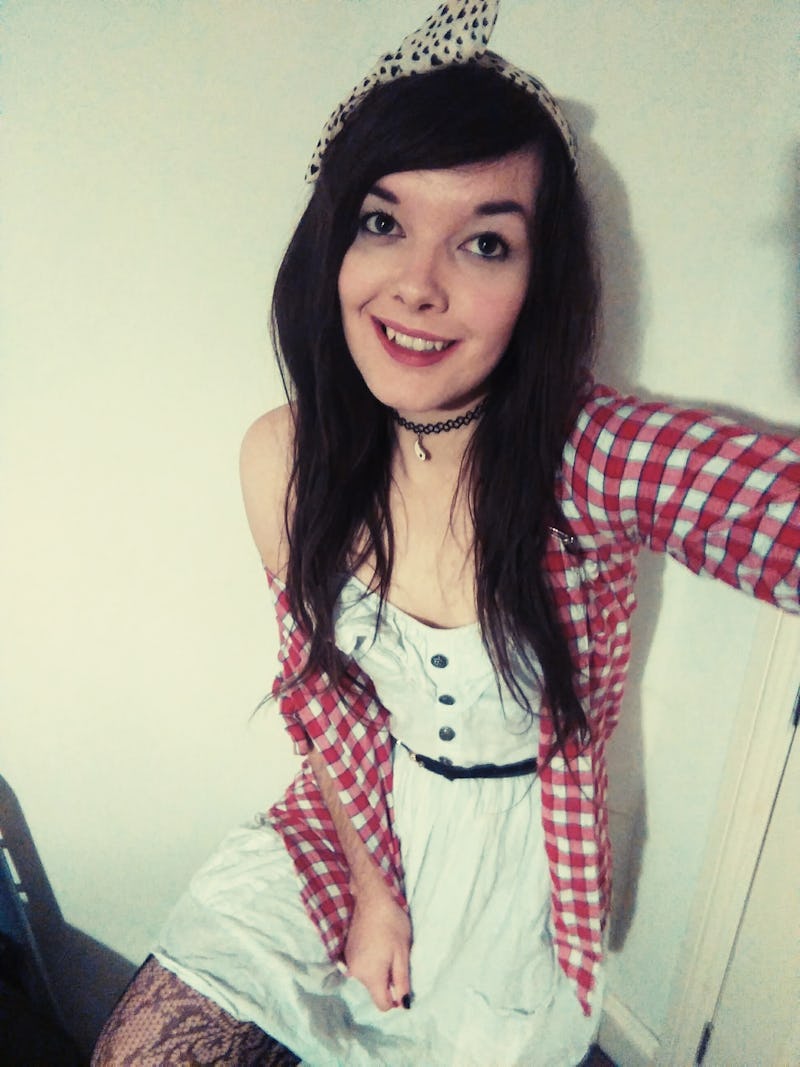 Ah, the '90s. A land of scrunchies, Spice Girls mania, and endless re-runs of Sabrina The Teenage Witch. As a wee whipper-snapper of nine years old at the start of the millennium, my knowledge of the '90s is pretty patchy. When considering how to dress like a '90s teenager, my nostalgic brain conjured up images of flashing platform sneakers, soft, velvety skorts, and everything denim.
The fashion of the '90s has been undergoing a huge comeback in the last two years, and while doing some style research on the iconic era, my inner '90s child became totally in awe of the weird and wonderful treasures I discovered. From slick back to school outfits to must-have middle school trends to lust-worthy beauty products, this was a decade of sartorial experimentation of the highest order. Whether you favored the angst-filled teenage allure of grunge-glam or preppy plaid á la Clueless' Cher, the styles were as diverse as the range of LipSmacker flavors at the supermarket.
Although pre-21st century-inspired clothing is back in vogue for 2016, I was more than a little bit terrified when it came to the challenge of dressing in solely '90s-esque outfits. How would I survive without my wet-look leggings, or my luxurious faux fur-trimmed leather jacket? How could I forgo my snoods, my skinnies, and my straighteners? As it happens, it was a lot easier than I thought. Here's what happened when I spent a whole week channeling my inner '90s kid.
Day 1
The first day of my Saved By The '90s makeover called for an outfit that was dressy enough for my friend's birthday burritos and cocktails, yet cozy enough for an outside gig in England in winter. After much deliberating, I decided to go for a Nirvana-meets-Clueless crossover, pairing messy middle-parted locks with black combat boots, studded bangles, and an oversized gray cardigan reminiscent of a similar knitted garment donned by Kurt Cobain in 1993.
I then combined this look with a scalloped-edge plaid dress, white satchel, and lace tights to add a cutesy Cher Horowitz edge.
I was actually pleasantly surprised by the look. Besides the lack of waist-cinching (which would have ruined my '90s boyfriend chic silhouette), this outfit wasn't too far off from what I'd normally wear. However, what really pushed me out of my comfort zone was the severe middle part. As someone blessed with a lavishly large forehead, I'm used to detracting the attention away from it with sneaky tricks, like bangs or deep side partings. As a result, having its full effect on show for all to see was rather disconcerting.
But as the night wore on, my middle part really started to grow on me. It was refreshing to be able to dance my cares away without constantly having to brush the hair from my eyes. And not one person commented on my forehead's moon-like glow. In fact, my friend Emily told me how well my self-styled curtains framed my face. Success!
Day 2
Day two consisted of working in my local library in the morning, coffee and museum meandering with my housemate in the afternoon, and a play rehearsal later in the day, requiring an outfit that was presentable yet easy to move around in. Eventually, I settled on my own approximation of '90s Courtney Love style, mixing a floaty, fairy-like white dress with a studded belt and a red and white checked flannel shirt to dress down the daintiness and give me some much-needed winter warmth. I also added a tattoo choker and another pair of trusty lace tights to create a look much like Love's classic rag doll style.
I wanted my hairstyle to channel the '90s bohemia of my dress, so I added a heart-print bandana tied in a bow, and a trio of mini braids in tribute to my favorite '90s hair tool, the Twist A Braid.
With temperatures currently averaging around 40 degrees in northern England, I was pretty apprehensive about wearing a strappy sundress. However, my flannel shirt kept me cozy, and I really enjoyed staring out of the library window, wondering what mixtape Kurt might make for me later.
Lunchtime posed the risk of rogue coffee stains, and my housemate lamented over how cold I looked — although she agreed that this look would be perfect for a springtime festival. Play rehearsals, however, brought me into my outfit element. My character is quite artistic and ethereal, so the hair and dress gave me a useful air of whimsy to effectively channel her essence. But on the way home, disaster struck. A rogue gust of wind gave my skirt an unexpected Marilyn Monroe-esque billow, and the owners of my local corner store an unwarranted glimpse of my knickers.
Day 3
On the third day of my experiment, I had a meeting, an interview, and two house viewings lined up, so I needed to look put-together. Luckily, inspiration struck in the form of '90s style icon Cher Horowitz, queen of plaid, pretty hosiery, and pristine blouses.
Sadly, co-ord yellow plaid paired with a fluffy white backpack seemed a little too risqué for my day of office-formal fun. I hoped my outfit of a checked miniskirt, a pussy-bow blouse, and cutesy red tights would lend me almost the same confidence and flair (paired with a plaid backpack and Cher's iconic half-up, half-down hairstyle, of course). The platforms made me feel powerful, but were much higher than I'd normally wear day-to-day. Luckily, no head-over-heels moments occurred, albeit there were a few near misses.
The clothing that most worried me was the tights. Were they too in-your-face for a formal interview? But on arrival, my interviewer actually commented on how well put-together I looked. Thanks, Cher!
Day 4
Day four consisted of a very chilly yet atmospheric walk around some Japanese-inspired gardens, a beach bonfire, and fireworks. It was cold. Very cold. Time to bring out my grunge guns in full force.
Pairing ripped black jeans with combat boots, a band T-shirt, and not one, but two oversized shirts (a plaid one around the waist, and a stonewashed one over my shoulders) meant I was feeling the double denim almost as much as Jared Leto in the '90s.
I was ready to tackle an apocalypse, never mind the unpredictable weather of a northern seaside town.
Although my two shirt system did lend me the odd strange look, my friend Heather commented on how on-trend my outfit was, proving that '90s style really is back in full force. The item I loved the most was the beanie. Not only did it keep my head warm during the evening's fireworks, but it also negated the need to brush my hair. Lazy locks at their finest.
Day 5
For Friday night food, drinks, and dancing, I wanted to pull out all the traditionally girly aesthetic stops and channel Saved By The Bell bombshell Kelly Kapowski.
Mixing a paisley, bell-sleeved, off-the-shoulder top with an A-line skirt and choker, plus chunky platform heels, I felt strangely fond of my new night-out attire.
But then, it was time to break out the '90s hair and makeup.
By the time I'd swiped on the frosted silver eyeshadow, pale pink lips with dark liner, and pulled my hair into half-up, half-down bunches á la Baby Spice, I felt like I was about to attend my fourth grade school disco.
During the meal, one guy asked me if I'd gotten confused about the party dress code, and on the way to the bars later, a group of men started singing Spice Girls "Wannabe" at me. I was also the only one out of all my friends to get my ID eyed with suspicion at every single bar. But there was one upside: At the last bar, I got to chatting with an old workmate about my '90s style experiment, and he called the look "directional." I'm not entirely sure if that was actually code for "horrendous," but I'm going to be optimistic and pretend it was a compliment.
Day 6
The day of my friend's indie metal gig arrived, and I knew it was time to fall back on my old '90s faithful: grunge glam. This time, I went for a childhood throwback of striped overalls paired with a black off-the-shoulder T-shirt, an oversized plaid shirt, and lashings of thick black eyeliner á la My So Called Life's Rayanne Graff.
The overalls were a little out of my comfort zone due to their lack of length, and it was difficult to master the one-up, one-down strap couture look at first. I had no idea that being effortlessly stylish could be so damn difficult. But paired with my reliable combat boots, I found I was able to jump around to my heart's content in the overalls without any disasters.
My '90s-style braids helped keep the hair out of my face in the hot, sweaty venue. But I was ever-so-slightly starting to miss my usual look. Nineties hair is ingratiatingly quick and fuss-free, but sometimes, fuss is what warms my couture cockles.
Day 7
The last day of my experiment consisted of a lazy day of errands, food shopping, and a library visit. Pulling open the curtains, I saw it was a dull, rain-splattered morning. So I chose to empathize with the weather's misery with a grungy, muted combination inspired by The Craft.
Pairing a long gray skirt with a thick green sweater, boots, and a beanie, this outfit made me feel quite toasty and cheerful, despite its dark, dreary hues.
The last time I wore a skirt like this was when they were school uniform du-jour back in fifth grade — when anyone who was anyone swapped their school pinafore for the midi skirt's grown-up cool. In fact, this length is perfect for battling wintry weather. And with a remake of The Craft due out later this year, I'm perfectly happy being a terror-flick trendsetter until then.
What Did Going Full '90s Prove?
I expected to end this experiment feeling sick to death of '90s-inspired garments. But actually, my style overhaul has been a real eye-opener. Not only did it help me realize the amount of '90s throwback clothing I already had in my wardrobe, but the '90s trend itself has really grown on me.
Aside from the odd Baby Spice-esque hair disaster, channeling the '90s kid in me left me with some style inspiration that I can definitely see myself incorporating into my everyday wardrobe — particularly the red tights, maxi skirt, and two-shirt lumberjack look. I'm not coming out of this committed to replicating Courtney Love's most iconic looks from '95 every single day, but I am coming out of it with the understanding that, sometimes, ditching your comfort zone and opting to experiment is a pretty useful method of expnding your style horizons. Where I previously dismissed the '90s resurgence as being a look for hipsters and trend-chasers, I now realize that there's a way to make every "trend" — and every decade — your own.
Cher, get my number on speed dial. It looks like I might be needing your sartorial advice a lot more often.
Want more '90s inspo? Check out the video below, and be sure to subscribe to Bustle's YouTube page for more!
Images: Raffy Marie Parker; Paramount Pictures (1)