The Beauty Products We All Owned In The '90s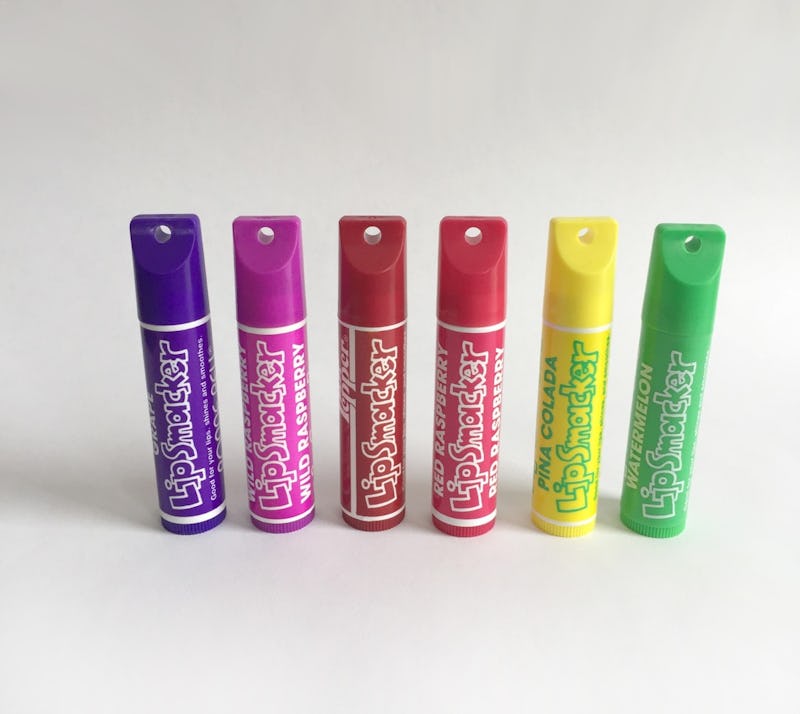 No matter your personal aesthetic, the beauty products in the 1990s led to an inarguably experimental time for beauty. Those on the societal periphery were drawn to the raw-edged allure of grunge, while others were inexplicably pulled to the incredibly feminine minimalism brought to the forefront of culture by Calvin Klein and Gwyneth Paltrow. No cosmetic style was out of bounds, from a starkly contrasting swipe of nude lipstick over earthy lipliner to a dose of glitter-infused body lotion that would put even the shimmering vampires of Twilight to shame. The '90s provoke bouts of nostalgia for an incredibly logical reason: aesthetically speaking, anything was possible.
To deeply rooted is the cultural wistfulness for the decade that '90s influences consistently seep into modern beauty practices. The oxblood lipstick trend of 2012 drew heavily from the pervasive vamp lip trend of the decade, and 2015's fixation on contouring and highlighting isn't simply the brainchild of Kim Kardashian's makeup artist — it is a cultural remnant from the 1990s.
As the millennial generation has matured, so too has the crop of products available for channeling this '90s sentimentality, yet some of the decade's discontinued products will forever trump even the most luxurious nude lipstick and shimmering body lotion on the market today. If you would rather sport Bonne Bell Lip Smackers and your Gap fragrance than Tom Ford Lipstick and Chanel No 5 any day of the week, scroll through for some of the '90s products that captured the hearts and minds of a generation.
1. The Brown Maybelline Lipliner
A swipe of nude lipstick simply didn't make enough of an aesthetic impact without a generous dash of brown lipliner to provide contrast.
2. The Extremely Pale, Nude MAC Lipstick
The rosy nude lip products of the aughts simply don't hold a candle to the pale, creamy-matte shades that were ubiquitous in the 1990s.
3. The Demeter Fragrance
Why spend a year's allowance on a designer fragrance with a myriad of indiscernible notes when you could snap up Demeter's natural, single-note scents for a song?
4. The Nearly-Noir NYC New York Color Lipstick
No '90s cosmetics trove was complete without a rich, heavily pigmented lipstick in a shade Winona Ryder would approve.
5. The Clear MAC Lipglass
Settling for a bland lip was the kiss of death in the '90s. Those who dared to rock a glossy lip did so with MAC Lip Glass, a product so essential it remains a makeup staple to this day.
6. The Frosted, Scented Hard Candy Lipstick (And Corresponding Nail Polish)
Even if you weren't an aficionado of the brand's lipstick, you likely possessed a cache of Hard Candy Nail Polish complete with oh-so-covetable rubber rings.
7. The Bath And Body Works Body Mist
Though repackaged in a more sophisticated, streamlined vessel, Bath And Body Works' Body Mist will forevermore retain its kitschy, '90s reputation.
8. The Bonne Bell Lip Smackers Lip Balm
Those dipping a toe into cosmetics met their makeup match in Bonne Bell Lip Smackers, whose subtle tints and mouthwatering, saccharine scents made each tube irresistible.
9. The Hair Crimper
Those who craved a walk on the wild side did so with insouciantly crimped hair. Straightened locks, after all, were far too mainstream.
10. The Wet n Wild Black Eyeliner
Rocking a nude lip with raisin-hued lipliner simply necessitated a dash of Wet n Wild black eyeliner — smudged to perfection, of course.
11. The Gap Fragrance
Gap's denim wasn't the store's only craved product; in fact, I would wager that most '90s teens might have tossed their acid-washed pairs for one more bottle of Gap's nuanced perfume.
12. The Chanel Vamp Nail Colour
The '90s transformed Chanel's Vamp Nail Colour from a devastatingly daring hue to a must-have cult product, thanks to the Grunge movement.
13. The Shimmering Powder Puff
Perhaps one of the most peculiar trends of the 1990s, the shimmering, scented powder reigned supreme — especially when the luminescent powder was edible, as was the case with Urban Decay's formula. If modern day organic devotees are particular about pesticide-free produce and paraben-free products, I wonder how they would react to the ingredients list of Urban Decay's peppermint powder.
14. The Bath And Body Works Art Stuff Products
Gone but not forgotten, Bath And Body Works' Art Stuff Products united the '90s tween desire for colorful, scented products that did little more than ornament a locker or desktop.
15. The Heavy Metal Eye Shadow
In the '90s, loose glitter wasn't a form of retaliation against a sworn enemy; instead, the substance served as the ultimate in eye shadow. Never mind that specks of silver glitter seemed to cling to every surface for weeks after a school dance — the statement was well worth the cost.
16. The Sun-In
Any millennial who desired a sun-kissed halo of golden highlights began their foray into dye with Sun-In, the ever-so-slightly more effective version of the average squeeze of lemon juice over sun-heated locks.
17. Clinique Almost Lipstick In Black Honey
Both utilitarian and universally complimentary, Clinique's Almost Lipstick in Black Honey graced the bathroom counters of every tween girl in the '90s, as well as those of Hollywood's most renowned actresses.
18. The Scented Nail Polish
Why nail polish required a scent in the '90s remains unclear, but bubblegum-fragranced tips were certainly more pleasant than the acrid odor of acetone.
19. The Glittering Faux-Highlights
Those teens who felt the impulse to drastically transform their 'dos without parental consent for permanent dye did so with temporary streaks of color — or glitter, in some cases.
Images: Susan Saltzman; K.B.R/Flickr; maccosmetics.com, amazon.com, fragrancex.com, newyorkcolor.com, maccosmetics.com, ebay.com, bathandbodyworks.com, amazon.com, drugstore.com, amazon.com, perfume.com, chanel.com, ebay.com, ebay.com, drugstore.com, nordstrom.com, ebay.com, rakuten.com, beautyencounter.com