These Are The Prettiest Sephora Cyber Monday Kits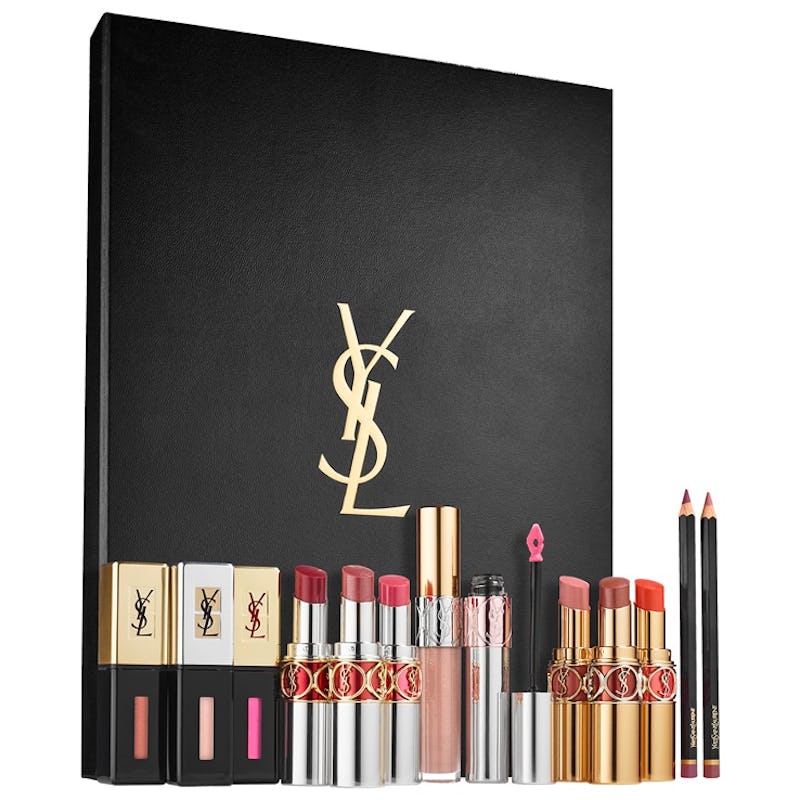 Cyber Monday is here and with it, the online shopping frenzy! Try not to break a nail while furiously tapping at your keyboards. But you know what? Lots of Sephora Cyber Monday sets and general holiday gift sets offer an amazing dual purpose that only a true makeup lover will understand and appreciate. First, and most importantly, the Sephora Cyber Monday kits offer a crazy amount of items and colors at a deep discount. Therefore, you have endless color options that allow you to create amazing and artistic makeup looks. Second, and not as obviously, these kits will look totally awesome on your vanity.
So it's not just about what inside the package, but it's also about the packaging itself.
Makeup companies go out all during the holiday season to craft gorgeous, aesthetically pleasing, and cute containers, which I want to display openly on my vanity and my bureau.
Also, I always find myself keeping and using the boxes in which some of the items are housed to store stuff like paper clips, pens, earrings, makeup brushes, and other stuff.
So an even further benefit is that these kits are actually environmentally friendly since they are too pretty to toss.
How's that for totally awesome?
These are the five prettiest Sephora Cyber Monday sets that you will want to display!
1. Yves Saint Laurent Iconic Lip Wardrobe
Who doesn't want a YSL bag or boots? Well, those are likely way, way out of your price range. So the YSL Iconic Lip Wardrobe is the next best thing because the classic YSL logo will class up any location in which it's stored.
It's almost like a mysterious jewelry box! ($250, sephora.com)
2. Too Faced Le Grand Palais
Très chic! Too Faced's Le Grand Palais kit hosts 18 shadows, two blushes, a bronzer, a highlighter, Better Than Sex mascara, a Melted liquid lipstick, and more! But it's the darling packaging that sells this, IMO. It's packaged like a dressing room, complete with a grand, picture window view of the Eiffel Tower. Given the recent tragic events in Paris, this reminds us of the wonder, beauty, and power of the City of Light. ($58, sephora.com)
3. Benefit Cosmetics Pret-a-Party Full-Face Makeup Kit
If you like your vanity to be fun and colorful, this pop art-inspired Pret-a-Party Full-Face Makeup Kit from Benefit is aces. That's because the cool and fun products come stored in a keepsake, collectible tin.
So cool, right? I am already thinking about what I can store in this round tin. ($49, sephora.com)
4. Sephora Collection Be Spotted Brush Set
OMG — these brushes are breathtaking. This six-piece, rose gold x leopard brush set pretty much demands to be stored in a sleek, clear glass cup on your vanity, thanks to the spotted handles. It comes with a storage case, but you can only do justice to these by displaying them! ($54, sephora.com)
5. Urban Decay Eye Shadow Vault
Urban Decay's motto is "Beauty With an Edge." The brand's palettes are also its bread and butter. Therefore, this 20-shadow set, housed in a smoked out, black and gray box, needs to live on your vanity or your dresser, since it captures all elements of UD. And if you are a proud UD girl, you don't want to hide your allegiance.
Plus, it looks really freakin' cool, too. ($245, sephora.com)
Sephora Cyber Monday deals allow you to dress up your beautiful face and your bureau/vanity.
Images: Courtesy Brands (9)