12 Amazing Book Charities Around The World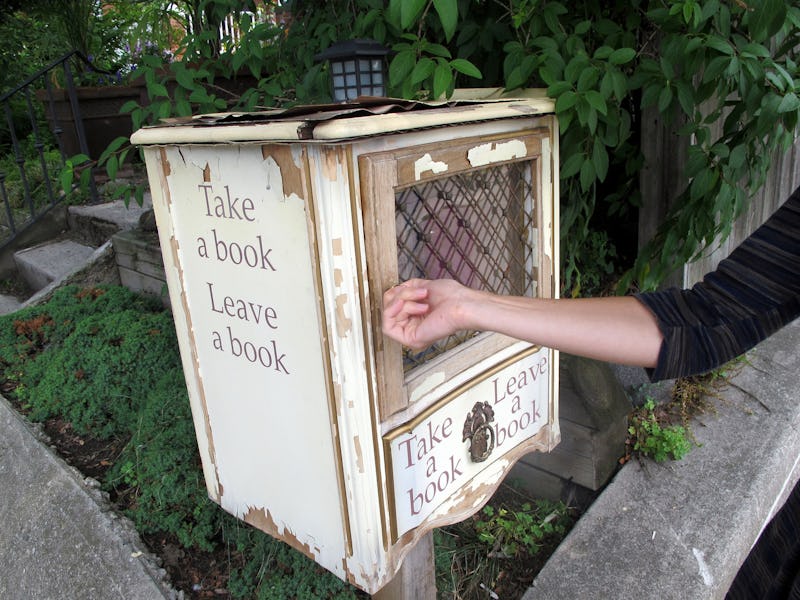 It's Christmas Day, the time when festive lights, sugar cookies, and the generous acts of giving and gifting is in full swing. The moment you begin to hear the Salvation Army bell ringing outside your favorite stores and see Toys for Tots bins set up at your office, you're reminded of the true reason behind the holidays.
Giving back to your community, and even around the world, is a gift in of itself. I've been an avid volunteer for multiple organizations over the years, and there's nothing better to me than helping dedicated foundations give back to communities in more ways than one. So this year, I'm planning on donating to as many literacy charities as possible with some of my favorite books. Because when I think about a small child reading Where the Wild Things Are or Corduroy for the first time, it warms my heart better than the world's best cup of hot cocoa.
It's a well known fact that books and literacy change lives, yet there are still over 740 million illiterate people in the world. Whether it's due to poverty-stricken circumstances or the lack of resources, there are over hundreds of book charities focused on decreasing that number as much as possible. While it's hard to choose which charity to give to, each one offers a unique and personal touch in enhancing literacy rates. Here are 12 incredible foundations that are currently changing the world as we speak. Maybe you can find it in your heart to donate time, items, or dollars today on Christmas.
1. Worldreader
Worldreader's mission is to bring digital books to children and families around the world to improve literacy rates dramatically. With an ever increasing growth in technology, Worldreader provides e-readers to children and families, reaches 69 different countries, and provides hundreds and thousands of different titles to choose from.
2. LitWorld
LitWorld is out to change illiteracy levels, but it's also focused on cultivating creative expression and reminding children that their stories are important. LitWorld programs offer reading and writing lessons to enhance communities and bring people together through the love of story. As its site says:
We believe that literacy is not a gift given just to some lucky ones, it is a foundational human right that brings joy, economic independence, gender equity and a pathway out of poverty. Everyone should have it.
3. The Book Bus
The Book Bus provides books to children in Africa, Asia, and South America. The bus acts as a mobile library and offers resources such as volunteer storytellers to teach children in both large and small class sizes how to read. With weekly visits and an ever expanding growth in this charity, The Book Bus is making a monumental difference.
4. Little Free Library
You may have seen a Little Free Library pop up in your neighborhood, or perhaps saw one on a new route to work. These adorable mini libraries are actively spreading across the world, and sharing the message of "give one, take one". You can buy and set up your own library for your community (and it's probably the best lawn decoration in the world, tbh), or you can use their map to find the closest one near you to donate books to — and even take a few for yourself!
5. Books Abroad
Books Abroad takes in used books that would otherwise be discarded, and donates them to schools and children all around the world. To date, this organization has helped over 2,000 schools and donated over 3 million books. So if you have some old books that you haven't touched in years, consider donating them to a worthwhile cause that alleviates poverty thorough education.
6. WaterBridge Outreach
This charity doesn't just want to promote and encourage multicultural literacy, but also focuses on nourishing the body with clean water facilities in developing countries. With water and books, WaterBridge Outreach is giving children all around the world a future to thrive in.
7. Women's Prison Book Project
Since 1994, Women's Prison Book Project has offered free reading materials to women and transgender persons in prison. They're on a mission to break down the barriers between prison walls and begin a conversation about education within the justice system. They have changed the lives for many women in prison by offering books that provide knowledge on law, health, history, politics, and so much more.
8. Room to Read
This unique charity is out to tackle two issues: illiteracy and gender equality. Across Asia and Africa, Room to Read is helping to create a habit and lifelong love for reading, along with supporting girls to finish secondary school with the necessary life skills they'll need to succeed. Your donation could help send a girl to school, start a library, or build a new classroom in third-world countries.
9. Project Night Night
Project Night Night donates over 25,000 packages a year that each include a security blanket, children's book, and a stuffed animal to homeless children 12 and under. If you still have a childhood blanket or stuffed animal, then you know how important and essential those items are to creating a safe and secure mindset — especially for those who are facing traumatic situations.
10. First Book
First Book is an impressive and incredible foundation that is dedicated to providing books to low-income families throughout the U.S. and Canada. They aren't only concerned with providing books and the resources for children to grow and learn — but are making sure new, rich, and varied books are being distributed from publishers all over. With famous authors like John Green backing this foundation, it's a sure way to know you're giving to a great cause.
11. Living Paintings
This U.K.-based publishing house and library helps bring the visual world to blind and partially sighted people through tactile and audio books. With a wide range of books and subject matter, Living Paintings offers a free online library to the public. Out to expand nationwide and end isolation between blind and sighted persons, this organization has sparked an amazing movement.
12. Milk+Bookies
Milk+Bookies is all about spreading the enjoyment of reading to those who can't afford books of their own. It's also focused on showing how wonderful the act of giving back is for young children by encouraging kids to donate their own books. This holiday season, you can even host your own M+B book raiser party!
Images: Christopher Porter/flickr; Worldreader; Litworld/YouTube; The Book Bus; Little Free Library; Books Abroad; Waterbridge Outreach; MelRae#1/YouTube; Room To Read; Project Night Night; First Book; Living Paintings; milkandbookies/YouTube