'Seinfeld' Cast Sends Messages To A Sick Fan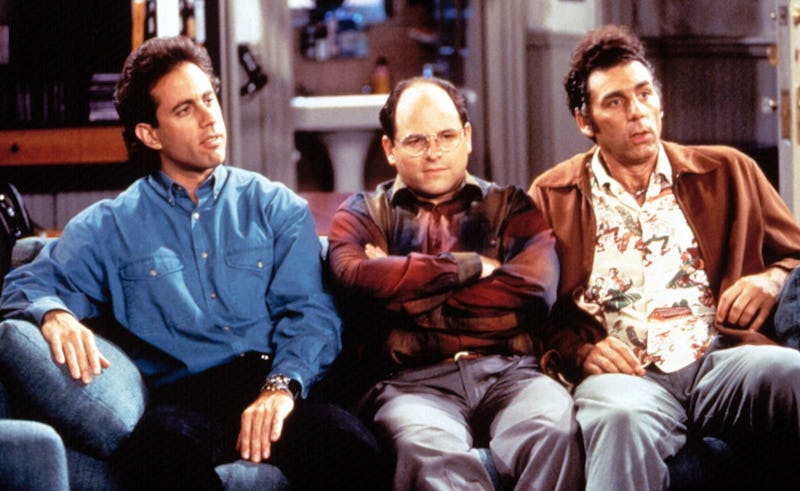 Even though Seinfeld's cardinal rule was "No hugging, no learning," the cast of the show is a bunch of softies in the best way. James Calder asked the cast of the show about nothing if they wouldn't mind sending some birthday messages to his father Jim Calder, a huge fan of the show who was battling lung cancer. Julia Louis-Dreyfus, Wayne Knight (Hello, Newman) and John O'Hurley (J. Peterman), and many, many more cast members went above and beyond in sending wishes for James' father, and they did it in the most Seinfeld way possible: sending messages through their characters.
Jim Calder wrote on The Huffington Post about his father James, who had been battling terminal lung cancer for two years. He just passed last week, just three days before his 67th birthday. In his post, Jim wrote about trying to come up with the perfect gift for his father, and first solicited birthday messages from friends and family, before dreaming a little bigger.
As the videos started rolling in we thought about who we could reach out to for a birthday message that would really impress my dad. We immediately thought of his favorite TV show, Seinfeld. We started planning how to pitch this to the Seinfeld characters and started to reach out through published articles about the project, social media outreach and word of mouth. The Seinfeld birthday project was born, but we really weren't sure how and if it would flourish."
But flourish it did, beyond Calder's expectations. Thinking he would get replies from a few of the side characters from the show, the Seinfeld cast responded with such kindness and warmth and, most like them, humor, most of them sending messages in character. John O'Hurley was the first to respond with a message from J. Peterman about the tropics of Guinea; Patrick Warburton, aka Puddy, talked about eating M&Ms; even the Soup Nazi and Bania were there.
A late message came from Julia Louis-Dreyfus, who didn't get into her character, but sent something even better. Though it would have been fun to see Elaine again, she sent such a heartfelt message in response to James' request. "I'm so glad you are a huge fan of the show, that's a huge joy," the 47-year old actress said. "You have a wonderful son who adores you, so congratulations on that."
Calder said his father was overwhelmed by the kindness of the cast, and he himself was blown away not only by the videos sent in but by the responses he got and the offers to help him connect to the Seinfeld stars. "The day before he passed, my mom and I decided to start showing him the videos to lift his spirits. He was shocked and mystified about how we were able to reach the Seinfeld cast members. He really felt the love and support," Calder wrote.
Watch some of the many videos and have a good cry (not that there's anything wrong with that).
Image: NBC