The 25 Best Fiction Books Of 2015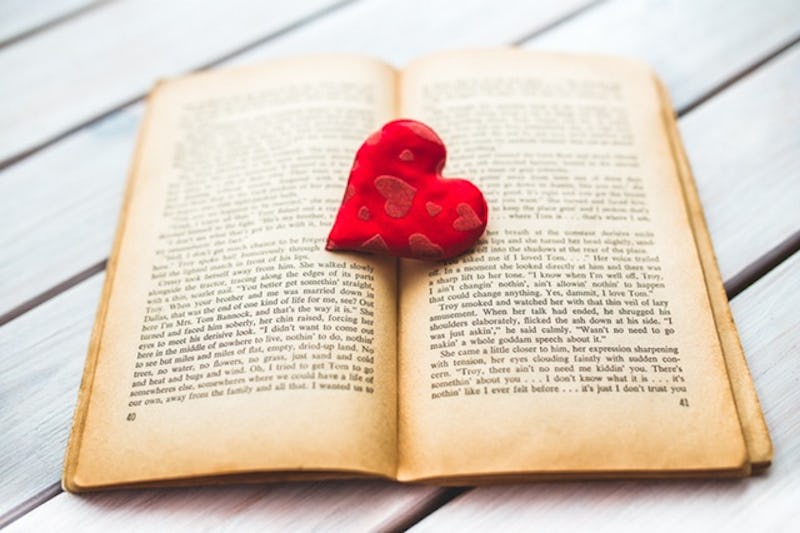 "This year can't be topped, books-wise," I think like clockwork with each passing December, only to be proved wrong by the latest crop of books. This year, 2015, is certainly no exception.
How do we even begin to parse through these and pick the best books of 2015? It's a difficult task, even for someone who spends most of her time buried in books. It may be even harder in that case, as I've read many books by brilliant writers this year. While 25 may seem like a relatively high number, it still involves, so to speak, killing darlings and favorites, leaving them on the side.
Perhaps in a larger recognition of how uncertain these times are that we live in, the books of 2015 largely existed in unstable settings or dystopic futures, filled with characters attempting to live and maybe even thrive. In most, this desire to thrive manifested itself within meditations on the body: how does it endure? How does it change and morph as time goes on? Whether through the influence of television or drugs, such as in Alexandra Kleeman's You Too Can Have A Body Like Mine or James Hannaham's Delicious Foods, or of through natural progressions such as age and motherhood in Elisa Albert's After Birth or Elena Ferrante's The Story of the Lost Childhood, bodies occupied a singularly important space in literary fiction.
While no list can truly encompass the literary greatness of 2015, below are 25 favorite books that we believe stand out, each in their own unique way, in no particular order.
Motherhood isn't all Mommy and Me programs for Ari. It's guts, sadness, and rage. Unable to ground herself after the traumatic birth of her son, Ari seeks companionship with her new neighbor, the very pregnant ex-punk rocker Mina. A tour through the often overlooked realities of motherhood, friendship, and the days of riot grrrl, Elisa Albert's novel is the antidote to the crippling expectations of society on women.
A Little Life hardly needs an introduction, as it quickly became one of the most discussed books of 2015 for its brutal and unflinching portrayal of abuse and trauma. And while I cannot overstate how difficult A Little Life is to read at times, the novel is at its best when Hanya Yanagihara focuses on the small kindnesses between the four friends, whose friendships are explored over the decades.
While many critics couldn't get into the fantasy elements of Kazuo Ishiguro's latest novel, I would venture to say that it's one of his most complex and heartbreaking portraits of how memory and trauma are intertwined with forgetfulness. As Axl and Beatrice set out on a journey to find the son they may have forgotten, they encounter figures from Arthurian legends, learning that their own fate is closely linked to that of the larger history of ancient Britain. Get the tissues for this one.
With clipped sentences and observations that upend your expectations from one sentence to the next, Lucia Berlin's short stories evoke worlds both familiar and strange. From cleaning women to nurses in emergency rooms to mother and daughters, her women work at the corners of society, often unnoticed, but with sparkling lives all their own. Sadly, Berlin's work was often overlooked during her lifetime.
#FerranteFever reached its height this September with the conclusion of Elena and Lila's friendship in the final book of the Neapolitan Series. As their families intertwine, old jealousies and insecurities flare-up, leading to a smart and haunting end. You'll be returning to My Brilliant Friend to sort out what the final pages mean, guaranteed.
It begins with a painting and a painter who works for the Stalinist regime, censoring dissidents and rewriting history with his paint brush, and it ends in the far reaches of our solar system. Anthony Marra's short stories rely on intricate connections between his characters, as they come to grips with their humanity in an often inhumane system. Pay close attention for the callbacks to his 2013 novel A Constellation of Vital Phenomena.
"There ain't no haints in Detroit," the Turner patriarch tells his children after a supposed brush with the supernatural in their home. The phrase takes on a life of its own as the Turner family grows and expands, only to re-descend upon their home when their mother falls ill. A sprawling family history that delves into the Detroit housing crisis and the potential legacies the past holds, Angela Flournoy's first novel will be remembered as the start of a brilliant career.
When an unnamed writer becomes obsessed with a photo of girl being thrown from her exploding, fiery home in a war zone, her family and friends join together to bring the orphaned girl to America. Characters and events traverse the globe and back in this exploratory novel on identity, ethics, art, and family. Take a few days to sit with this one. The all-consuming narrative may be confounding at times, but Lidia Yuknavitch's experimental prose is brilliant.
President Obama cited Fates and Furies as his favorite book of 2015, and it's not difficult to see why. Marriage with all its intricacies makes for some of the best novels, and the marriage of Lotto and Mathilde is no exception. Secrets and changing identities are at the heart of Lauren Groff's novel, which questions how well we can ever truly know the one we love.
The desperation underlying Josephine's willingness to work at data entry job — with a faceless boss, no less — is all too familiar for anyone who has graduated college in the past number of years. Any job is better than no job at all, right? In the gray-washed, regimented world Helen Phillips creates in her hauntingly slim novel, it may just be better to stay in the hinterlands and live out an isolated existence.
Darkly satirical and relentless, The Sellout envisions an America with striking similarities to the present taken to their extremes. Beginning in the Supreme Court for case "Me versus the United States of America," the nameless narrator explains what led him to re-institute slavery in his neglected hometown. It's an unconventional story that speaks to our larger cultural narrative that could only work through the writing of Paul Beatty.
On the surface, The Ghost Network is about the mysterious disappearance of superstar Molly Metropolis and the death of Cait Taer, the girlfriend of Molly's former personal assistant, Regina Nix. But it is the form the novel takes that makes it most interesting: framed as a found narrative, Catie Disabato writes herself in as the editor of the incomplete narrative by journalist Cyrus Archer, adding in footnotes and clarifications to his supposed book. You may found yourself holding your place, searching back in the text for clues. It's all part of the fun and mystery of this debut novel.
13. The Clasp by Sloane Crosley
Besides having one of the most eye-catching covers of the year, The Clasp stands out as a humorous and mad-cap novel involving three friends and a search for a valuable necklace. If this reminds you of Guy de Maupassant's classic short story "The Necklace," that's the point, where Sloane Crosley takes her cues from. More known for essays, Crosley's wit proves she is writer of all trades.
The world is ending, now, as we speak. But here is some important context first. The narrator of The Fifth Season, the first book in The Broken Earth series, takes a matter-of-fact approach — punctuated with 'ha ha's'—to end of the Stillness, or what this world knows as the singular continent set for shift, literal and figurative. The use of the second person places the reader right in the middle of N.K. Jemisin's latest endeavor.
15. Dietland by Sarai Walker
Plum Kettle lives a secluded life, ghostwriting replies to her editor's fan mail and focusing on saving for her weight loss surgery, until she encounters a strange girl seemingly shadowing her. Along with Plum, we're introduced to an underground society of vigilantes, decided to combating sexism, while in the outside world, men who mistreat women are terrorized and even killed. Fight Club meets Margaret Atwood in this absorbing thriller that weighs the expectations of society against one's own self-worth.
16. Find Me by Laura Van Den Berg
Staying in a hospital, supposedly for her own good, Joy is immune to an illness ravaging the population: first, it begins with memory loss, leading to death. Told in the present tense, Joy's search for meaning takes on urgency and immediacy as she eventually escapes, searching for her true past on a road trip across America. Known for her affecting and sparse short stories, Laura Van Den Berg's debut novel is a continuation of her remarkable talent.
17. Re Jane by Patricia Park
You don't need to be familiar with Charlotte Brontë's Jane Eyre to love Patricia Park's debut novel where the story is transported from Thornfield Hall to a brownstone in the Brooklyn Park Slope neighborhood, and later Seoul, Korea. The classic tale becomes a poignant and affecting look at adoption and family; it may be even more empowering than the original.
What goes into a book? How is it created? How do we assess and judge art? Commissioned by the Mexican juice company Jumex and written in collaboration with the Jumex factory workers and their feedback, Valeria Luiselli's second novel superficially concerns Gustavo 'Highway' Sánchez Sánchez, a storyteller who attempts to auction off the supposed teeth of Plato and Virginia Woolf. But under the surreal narrative are questions of the value of art and how authorship is never quite as straightforward as it seems.
The costs of war can become so overwhelming that it is difficult to know where to begin. While still relatively recent history, it isn't often that the civil wars in former Yugoslavia are discussed in detail. In Sara Nović's debut novel, she illustrates the toll of war, and the memories of it, on Ana Jurić. There are no easy answers to the questions that follow Ana, which makes for an all the more visceral reading experience.
A, who is dating C, lives with B in a two bedroom apartment where they spend their days watching TV. A is especially drawn to the commercials for Kandy Kakes, a chemically pure snack that eludes her on trips to Wally's, the supermarket chain. Confused? Don't worry, it's all part of the terrifying beauty of Alexandra Kleeman's debut novel that revels in exploring the body and its ultimate unknowability.
What happens after a spell is lifted in a fairytale? We aren't usually given more than the phrase "and they lived happily ever after." In this book of short stories, accompanied by haunting illustrations by Yuko Shimizu, novelist Michael Cunningham reveals another side to many classic tales like Rumpelstiltskin and Beauty and the Beast, where happy endings are hardly in sight.
Storytelling — religious and cultural — drives Under the Udala Trees, reminding readers how often the Christian Bible has been used to oppress and abuse the marginalized. As Ijeoma tries to find her identity during the Nigerian civil war of the 1960s, she finds her sexuality clashing with the forces of religion and familial expectations. A moving love story, Chinelo Okparanta reminds us that there is still much to be done for working towards full LGBT equality and rights.
23. Bright Lines by Tanwi Nandini Islam
Family, identity, and desire dominate and fill Tanwi Nandini Islam's debut novel, which focuses on the orphaned Ella, who lives with her uncle's family in Brooklyn. She is plagued by an infatuation with her cousin Charu and by her nightly hallucinations, both of which she keeps to herself. Traversing from Brooklyn to Bangladesh, Bright Lines is a beguiling reminder of how closely our pasts intertwine with the present and future.
As Delicious Foods begins, Eddie has no hands, but this doesn't stop him as he drives from a mysterious farm in Louisiana, in search of a way to free his mother from her servitude to the titular company and drugs. A tale of addiction, at one point narrated through the voice of a drug itself, James Hannaham's latest novel is an important work on the modern forces that bind and separate us, all at once.
25. Eileen by Ottessa Moshfegh
Self-loathing to the point of obsession, Eileen Dunlop may not be a "likable" character, but her all encompassing self-pity and largely perverse imagination propel Eileen forward into being one of the best and most compulsively readable novels of 2015. Feeling trapped in her secreterial position at a boys' prison in X-ville, as she calls her New England town, Eileen spends her days caring for her abusive and drunk father, while plotting to get away. Her obsessions with her body — and its functions — and the people around her, like the prison guard Randy, and later the enigmatic counselor Rebecca, are strung so tight that when the novel reaches its climax, you may have to step away to catch your breath. Brilliantly plotted, Ottessa Moshfegh's carefully observed and meticulous prose forms the narrative steam behind one of the most compelling unreliable narrators in recent memory.
Image: Pexel