The 9 Best Songs Of 'Empire' Season 2 So Far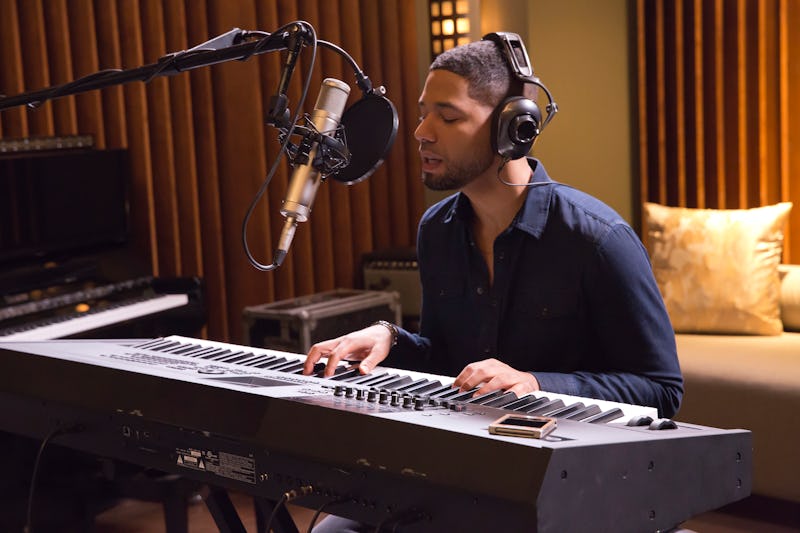 When it comes to watching the Fox primetime soap Empire, I tune in for the drama, but I stay hooked for the music. Now halfway through Season 2, Empire 's songs continue to bring it. The jams are what sets the show apart from other twisty-turny TV dramas. If Empire didn't put as much care into its soundtrack as it does into Cookie Lyon's wardrobe, then it wouldn't have the musical reputation that keeps fans streaming and downloading tracks even while the show is on hiatus. Season 2 is only hitting intermission, but Empire has already added a wealth of new ballads and bangers to its ongoing mixtape.
While the battle between Empire and Lyon Dynasty rages on, the creation never stops. Jamal keeps plugging away to capture a special and unique sound that expresses himself fully to his audience. Hakeem deals with his own embargoed album by mentoring a new girl group. Lucious exploits a raw talent to get revenge on his own family. And household name guest stars stop by almost every week to lend a couple of verses. These tracks are the best that Empire Season 2 has had to offer so far.
1. "Ain't About The Money"
Separated by their warring parents, Hakeem and Jamal agree to join forces on this single and video. The shoot is a spectacular disaster, while the song itself is anything but. Two or more Lyon brothers are always better than one.
2. "No Doubt About It"
This Jamal track featuring guest star Pitbull makes me want to fly to Miami, rent a Cabana, and put this on repeat while the mojitos flow.
3. "Mimosa"
While I hope you will agree that Mirage a Trois is a terrible name for a group, "Mimosa" is a sexy and fun single that puts the emphasis on the girls' talent and attitude, not their growing pains. Also, it's the musical celebration of drunk brunch that I never knew I needed.
4. "Battle Cry"
No Empire song list would be complete without an introspective ballad from the show's most sensitive, artistic soul.
5. "Dynasty"
Super-producer Timbaland has played a huge role in Empire's music behind-the-scenes since the show began. He steps out from behind the sound board to feature on a couple of Hakeem tracks this season, including this ode to Cookie's label.
6. "Same Song"
She may be a pawn in Lucious' plot to be the worst human (and dad) in the music business, but Freda Gatz lives up to the money he puts behind her budding career. Even if she does tank in her rap battle with Hakeem.
7. "Ready To Go"
Oh, sweet, naive Jamal. Always trying to make peace with his parents. His persistence pays off musically at least. Combining Lucious's beat and Cookie's live instrumentation, he composes a song that wins him a prestigious national Pepsi campaign.
8. "New New"
YouTube breakout Becky G guest stars as one of Hakeem's ingenue finds. She would have been a standout member of the Lyon Dynasty artist stable too, if Lucious hadn't wooed her away to prove his dominance.
9. "Powerful"
Sick of singing "sorority girl break-up songs," Skye Summers (Alicia Keys) takes Jamal's "be yourself" pep talk to heart and they duet on this deeply personal anthem. And then something else happens, but I don't want to talk about it.
Empire is going on its winter break, but these songs and the rest of the Season 2 soundtrack are around to keep you bopping in the meantime.
Image: Chuck Hodes/FOX