Kylie Jenner's BFF Is Now A Plus Size Model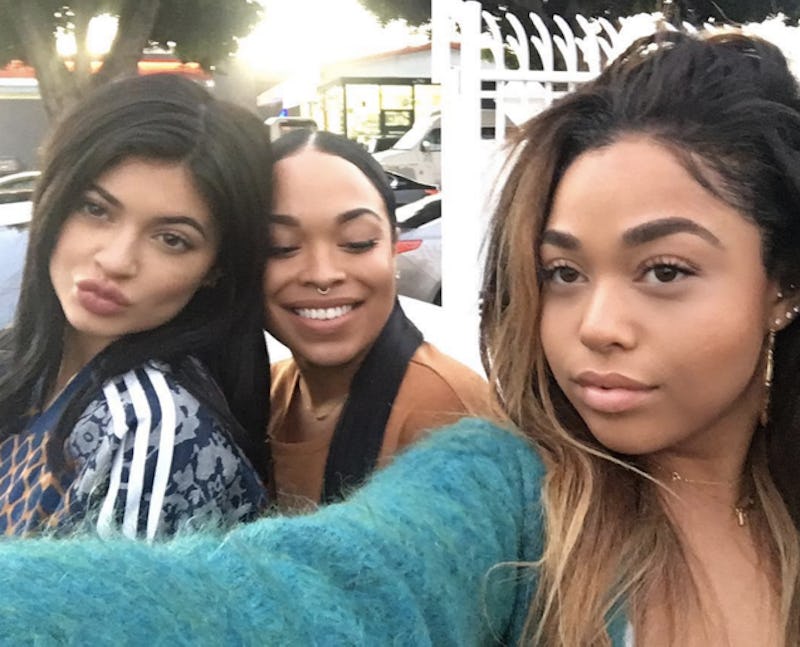 This year was an influential one for plus size fashion, and it just got a little more exciting. Kylie Jenner's best friend, Jordyn Woods is now a plus size model with Wilhelmenia, according to Teen Vogue, and she has big plans for her time in the spotlight. She's hitting the ground running and using her confidence, along with her new opportunity, to inspire girls to own their individuality. I'd say that's another major win for women everywhere.
Although Woods only has three photoshoots under her belt, she's got big plans and the confidence to back up those plans. In an interview with Teen Vogue's Tyler McCall, she talked about how she wants to completely change the way people see plus size fashion. The new model might only be getting started, but she's completely embracing the new experience.
"There's not a lot of clothes out there for girls that are bigger, there's not a lot of trendy things out there, and I want to change the way people look at the plus size industry," Woods told Teen Vogue. "I think it's awesome that it's finally taking off, and I hope to be a huge part of the reason why everyone feels unity and feels oneness."
While some models are using social media campaigns to make a difference, this 18-year-old is sticking to that tactic of just being herself. Woods has over a half a million Instagram followers and hopes to use her platform to show women that every body is beautiful.
Modeling isn't all she has planned, either. The teen has dreams of building an entire empire for herself (sound like anyone else you know?) with clothing and skincare items on her mind. There's no doubt in my mind that the ambitious model will turn her plans into a reality — especially with a BFF like Jenner on her side.
Just one look at her fabulous style and it's clear to see that she'll be a fashionable force to be reckoned with. From dresses to jeans, there's no style that this model won't try.
1. Glamorous In Jeans
Just look how Woods makes denim seem high fashion.
2. Body-Hugging Dresses
Woods loves her curves and isn't afraid to show them off.
3. Light Makeup
Being friends with Jenner clearly paid off when it comes to beauty, but she rocks natural-looking makeup with ease.
4. Lazy-Day Chic
She can even combine styles like a pro.
5. All Dressed Up
Just look at those lashes! This girl can clearly do it all.
6. Colored Hair
Like Jenner, there's no hair color that Woods can't pull off.
Fierce!
7. Adorable Athleisure
It's safe to say that she can do it all!
Want more beauty tips? Check out the video below, and be sure to subscribe to Bustle's YouTube page for more hacks and tricks!
Image: kyliejenner/Instagram