Ramona Could Find Love On 'AHS: Hotel'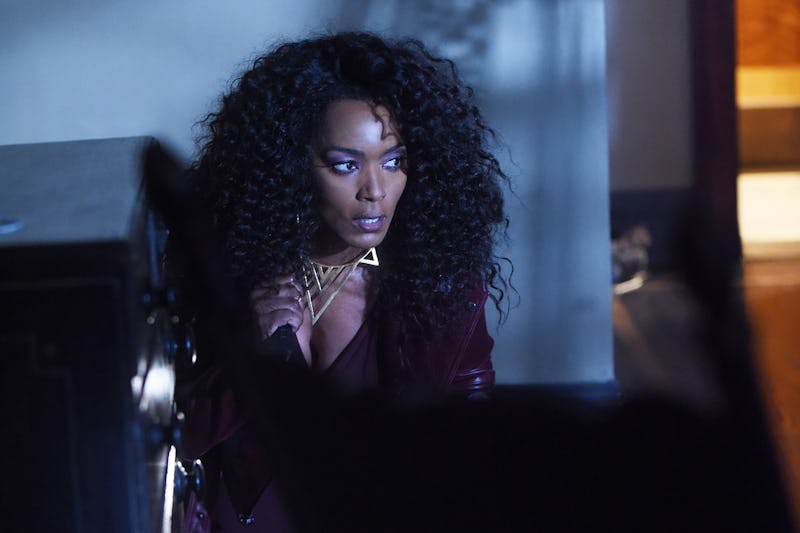 The Hotel Cortez is not the place to go searching for love. Even if you find it, there's a good chance that the Countess will slice your beloved's throat before you have the chance to make your relationship Facebook official. We saw that recently with Countess Elizabeth murdering Tristan for falling in love with Liz Taylor, and now it seems that there could be another couple that won't make the Countess very happy. Could Ramona and Donovan hook up on American Horror Story: Hotel ? This gorgeous duo might be getting frisky in an upcoming episode, and I doubt that the Countess will be pleased.
Ramona kidnapped Donovan shortly after Donovan's breakup with the Countess in order to punish the Countess for taking away (read: murdering) Ramona's one true love out of spite. As we know, the Countess isn't too keen on "sharing" her love interests, even if she has already emotionally detached from them and has moved on to a new prey. When Donovan informed Ramona that Lady Gaga's character no longer cared for him, Ramona decided to recruit the vampire into her revenge plot, which involved killing Elizabeth's white-haired vampire children and her biological child, the very creepy Bartholomew. The plan didn't work out (yet), which means that Ramona and Donovan will be spending a lot of time together.
And, according to Angela Bassett, who portrays Ramona, it might not be all friendly. Bassett hinted to Hollywood Life that Ramona and Donovan (Matt Bomer) may be doing something about their very obvious chemistry. "He comes in here, swiveling his hips, getting all up on a sister, all up in your grill," says Bassett of the potential coupling. Truthfully, could a more gorgeous couple exist?
Of course, this potential coupling begs one question: what will the Countess do if she learns that two of her exes are now getting it on with one another? She may have discarded Ramona and Donavan (and has made a real enemy of Ramona by killing her boyfriend) but that doesn't mean that she's content with the two of them loving (in any sense of the word) anyone but her. If this couple does come into existence, they may end up being yet another sword in the Countess' side, and at least one of them will have to go.
There's always the chance that Ramona and Donovan will be able to beat the Countess at her own game before she has the chance to off either of them. If Ramona and Donovan can threaten the lives of the children at the Hotel Cortez, then they may finally get the upper hand on the Countess — and find love in the process.
Image: Ray Mickshaw/FX