Sarah Oliver Handbags Knit Their Way To Your Heart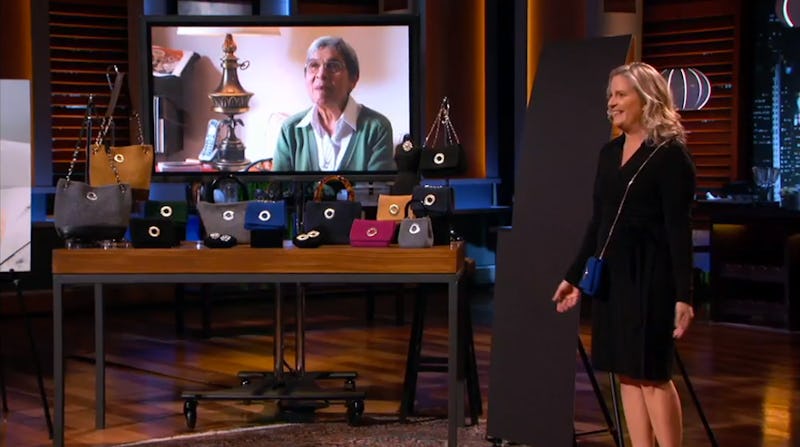 If you're a handbag lover like myself, the look, functionality, and overall quality of a potential purchase is probably of the utmost importance to you. You may even take the way the handbag was made into account before you decide whether or not to buy it. If that's the case, you're going to find Sarah Oliver Handbags especially intriguing when the company appears on Friday night's episode of Shark Tank .
You've probably never heard of a line of purses being manufactured in the way that Sarah Oliver Handbags does it. But once you learn about the whole process, it's sure to leave you feeling all warm and fuzzy inside.
Click Here To Shop The Sarah Oliver Handbag Collection
Though the story behind these handbags is sure to melt the hearts of viewers at home, it's of course going to be much more difficult to use it to charm the cold-blooded Sharks on this show. But if enough people have fallen in love with what this company is all about and have actually purchased its products, Sarah Oliver Handbags may in fact have the sales to back up the sentiment.
So what makes Sarah Oliver Handbags so special, you ask? Read on to find out why this company might be one of the most adorable to ever step into the Shark Tank, inside and out.
It's About More Than Just Handbags
As I mentioned before, I'm a sucker for a gorge purse, so this company had me at "handbags." Sarah Oliver Handbags makes and sells hand-knit purses in various sizes and colors. But since this company is appearing on Shark Tank, there's got to be more to it than that, right? Ding, ding, ding! We have a winner! Yes, the secret is in how these handbags are made. A group of senior citizens at The Redwoods retirement community in Mill Valley, California hand-knits a shell of each of the bags before founder Sarah Oliver designs the final products. In return, each knitter gets paid per piece, depending on the size of the bag. Since many elderly people like to knit for fun (that's the stereotype, at least), they might as well get paid for it, right?
These Are The Cutest Knitters You'll Ever See
You'll instantly fall in love with this elderly group of knitters, who call themselves the Purlettes +1, which refers to the knitting adage "knit one, purl two" with the plus one referring to the team's only male member, Hector. The Purlettes +1 often do their knitting together, which is just about as much like a Norman Rockwell painting as it gets. Not only do the Purlettes +1 make an exceptional product for people to purchase, but it also has a big impact on their lives, giving them some income during their retirement that they have used to get dental work done, treat their grandchildren, or even donate to a local scholarship fund for high school students, Oliver described to HLN in 2013. You can learn more about each of the members of the Purlettes +1 in the blog section of the Sarah Oliver Handbags website, but I have to warn you: reading about each of them will make you feel some feels.
The Founder Has Been A Lifelong Knitter
Sarah Oliver Handbags grew out of Oliver's lifelong passion for knitting. She grew up watching generations of her family knit, which led to her to create handbags for friends and loved ones just for fun. Oliver then decided to give selling her handbags at trunk shows a try, and the business took off from there. When it did, she realized that she didn't want to move manufacturing overseas, but she needed to find a way that she could ramp up production in the United States. Oliver decided to approach the activities director at The Redwoods, and the Purlettes +1 and a unique business plan was born.
It's Easy To Get Your Hands On These Handbags
You don't have to head over to The Redwoods and keep the senior citizens there company to get an accessory from Sarah Oliver Handbags, although I'm sure the residents would appreciate it. (You should now take this moment to call your grandmother, just sayin'.) Instead, you can buy several different designs that vary in price from the company's official online store. Sarah Oliver Handbags products are also available at several brick-and-mortar stores around the country in case you prefer to do things the old-fashioned way. Then again, that would be kind of appropriate considering how this product is made, no?
One Of Those Retailers Has A Famous Owner
One of the real-life retailers you'll find Sarah Oliver Handbags at is Hazelnut, a fine gifts and home decor boutique located in New Orleans. This shop is co-owned by Bryan Batt, who is perhaps best known for his portrayal as Salvatore Romano on Mad Men. Come to think of it, Sarah Oliver Handbags do have a very 1960s flair to them.
Martha Stewart Is Also A Fan
Click Here To Shop The Sarah Oliver Handbag Collection
Sarah Oliver Handbags was chosen as a 2014 Style Finalist in Martha Stewart's American Made competition. The contest honors makers, small business owners, and entrepreneurs in the fields of crafts, design, food, and style, as chosen by Stewart and the editors of Martha Stewart Living. Unfortunately, Sarah Oliver Handbags wasn't ultimately chosen as a winner, but getting any bit of recognition from the domestic goddess has got to be a big accomplishment in and of itself.
Images: ABC (2); Giphy (3)