Fashion Magazine Covers Were Pretty White In 2015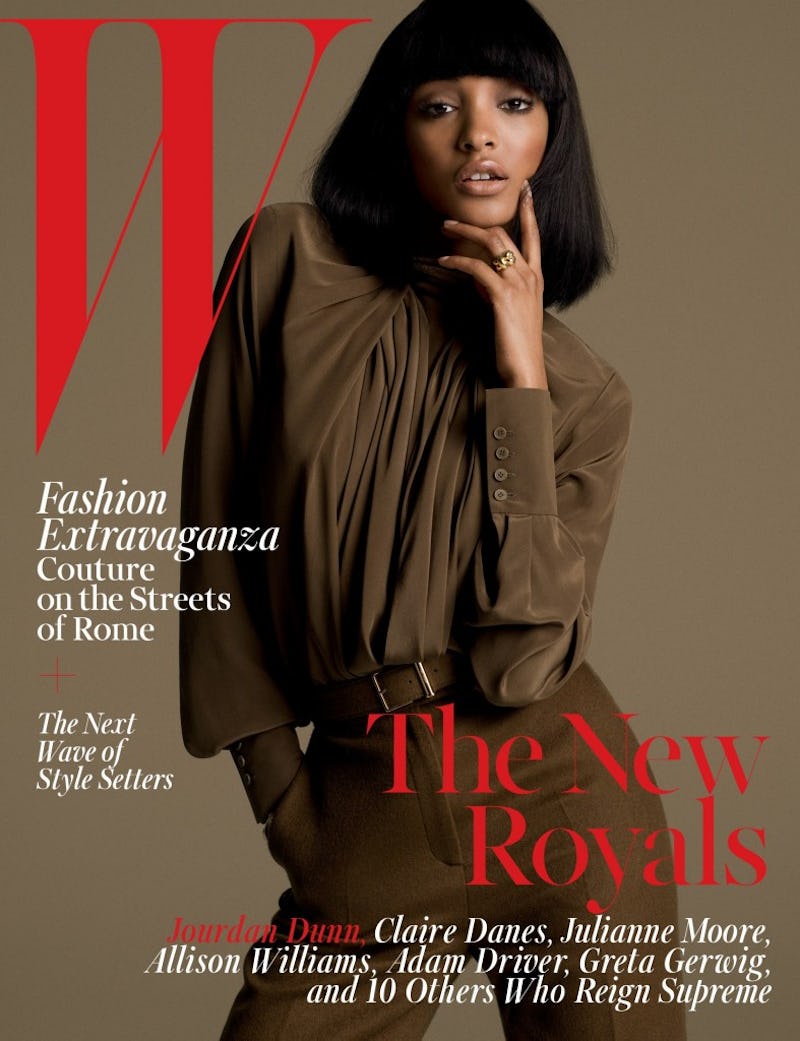 After only 19.7 percent of fashion magazines featured women of color on their covers in 2014, you would think that publishers would take that figure to heart and try to make more of an effort to include a more diverse group of models on their covers in 2015, but alas, that was not the case. According to a Fashionista analysis, only 19.8 percent of fashion magazine covers featured non-white models in 2015.
Fashionista looked at a total of 136 issues from the biggest fashion magazines including Allure, Cosmo, Elle, Glamour, Harper's Bazaar, InStyle, Nylon, Teen Vogue, Vogue and W, and only 27 of them featured non-white models on the covers (non-white in this context includes individuals who are mixed, Hispanic or Latino). Now, while you should keep in mind that fashion magazines tend to put people on their covers who have a big movie or album coming out at the time of the issue, it's still crazy to think that in 2015, non-white models are securing only about one out of five magazine covers.
InStyle Magazine had the most diverse group of models on the cover, with five total in 2015, whereas Nylon and Harper's Bazaar only had one non-white model on the cover in 2015. Not great. Here's the breakdown in order of most to least.
InStyle: 5
InStyle featured five women of color on its cover this year, including Mindy Kaling, Kerry Washington, Zoe Saldana, Eva Longoria, and Sofia Vergara. They must've made a conscious effort to feature more women of color after only having one non-white star on its cover last year (it was J.Lo).
Teen Vogue: 4
Teen Vogue comes in second with four non-white models featured on its cover throughout the year. While most magazines focus on celebrities, Teen Vogue uses more supermodels, so they have more flexibility to choose non-white models rather than be forced to feature white movie stars who have a big film coming out. Teen Vogue also featured Binx Walton, Zendaya and Imaan Hammam, Aya Jones and Lineisy Montero, who were all on one cover together.
Glamour: 3
Glamour's low number kind of surprised me a bit, as I always though they were more inclusive, but I suppose that just goes to show that if you don't think about it, you might find yourself featuring only white models. The May issue featured Michelle Obama and Kerry Washington, alongside Sarah Jessica Parker, Taraji P. Henson and Gina Rodriguez.
Allure: 3
Allure featured Taraji P. Henson, Salma Hayek and Jessica Alba on its cover this year, and boy did Taraji P. Henson look fabulous.
Elle: 3
Like most of the fashion magazines, Elle featured only three women of color throughout 2015. While 25 percent of covers is higher than the yearly total average of 19.8 percent, it's still not spectacular. Elle's cover stars included Ava DuVernay, Selena Gomez and Salma Hayek.
Vogue: 3
When Beyonce appeared on the cover of Vogue's September issue, the world cheered, because, duh, it's Queen B, but also because it was only the third time a black women was featured on the cover of Vogue's infamous September issue. Serena Williams and Lupita Nyong'o graced the other two issues in 2015.
W: 2
Only two women of color were featured on the front of W in 2015, one being supermodel Jourdan Dunn, the other being Taraji P. Henson, who has had quite the year, you must admit.
Cosmopolitan: 2
Cosmo's lack of diversity shocked me a bit as well, only having Demi Lovato and Nicki Minaj on its cover this year. Although this is a slight improvement from last year when the only non-white woman they had on the cover was Chrissy Teigen.
Nylon: 1
It's a little disappointing that Nylon had only one woman of color on its cover in 2015. I mean, Zoe Kravitz is super cool, but it would also be cool if they had a few more women of color on the cover.
Harper's Bazaar: 1
And last but not least, Harper's Bazaar only featured one woman of color on a cover in 2015 and that was Rihanna. Let's hope these publications make more of an effort in 2016!
Want more style tips? Check out the video below, and be sure to subscribe to Bustle's YouTube page for more hacks and tricks!