17 Bookish Ornaments For Your Christmas Tree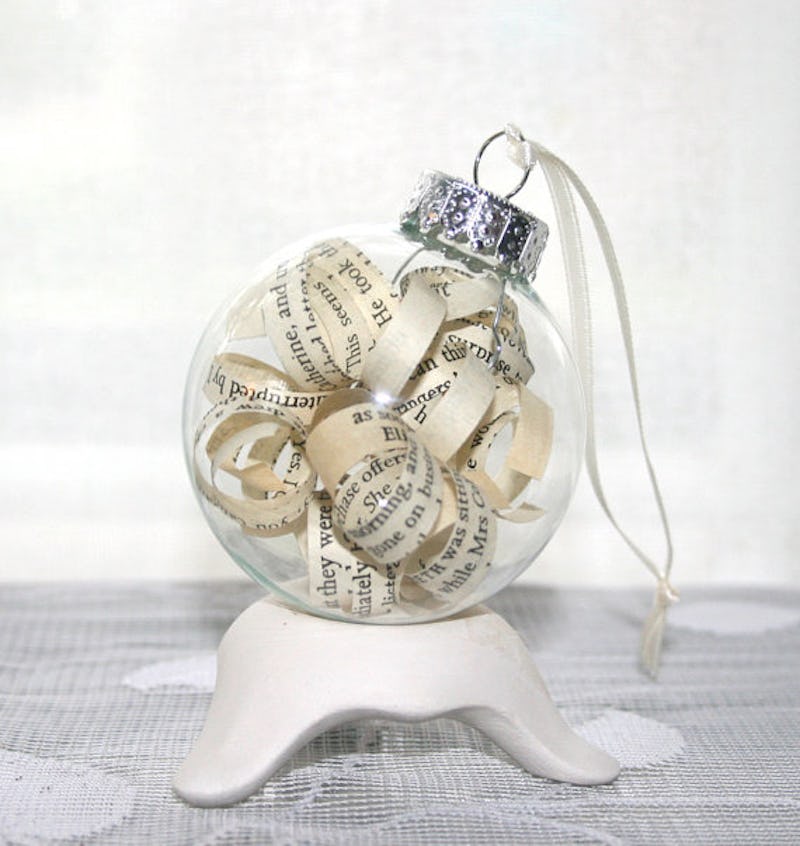 Last year, my boyfriend and I decided to buy our very first Christmas tree together, and as part of the new tradition, we decided to exchange ornaments. Instead of a couple of kissing animals or a silver heart, I was delighted (and a little surprised) to find that my man knew me well enough to buy me a bookish ornament for the Christmas tree. It was a delicate white orb hand-painted with the artwork of one of my favorite authors, Kurt Vonnegut, and it was the best gift I got that year.
If it were up to me, all holiday decorations would be book-themed., and I'm not just talking ornaments either. The traditional green wreaths would be replaced by an oversized book page wreath, and I'd exchange my mom's silver nativity scene with a Whoville figurine set, complete with the Grinch, Max, and a little Cindy Lou Who. I would even swap out my cut-and-trimmed evergreen with a Christmas tree made out of books, because if I had an entire tree made out of books, it wouldn't matter what presents went under it. Unfortunately, my love for books doesn't override my family's intense love of traditional Christmas decorations, so instead I have to sneak my literary-love onto the branches of the tree instead, and it's just about time to start decking the halls.
From your favorite children's book characters to origami book pages, here are 17 book-themed ornaments for a literary Christmas tree all you own.
Grinch Ornaments Collection, $13-20, Macy's
Grab one or grab them all, but make sure to include a Grinch ornament on your Christmas tree this year. It will go with your annual reading of How the Grinch Stole Christmas, anyways.
The Hobbit Book Ornament, $12, Etsy
Book covers can be stunning works of art, especially this one of The Hobbit, and especially when it's in miniature ornament form. The colors complement the brilliant green of the Christmas tree, too.
Jane Austen Decoration Doll, $15, Janeaustengiftshop.co.uk
Is it a doll, is it an ornament? Better — it's both! And you can also get Elizabeth, Emma, Darcy, and other beloved characters from the wonderful fictional world of Jane Austen. Get them all, we won't judge.
Goodnight Moon In The Great Green Room Ornament, $10, Amazon
Everyone has a favorite picture book, and if yours was Goodnight Moon , then your Christmas tree needs this ornament featuring reproduced artwork from the book. It's green, red, and very nostalgic. It doesn't get more Christmas-y about this.
Golden Snitch Ornament, $14, Artfire
There are dozens of Harry Potter-themed Christmas ornaments out there, from Hogwarts house-themed ones to Harry figurines, but these snitch lookalikes take the cake. Golden and winged, it's almost like they were made to become Christmas ornaments.
Ulysses Book Ornament, $3, Etsy
There is no better way to honor your favorite author than by adorning your tree with pages from their book. This glass globe filled with Ulysses book page ribbon is simple yet elegant, and it comes in Charles Dickens, Shakespeare, Walt Whitman, and much more.
Shakespeare Caricature Ornament, $20, Zazzle
Who could make your Christmas tree more dramatic than William Shakespeare? No one, that's who, and although this ornament doesn't come with blood feuds or star-crossed lovers, it does come with an adorable caricature version of the Bard, and that's good enough for this Shakespeare nerd.
Book Club Ornament, $9, Hallmark
Make all of your book club babes happy with the gift of an adorable ornament celebrating your literary gatherings. It's pink, it's sparkly, it's books. It's perfect.
Fabric Library Card Ornament, $12, Etsy
If you love books, then chances are you love the library, and even bigger chances that you have one or two lost "due by" cards lying around your house. Make them into kickass ornaments, or better yet, buy these handmade fabric ones for a Christmas tree your school library would envy.
Vintage Typewriter Ornament, $18, Grump's
Books and writing go hand in hand, and so will your annual Christmas tree decorations and this vintage typewriter ornament. It's perfect for both the reading and writer in you.
The Very Hungry Caterpillar Book & Ornament Set, $20, Joss & Main
Another ornament that honors a favorite from childhood, this The Very Hungry Caterpillar set even comes with a board book. Give it as a gift to a young one, or, better yet, keep it for yourself and pretend you're still a kid. You can never really outgrow picture books anyway.
Book Stack Ornament, $7, Amazon
A stack of books — this is the ornament staple that every true book-lover should have. You already have stacks on your night stand, on your bedroom floor, and on your many, many bookshelves, so why not have them in your tree, too?
13. Mini Leather Book Ornaments
Mini Leather Book Ornaments, $18, Etsy
These mini book ornaments are not only adorable, they're functional, too. You actually write in them and leave notes inside for your friends, family, or even for Old Saint Nick. You're never too old to write a letter to Santa, right?
Mockingjay Ornament, $18, Hallmark
If you thought Katniss's mockingjay pin looked good on her hunting jacket, wait until you see it hanging in all its golden glory in the branches of your tree. This ornament is so epic, it might even be tree-topper worthy.
Classic Alice's Adventures in Wonderland Ornament, $6, Etsy
From tote bags to framed prints, the art from Alice's Adventures in Wonderland looks great on just about everything, including your tree's branches. Add it to you ornament collection, and "It's the most wonderful time of the year" will take on a whole new meaning.
Read More Books Snowman Ornament , $14, Amazon
Show your guests how you really feel about books with this snowman ornament that knows what's really up.
Origami Starburst Book Ornament Set, $45, Etsy
The pages from books can be made into a lot of things, but these folding origami starburst ornaments are a stunning and unique take on book decor that will make your tree look literary and stunning. Just don't put them too close to the Christmas lights — they are paper, after all.
Image: noveladornment/Etsy