Ways To Organize Your Small Kitchen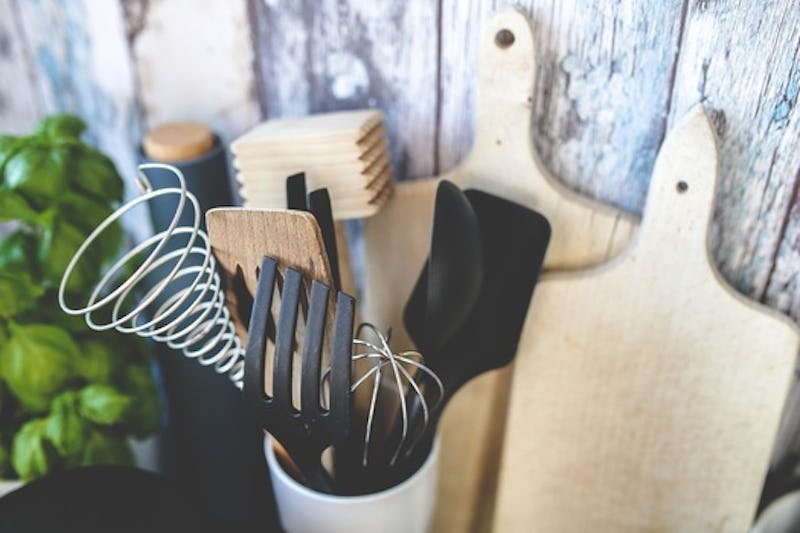 The luxury of having practical storage solutions for your home is slim to none. Having that extra cabinet space is like asking to win the lottery — it just ain't gonna happen. But just because your kitchen is small doesn't mean you have to get rid of everything you love and hold close to your heart. Minimum space is just a challenge that you can conquer. With a little bit of creativity and a few tricks, you can definitely find ideas to add that much-needed cabinet space in no time.
When I moved from Florida to New York, one of the first things I had to slim down on was kitchenware, because it seems like cabinet space is just a New Yorker's figment of their imagination. While I did minimize my stuff and get rid of the tower of tupperware that was hoarding in the back of my cabinets, I still needed to add additional shelves and hanging hooks so my kitchen didn't feel overwhelming. If you are moving to an apartment with a small kitchen and you don't know where to begin, here are some hacks you can use for your own kitchen to make it as Pinterest-worthy as possible.
1. Use A Wire Wall Grid
Wire Wall Grid, $59, Urban Outfitters
If you don't have room to hang up the shelves, try and purchase a thin wired rack to hang up lighter items. You can place it behind the stove or on a separate wall on its own. It adds texture to the room while still being stylish.
2. Buy A Bookshelf
Hancock White Bookshelf, $199, CB2
Instead of filling that bookshelf with books, use it to stack all your extra kitchen appliances. This trick will free up plenty of space in the kitchen with the three tiers and open shelving.
3. Use A Fold-Down Table
BJURSTA Wall-Mounted Drop-Leaf Table, Brown, $39.99, Ikea
These little guys are magic for when your kitchen is too small for an island but you still need some extra space to get work down. It's a great multi-use device that you can easily put away after when you are down. It's such a genius way to utilize a small space, you'd wish you thought of it sooner.
4. Don't Be Afraid To Stack
When you don't have a lot of space, stacking is the next best option for you. Keep everything organized by stacking similar cups and bowls together. This will work great especially if you have open shelving. It will keep everything looking pretty without feeling too cluttered.
5. Go High With Your Shelves
Ekby Mossby, Shelf, Stainless Steel, $29.99, Ikea
If your walls are covered or your kitchen is too small to have large shelves, there is usually a good amount of space close to the ceiling where you can place some shelves. It might seem like a lot of work, but ultimately, it's the best option when you don't have a lot of space to deal with. Plus, they look pretty awesome when they are put up high.
6. Hang Your Glassware Upside Down
Holman Entertaining Shelf, Wineglass, Black, $149, PotteryBarn
You've seen it done at your local bar and now you can recreate it at your home. Instead of using the cabinet spaces to store your stemware, let those babies shine by hanging them upside down, out in the open. You can go to your local hardware store to see if the piece can be made or purchase a wine rack at a home store instead.
7. Use Magnetic Strips
Magnetic Knife Bar, $49.95, Williams-Sonoma
Nothing feels better then when you know you have utilized every space possible. With a magnetic strip, you are able to have your knives all in a row and it looks pretty cool. No need to search for them in the drawers because they are hanging all nice and neat on the wall.
8. Stack On Top Of Appliances
Use whatever you are already offered. Your fridge and stove are great places to store extra items for when you don't have anymore room in your kitchen. You can place your cutting board and tea pot on top of the stove and a box full of extra gadgets on top of the fridge. Just remember to remove the items before you cook. We don't need any kitchen drama.
9. Add An Island
Threshold™ Stainless Steel Top Kitchen Island, $213, Target
If you have the room for it, you must add an island. It will not only give you more space to hold your extra kitchen gadgets, but it will be a great place to use for that much-needed extra counter space.
10. Use A Rod To Hang Your Pots
Bygel Rail, Silver Color, $2.99, Ikea
If you don't have the cabinet space to pile your pots and pans and prefer not to stuff all of them in the oven, then use a sturdy rod to hold all your heavy items. Hang them high to add some height to a small kitchen and try not to make it look too crowded by separating them or using another rod for those extra dishes.
11. Mount Your Own Shelves
Marble Wall-Mounted Shelf, $59.95, CB2
Even though you might not have the cabinet space, you probably have enough wall space to put some shelves up. I personally love the look of open shelving. It allows your dishes to shine in the spotlight and give some extra personality to a plain kitchen.
Don't let your small kitchen get in the way of making delicious food. With a few of these storage tips, you soon will be having more space than you can handle.
Images: Pexels; Clyde Robinson, jurek d./Flickr