Laugh At Ryan Gosling In 'The Nice Guys' Trailer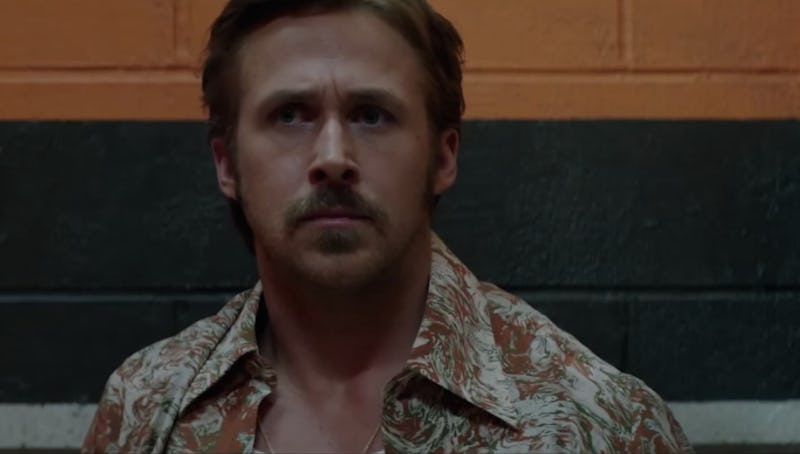 It's been a tough couple of years to be a Ryan Gosling fan. If, like me, you've been suffering with a severe case of Gosling withdrawal then you're no doubt just as elated as I am that his latest film, The Big Short is finally arriving in cinemas in the New Year (January 22). Let's all breathe a sigh of relief before we go any further, because we've got our boy back. With his Saturday Night Live hosting gig full of promise of combining comedy with total dreaminess, it seems only fitting that The Nice Guys trailer for the '70s-based comedy crime caper has landed and that Gosling naturally looks hilarious in it.
Starring alongside Russell Crowe, The Nice Guys tells the story of a muscle for hire, Jackson Healy (Crowe), forcing a struggling Private Eye, Holland March (Gosling) to join forces with him in unravelling the mystery of a supposedly dead porn star. Judging from the trailer, there's plenty of hijinks and shenanigans along the way, and plenty of comedic mishaps involving our two lead characters struggling in the face of true crime and being, well, generally inept for the job (more so in Gosling's case, Crowe seems to have his game totally together).
So let's take this opportunity to admire Gosling's lovely face whilst reveling in some of the funniest moments from the film's trailer.
1. Healy Employs Some Brute Force On March
March growls like a dog while attempting to stop him, but inevitably fails, resulting in a stunningly high pitched squeal which you'll feel awful for laughing at.
2. Caught With His Pants Down
After being attacked in his home, March is taking no chances and makes sure he's armed at all times. Including in a bathroom stall, with a cigarette in his mouth, cast on one arm, a gun in one hand, and a magazine in the other to, er, hide his private Gosling (sorry). Obviously, this set up does not go well.
3. "You're The Guy Who Beat Up My Dad"
By the looks of things, March has to do his detective dealings while also taking care of his daughter, whom he corrects in an awkward diner meeting with Healy: "He sucker punched your dad; big difference."
4. Sublimely Synchronised Comedy Timing
In what looks like the day from hell, March and Healy peak through some elevator doors just in time to witness a chaotic, blood thirsty showdown which they want no part of. March immediately vomits.
5. "You're The World's Worst Detective"
March's daughter has no faith in her dad whatsoever and doesn't sugar coat it for him.
6. Though She Might Have A Point
During a shootout, Healy asks for March to throw a gun to him. He misses completely, and it flies straight out the window. Good job.
7. March Celebrates Avoiding Death A Little Too Early
After falling from a building and landing safely in a swimming pool, March screams "I'm alive!," making himself the perfect target for the bad guy. Oops.
8. Summer 2016, Y'all
I'll drink to that.
I'm so excited, guys. Welcome back to the scene, Mr. Gosling. It's been far too long.
Images: MovieClipsComingSoon/YouTube (9)