A New Transmasculine Swim Top Is In The Works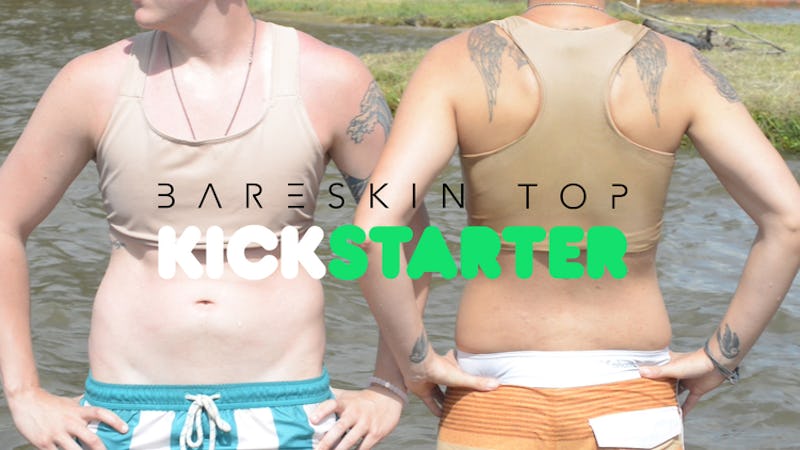 Fiercely committed to promoting and supporting gender fluidity in its non-binary and masculine customers is queer-friendly streetwear brand FLAVNT, as made apparent by its popular "Gender Roles Are Dead" tops. The brand's commitment to creating gender fluid clothing comes from a personal place for founders Chris and Courtney Rhodes, identical twins who identify as trans and lesbian respectively. As a result, the siblings understand the need for swimwear for non-binary and transmasculine people, and have started a Kickstarter to work towards creating just that.
Called the "Bareskin Top," the garment they've designed is essentially a skin-colored binder/sports bra-esque alternative to a conventional bikini top, coming in a variety of colors to reflect an array of skin tones.
"We've combined the silhouette of a traditional half binder and compression sports bra to create a comfortable top that binds but still lets you get a tan and feel closer to being shirtless than anything else out there," the founders wrote on their Kickstarter page.
With the Bareskin Top, masculine wearers can avoid potentially triggering traditional beachwear options, while stylishly enjoying fun in the sun with all the perks that come with wearing a binder. As a non-binary person, this sounds like a dream to me.
According to an interview with Refinery29, Courtney was inspired to create this design with her twin's own struggle in mind of "being unhappy with his options for swimwear." And this struggle is pretty universally felt by many who don't fall into gender norms or a cisgender female identity.
Realistically speaking, the swimsuit industry is quite limited for folks who were assigned female at birth, but who don't feel comfortable in feminine bikini tops. Speaking from personal experience, swimsuit shopping can be incredibly tricky if you're not wanting to show off your breasts. However, there are practically no options for swimsuit tops that are more masculine or have binding capabilities. So for many transmasculine and non-binary people, including myself, swimsuit shopping can be highly stressful with so few options available.
Since I prize fashion and aesthetics first and foremost, I always end up walking out of every swimwear shopping expedition with a bikini I'm not entirely comfortable with. And since the only alternative for masculine tops seems to be rocking a tee poolside (which I've done, but would never want to do again) I endure the self-consciousness and occasional dysphoria associated with the feminine swimsuits I always end up with on the eve of every summer. A solution to this issue is certainly crucial for myself and for those who feel similarly.
Funding of the "Bareskin Top" would mean a huge step in the right direction for gender fluid people everywhere, and help to dismantle the incessant body negativity associated with every swimsuit season. If FLAVNT's Kickstarter reaches its goal, the brand hopes to have these tops out in time for Spring Break 2016, spreading confidence to trans people everywhere.
And according to R29, if all goes well, the siblings will expand their swimwear line to include swim trunks with a built-in packing pouch for those who desire to achieve the masculine aesthetic below the belt as well.
If you're interested in contributing to FLAVNT's awesome goal, you can visit its Kickstarter here.
Images: Courtesy FLAVNT