2014 Oscar Nomination Snubs Make Us Wonder What the Academy Was Thinking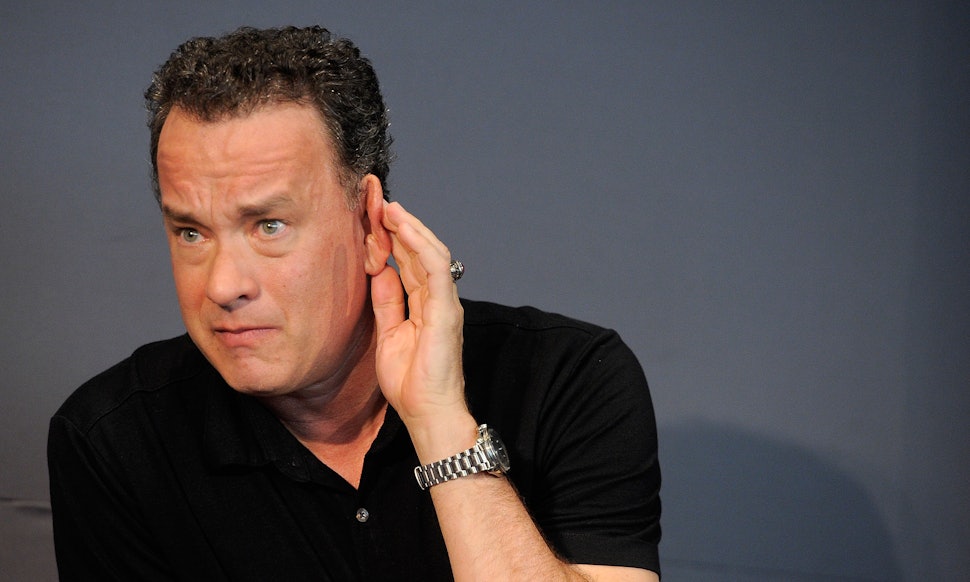 Jemal Countess/Getty Images Entertainment/Getty Images
Bright and early Thursday morning, Chris Hemsworth and Cheryl Bone, the president of the Academy of Motion Picture Arts and Science, announced all of the nominees for the 2014 Oscars. We learned two things: Hemsworth should announce everything always, and the Academy has a pretty bad collective memory.
That's the only explanation for some of the enormous oversights made this year, with excellent performances, directors and whole films left snubbed. The Best Actor category was especially frustrating, thanks to a year of excellent performances being whittled down to just five nominees. There are many missing names from the list of Oscar nominees, but here are the biggest, most upsetting snubs.
Image: Warner Brothers
Emma Thompson, 'Saving Mr. Banks'
Thompson deserves a Best Actress nomination for her portrayal of P.L. Travers in Saving Mr. Banks and some kind of award for her amazing Golden Globes speech on Sunday. Sadly, she has neither.
Image: Getty Images
Kate Winslet, 'Labor Day'
Many were expecting Winslet to land her seventh Oscar nomination for Labor Day, in which she plays a depressed mother who takes in a man who escaped from prison. She'll have to wait for next year before adding to her long list of awards.
Image: Getty Images
Tom Hanks, 'Captain Phillips'
Though Captain Phillips scored Best Picture and Best Adapted Screenplay nominations, its star was overlooked for his role as the titular captain of a boat taken over by pirates. At least first-time actor Barkhad Abdi was recognized for his supporting role.
Image: Getty Images
Michael B. Jordan, 'Fruitvale Station'
Fruitvale Station premiered to instant acclaim early in 2013, especially for its star. Jordan gave an amazing performance as Oscar Grant, a man who was killed by a police office in 2009. Though we're sad he was overlooked this year, it's safe to say the impressive 26-year-old will have plenty of other opportunities for an Oscar nomination.
Image: Getty Images
Robert Redford, 'All is Lost'
From a 26-year-old relative newcomer to a 77-year-old legend, this year's snubs were all-encompassing. We were shocked when Redford's name wasn't called for his performance in All is Lost. Not only is the man extremely well-respected in Hollywood, but he's the only actor in the film and acts against nothing but the ocean for its entirety.
Image: Getty Images
Joaquin Phoenix, 'Her'
I told you the Best Actor category was frustrating—we're not even close to done yet. Phoenix is easily one of this year's biggest snubs, as anyone who has seen Her knows. Maybe the Academy is still mad at Phoenix for his previous antics and general distaste for awards, but he still deserved one for his nuanced performance of a heartbroken man who finds love in a computer.
Image: Getty Images
Idris Elba, 'Mandela: Long Walk to Freedom'
Surprisingly, Elba wasn't nominated for his portrayal of the recently deceased Nelson Mandela. It was a crowded category this year, so can Elba at least go to the Oscars? Seeing him all dapper in the crowd is always fun.
Image: Getty Images
Forest Whittaker, 'The Butler'
Remember when there was speculation that 2014 would have a record-number of black Best Actor nominees? There were four men deemed frontrunners for nominations, so it seemed safe to say that at least three would be chosen. Unfortunately, we were all wrong, since Whittaker, Elba and Jordan were all snubbed, leaving only 12 Years A Slave's Chiwetel Ejiofor as a nominee.
Image: Getty Images
'Inside Llewyn Davis'
Missing from all of the major categories, Inside Llewyn Davis was snubbed for way more than just Best Picture. Star Oscar Isaac easily deserved a Best Actor nod, while Justin Timberlake was a top contender for Best Supporting Actor and the Coen brothers should've been considered for Best Director. The music also should've been recognized, especially in the Original Song category. Congratulations, Academy, you could've had Timberlake perform at the ceremony but you blew it.
Image: CBS Films
'Lee Daniels' The Butler'
Despite many predictions otherwise, The Butler didn't receive any Oscar nominations. Its leading man was overlooked, as was Oprah for her supporting role as the wife of Whittaker's character. With a cast that also included Mariah Carey, Lenny Kravitz, Cuba Gooding Jr., John Cusack, Robin Williams, Alan Rickman and even more, it might've been too star-studded for the Academy's taste.
Image: The Weinstein Company
'Fruitvale Station'
Putting aside any Michael B. Jordan-based bias, Fruitvale Station deserved some kind of recognition, especially for supporting actress Octavia Spencer and writer/director Ryan Coogler. At least, like Jordan, Coogler is still early in his career and will hopefully be recognized by the Academy in the future.
Image: The Weinstein Company
'Blue is the Warmest Color'
One of the biggest surprises came in the Best Foreign Language Film category—which is a surprise in itself. France's Blue is the Warmest Color did not pick up a nomination, despite being one of the most acclaimed and generally talked about foreign films of 2013. However, much of that talk focused on its graphic sex scenes, which may have put off some of the older Academy voters.
Image: Sundance Selects