21 Amazing Planners For 2016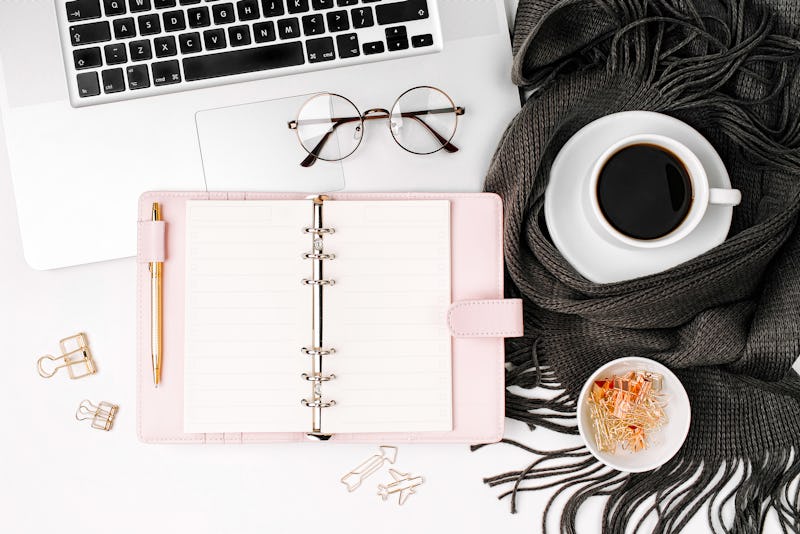 igishevamaria/Fotolia
With the new year fast approaching, you're likely not only figuring out your resolutions, but also searching for some of the best 2016 planners that will make for your most organized year yet. Admittedly, I'm not one of those people who gets overly excited about the beginning of a new year. I'm the type that sits home on New Year's Eve with sweatpants and ice cream. But, if there was anything that could manage to have me eagerly awaiting the arrival of a new date on the calendar, it's not confetti and champagne. Instead, it's a brand new planner. It's pretty much equivalent to the excitement of getting new school supplies when you were younger — there's nothing like the promise of a blank, fresh planner.
Needless to say, picking out my perfect planner for the new year takes some serious thought and consideration. And, I typically find myself perusing a bunch of different options before officially deciding on my ultimate organization companion for the new year.
So, for all of my other planner-obsessed comrades, I've pulled together 21 different planner options that are sure to have you looking forward to an amazing 2016. The biggest challenge will be picking out just one.
Girlboss Planner, $31, Etsy
With tons of funny, inspirational quotes, this planner is sure to motivate you to kick 2016's butt.
2. Scarlett Birch Floral Planner
2017 Scarlett Birch Planner, $34, Rifle Paper Co.
But really, could this planner be any prettier?
Kate Spade Floral Agenda, $45, Amazon
Kate Spade is basically the master of cute prints. So, it comes as no surprise that this planner is totally adorable.
Painterly Floral Day Designer, $59, Day Designer
From the queen bee of organization, Whitney English, this planner is sure to keep you on track for the new year.
Wild Washes Planner , $21, A mazon
This simpler planner will help you easily see what needs to get done any given week. Plus, it's about as thin as a notebook, so it won't take up too much space in your bag!
Customizable Daily Planner , $19, Etsy
Because who doesn't want a personalized planner? It comes in handy on those days when you're so busy you forget your own name.
Life Planner , $55, Erin Condren
You'll wonder how you ever lived without this super comprehensive planner.
Sugar Paper Planner , $27, Amazon
When it comes to planners, is there any print cuter than polka dots?
Monopoly Weekly Planner , $28, Fall N Design
Skip the plastic or cardboard covers. These little books look straight-up luxurious.
Plum Paper Designs Monthly Planner, $31, Etsy
These made-to-order planners are just what you need to conquer 2016 in style. Plus, you can choose your planner's start month, and kiss those wasted pages goodbye.
Stripe Planner, $21, Kate Spade
This black, white, and gold planner is sure to make for one bold and classy 2017!
12. Colorful Planner
Colorful Hidden Spiral Planner, $19, Paper Source
If you're looking for a colorful calendar, this option is just what you're looking for.
Moleskine Le Petit Prince Weekly Notebook Planner, $30, Amazon
Bookworm? You'll love this planner inspired by the famous French book.
14. Shoes Weekly Planner
Bold Shoes Weekly Planner, $15, Papyrus
Shoe lovers rejoice! Packed with photos of designer shoes, this weekly datebook will definitely put a smile on your face each time you open it.
Keep Calm and Carry On Weekly Planner, $6, Amazon
We could all use the helpful reminder to take a deep breath and move forward — especially on those days when our planners are full.
Design Your Life Back to Basics Planner, $40, Etsy
If you've been searching for a planner that will keep your entire life on track, this planner is just what you need. With everything from an expense tracker to a sleep tracker, you can record nearly every aspect of your daily life.
17. Sugar Paper 2017 Planner
Sugar Paper 2017 Planner , $15, Target
It's safe to say you'll never forget what year it is with this planner.
18. Mint and Gold Confetti Planner
Mint and Gold Confetti Planner, $25, Paper Source
Honestly, this planner just looks like one big party.
Inspiring Planner, $42, Anthropologie
With both weekly and monthly layouts, inspirational phrases, and a cute hand lettering style, this planner is sure to keep you motivated for the whole year!
20. Vintage Maps Weekly Planner
Vintage Maps Weekly Planner, $5, Papyrus
The vintage map on the cover of this planner is sure to remind you that you're going places this year.
Rosy Outlook Planner, $22, Anthropologie
There's a reason for this planner's "rosy outlook" name. With bold colors and cheery doodles inside, it's sure to brighten your day.
Images: Paper Source