7 Hilarious Hanukkah Memes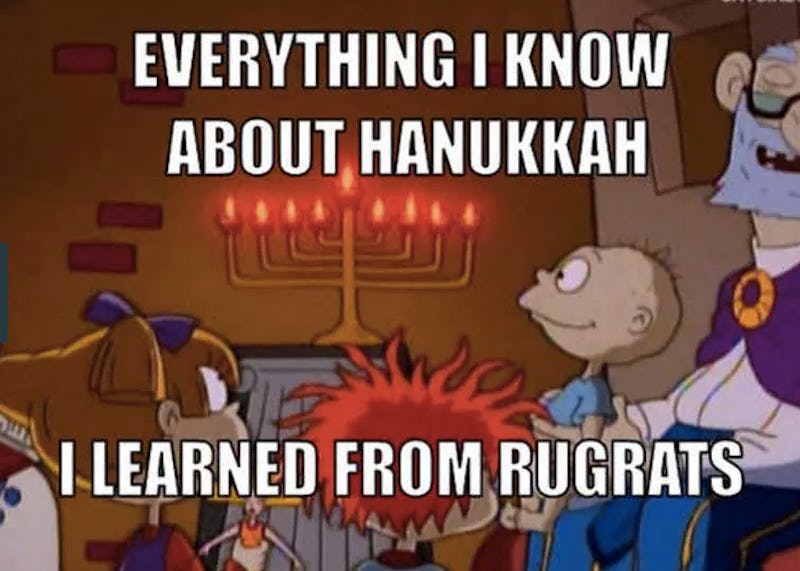 L'chaim, y'all! Hanukkah 2015 is officially underway, and just like with any other holiday, we here in the land of Internet observe the occasion by posting jokes made from pictures annotated with amusing captions. Keep the comedic tradition alive, and share these crazy funny Hanukkah memes with your main mensches this season. We can all share a few giggles with each other while we light the menorah, and drink a cold He'Brew: The Chosen Beer. Isn't the holiday season the best?
So, in the spirit of all things Jewish, let us continue in the hilarious tradition of the elders before us — like Julia Louis-Dreyfus and Larry David, for instance. No matter what you observe, the holidays are a time for people to come together and celebrate — and that includes plenty of laughter. (And P.S., if you're still looking for gift inspiration on what to get your lady-crew for Hanukkah this year, Ruth Bader Ginsburg's bio Notorious RBG: The Life And Times Of Ruth Bader Ginsburg just came out, and it's the best.)
Also, if someone could please teach me how to make latkes in the next couple of days, that would be more than greatly appreciated. Seriously, that's all I really want this holiday season. Happy Hanukkah, my friends!
No further comment necessary.
Pitcher Hideo Nomo, pictured, is not in fact Jewish, but his windup is pretty Dreidel-tastic.
This is like so attractive.
That Shiba pretty much sums it up!
LATKES.
Latkeeeessss.
Happy Hanukkah, everybody!
Images: Heavy.com; Jewish Federation of San Diego County; WeKnowMemes; DontMoveStationery/Etsy; Meme Generator; Memecenter; wanelo