7 Tips For How To Keep Your Lipstick On Longer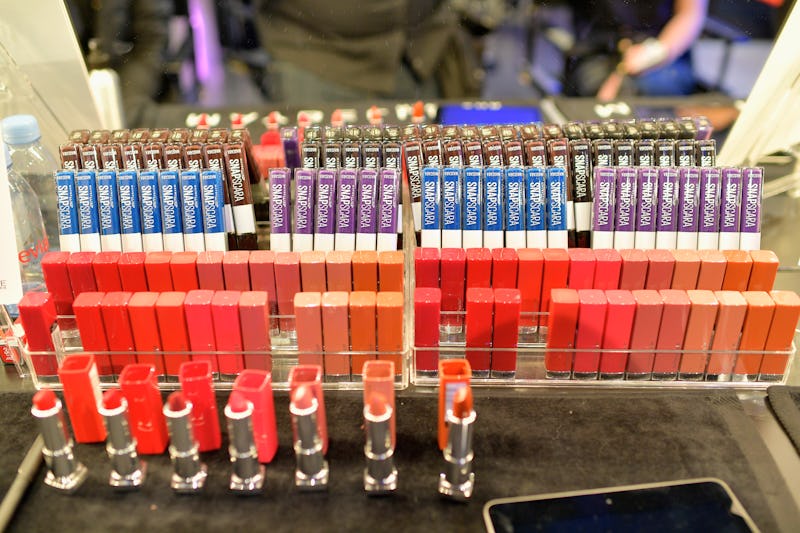 Roy Rochlin/Getty Images Entertainment/Getty Images
You know the struggle of trying to make your lipstick last: Coffee cup rims look like they've been made out with, white napkins have splotches of cranberry reds or smeared corals, no kisses can be given when you have your vampy shades slicked on, and we all know the struggle of having your lip liner peek through when you so much as eat a quick croissant on your way to work. It's enough to get you to develop an eye twitch. With all the applying, stroking, and quick-compact-peeking, it's a wonder we even bother with the stuff at all.
But seeing how a great lipstick can make a bold statement or tie an outfit together, the chances are strong we're not going to stop. So what we need is a battle plan on how to keep the stuff firmly on our lips and lasting all day. It might sound impossible, but there are a few tricks of the trade that'll give your favorite lipstick color longer life and won't leave you running to reapply every 30 minutes. Below are seven tips and tricks on how to keep your lipstick from fading — just imagine going through a whole coffee date without the stuff half-smeared away. Bliss!
1. Exfoliate
Vaseline Lip Therapy, $2, T arget
If you want your lippie to last, then you need to work with a good canvas. You can't have flakes and dry lips and expect your color to stick around.
Associate beauty editor Augusta Falletta shared with StyleCaster, "If you're able to exfoliate and keep your lips hydrated with Vaseline all night, that's the ideal first step, but sometimes that's just not possible. Dampen your lips and use an exfoliator, applying the product and rubbing lips gently with a toothbrush. Clean your lips with a damp washcloth once you're finished." Once you have your lips lightly scrubbed, slick on some Vaseline and wait till it sinks in before moving on to the next step. That way you have a clean workspace to work with.
2. Get Your Foundation Ready
Just like how you would apply primer to your eyelids before doing anything fancy with eye shadow, you need to put foundation on your lips to help your color stay all day long. Think of it this way: How long does your cat eye stay on an un-prepped lid and a primed one?
Makeup artist Ivy Boyd told lifestyle site Divine Caroline, "Pat a little foundation or concealer over lips. Don't entirely erase your mouth, but cancel out your lip's natural pink so that your lip color's true hue comes through. This also gives it a little something extra to adhere to. If you have a dark skin tone, this also helps enhance the lipstick's true color." Adding on a slick of foundation gives your lip liner and lipstick something to stick to, giving it a longer lifespan.
3. Choose The Right Formula
It also helps if you get the right lipstick texture — if you're having a hard time keeping your color past the first hour of wearing it, the formula might be the culprit.
Peter Philips, global creative director of Chanel Makeup, told Allure, "Many 'long-wearing' lipsticks are matte and can dry out your lips. I prefer to use a satin-finish, pearlescent lipstick such as Chanel's new Rouge Coco Lip Colours. Because the shine is created by pearl pigments and not by the texture, it's not as moist as a creamy lipstick and will therefore stay on longer." Try to pick tubes that aren't too creamy but not too matte, either, ensuring your shade will stay put.
4. Create A Barrier
NYX Wonder Pencil, $5, NYX Cosmetics
Before you jump into the lip liner stage, there's one step many of us miss: the reverse liner.
Boyd pointed out, "If you're wearing a bold lip color, outlining the outer edge of your lip line with concealer or the NYX Wonder Pencil will create a barrier to prevent bleeding. It's basically like installing a fence for your lipstick. Outline and tap softly with your finger to blend." By outlining your lips with the reverse liner, you're making sure your lipstick won't smudge as you're drinking your takeout coffee or nibbling on your lunch. It keeps it all in one place.
5. Don't Forget The Lip Liner
If you never use lip liner with your lipstick, then that's a huge reason why your color won't stay in place. Not only does it punch up the shade in the tube, it helps mask wearing-off lipstick because it doesn't wipe away as easily as a creamy formula.
Professional makeup artist Anna Rose told lifestyle blog A Beautiful Mess, "Fill in your entire upper and bottom lip with liner. This is an important step. Lip liner is drier than lipstick and will adhere to your lips, which will help the color stay, even if your creamy lipstick formula wears off." This is especially helpful if you have a bold lip color, so make sure each of your shades has a lip liner partner.
6. Grab That Powder!
Now that your lips are primed and colored in, you'll need to find a way to keep it all in place. All you need is a tissue and some powder to make that happen.
Rose suggested, "Take your tissue and pull it apart so you only have 1 ply. Lay it over your lips and powder on top of the tissue. This will let a small amount of powder will set your lipstick without it looking dry or dulling the color!" Just like adding powder over your foundation, it'll help the color stay put and from soaking in too quickly.
7. Blot
To make sure you don't have any unnecessary oils on your lips that'll help the color slide away, make sure you blot between each stage.
According to beauty writer Evangeline Sarney at Huffington Post, "Blotting is one of the most important steps in ensuring that your lip color lasts, but there is a key to doing it. Rather then biting the tissue or sticking it half way inside your mouth, kiss the tissue gently or rub the tissue over your lips. Doing it any other way can cause your lip color to fade unevenly and look patchy. You should blot after each step you do in the preparation and application of your lip products. (Try using an oil-blotting sheet instead of a tissue. It will work much better and won't leave lint on your lips!)" Using this technique will make sure you're giving that poppy color a fighting chance!
Follow these steps and you might just notice your lippie staying on well past lunch or onto the second round of drinks. While there's no secret that'll keep your shade completely in place, these tips will at least cut down on the reapplication runs to the bathroom — which I don't think any of us will miss!
Images: Courtesy Brands; Fotolia