A Queer Girl's Guide To Holiday Book Gift Giving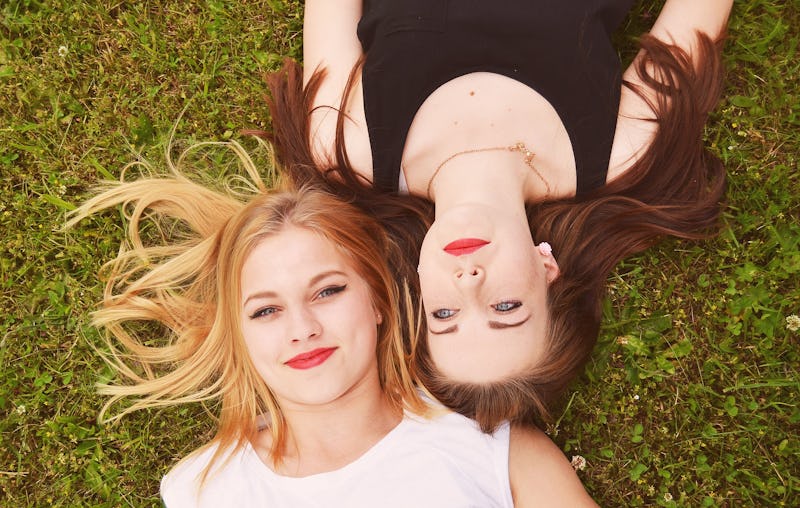 It's that time of year again, and you're trying to figure out what books to give people as presents. Holiday book gift giving is always fraught ("How can I give them just one book? I read so many good ones this year!"; "What do you give to a girl who has read everything?"), and this is especially true for queer women with a shopping list full of family and friends who might not generally gravitate toward books with queer content and themes. To be clear, these people aren't averse to reading books about lesbians. They just haven't found the right one yet. And who better to introduce them to the great (and the not so great) lesbian books out there than a lesbian herself?
So I've created a gift guide for all the queer girls who want to give books this holiday season but aren't quite sure which ones will work for their family and friends. This gift guide of 27 books has something for everyone: fiction, poetry, graphic novels, and young adult books that have the potential to appeal to a wide range of audiences and just need the right lesbian to put them in the hands of the right reader.
1. For Anyone With Residual Daddy Issues: Fun Home by Alison Bechdel
Fun Home is one of those books everyone should read, period, but if you're looking to tailor your book-giving this year, wrap Bechdel's brilliant graphic novel for the people on your list who have unresolved issues with their fathers.
2. For That Girl Dating Her Professor: Olivia by Dorothy Bussy (née Strachey)
A lesser-known work by the late Dorothy Strachey, Olivia is a slim book about a girl who falls in love with the Headmistress of her boarding school, as you do. It's one of only a handful of novels that truly captures the allure of teacher-student romances and will remind you of when you were young and had a crush on your favorite teacher.
3. For A Girl You Like: If Not, Winter: Fragments of Sappho translated by Anne Carson
Because there's nothing like the gift of Sappho to tell someone that you're a lesbian and you want to lesbian together.
4. For The Friend Trapped In A Toxic Relationship: Sita by Kate Millett
Kate Millett wasn't just the brilliant mind behind 1970s feminist classic Sexual Politics. She was also an artist and an activist and wrote this book about the years she spent living in Berkeley with the mercurial title character, Sita. Theirs was a long, drawn-out love affair tainted by jealousy and betrayal, but damn if Millett didn't write about it in the most excruciatingly beautiful prose.
5. For College Students Still Figuring Themselves Out: Stir-Fry by Emma Donoghue
Many readers will be familiar with Emma Donoghue's work from the award-winning Room (now a major motion picture), but queer girls and college students should read her first novel, Stir-Fry, about a 17-year-old student living in the heart of Dublin.
6. For Those Girls Who Still Love Disney Princesses: Ash by Malinda Lo
The Cinderella story was in desperate need of a reboot, and Malinda Lo delivered it in this lovely YA novel about Ash, a young woman who in the wake of her father's death finds solace in Kaisa, the King's Huntress (Lo's version of the prince). As groundbreaking as it is genre-bending, Ash is essential reading for anyone who loves fairy tales, fantasy, romance, and anything in between.
7. For White People Who Want To Be Informed About Inclusive Feminism: Ain't I a Woman by bell hooks
bell hooks is a force to be reckoned with: a writer, an activist, and a black woman working toward a more inclusive idea of feminism. She literally wrote the book Feminist Theory and is well-known for eschewing the use of capital letters when writing her name.
8. For That Hot-As-Hell Transman: Body Alchemy by Loren Cameron
There are many incredible books out there by, for, and about transmen, but none quite as stunning as Loren Cameron's Body Alchemy, a collection of photos and essays about men in transition that makes readers rethink their ideas of beauty and masculinity. It's a remarkable book that everyone should keep on their coffee table.
9. For Anglophiles And BBC Addicts: Tipping the Velvet by Sarah Waters
Sarah Waters has long been writing Victorian novels with a lesbian twist, and Tipping the Velvet, with its music halls and male impersonators, is the first and, IMHO, best of them.
10. For Fundamentalist Christian Households: Oranges Are Not the Only Fruit by Jeanette Winterson
Winterson has written about her fundamentalist Christian upbringing a couple of times, but never quite as powerfully as in the semi-autobiographical novel Oranges Are Not the Only Fruit, which sees a young Winterson undergo a harrowing exorcism for no reason other than that she likes girls. It's possible that the heads of the fundamentalist Christian household who receive your gift won't understand it, but you never know: you just might help their children see the way out.
11. For The Wild Child In The Family: Rubyfruit Jungle by Rita Mae Brown
Is there any novel wilder than Rubyfruit Jungle? Its protagonist, Molly Bolt, kisses a girl the first time in sixth grade, has an affair with her (male) cousin, seduces a cheerleader, gets a scholarship to go to college, then gets kicked out for having an affair with her alcoholic roommate and winds up moving to New York. (Its title also references another term for "honeypot.")
12. For Any And All Genders: Orlando by Virginia Woolf
Would that we could be like the title character of Orlando, who's born a nobleman in Elizabethan England, ice-skates with a Russian princess, keeps company with poets, and undergoes a magical sex change at age 30, which allows her to spend 300 years writing a single poem; oh, but all the books we would read if we had that kind of time. (Added bonus: Tilda Swinton plays Orlando in the film. So. Get on it.)
13. For Those Planning A Road Trip: The Price of Salt by Patricia Highsmith
It's no wonder that The Price of Salt inspired Todd Haynes's recent film Carol : with its themes of forbidden desire, submerged catastrophe, and unexpected luxury, it's the perfect book for Haynes and lovers of Highsmith's oeuvre alike. If you enjoyed The Talented Mr. Ripley, you'll love this.
14. For Your Best Friend: Fried Green Tomatoes at the Whistle Stop Café by Fannie Flagg
An endlessly charming novel that inspired an equally charming film adaptation, this novel is best read in Alabama with a plate of ribs and a side of fried green tomatoes (just don't ask them what's in that barbecue).
15. For Girls Named Annie: Annie On My Mind by Nancy Garden
When Nancy Garden introduced YA readers to lesbian characters in 1982, she changed the genre forever and made books like Lo's Ash possible. Though it was publicly burned in Kansas in 1993, the novel has since gone on to become a classic of both YA and LGBT literature.
16. For Gifted Children: Empress of the World by Sara Ryan
Featuring 21st Century archetypes like the Manic Computer Chick, the Nice-Guy-Despite-Himself, and the Inarticulate Composer, Empress of the World takes us inside the world of the nation's best and brightest high school students and shows us what young love is really like.
17. For Fans Of Little House On The Prairie: Patience and Sarah by Isabel Miller
Originally self-published and hand-sold on the streets of New York City, Patience and Sarah is a classic of queer literature, having won the first ever Gay Book Award from the American Library Association in 1971 with its tale of a painter, Patience, and a farmer, Sarah, who live together in a small puritanical farming community in New England.
18. For People With Pen Pals: The Color Purple by Alice Walker
Epistolary novels had largely fallen out of favor by the 1980s, but poet Alice Walker rejuvenated the form with a novel about a black uneducated woman who's not afraid of talking about sensitive issues like sex, class, race, and trauma (and won both the Pulitzer and the National Book Award for her trouble).
19. For WWII-Buffs: Aimee & Jaguar: A Love Story, Berlin 1943 by Erica Fischer
Based on a true story, the novel follows Lilly "Aimee" Wust and Felice "Jaguar" Schragenheim, a gentile and a Jewish woman struggling to survive in Nazi Germany, where they must hide their love from friends, family, and Aimee's husband, an officer in the SS.
20. For That Kid Dreaming of New York City: Beebo Brinker by Ann Bannon
A pulp novel if there ever was one, Beebo Brinker is the fifth and final novel in a series about the title character, Beebo, who finds herself wandering the streets of Greenwich Village after leaving her family farm in Wisconsin. With characters like Beebo Brinker and Venus Bogardus, this pulp novel is sure to delight.
21. For People Into Vampires: The Gilda Stories by Jewelle Gomez
Perhaps the only other novel on this list that can compete with Rubyfruit Jungle in terms of sheer wildness, The Gilda Stories together weave a tale about race, sex, and monstrosity as it charts the journey of an escaped slave who falls in with a coven of vampires in the 1850s.
22. For Biohackers: Slow River by Nicola Griffith
Like Blade Runner but lesbian, Griffith's Slow River opens to the main character waking up in an alley where she's been dumped, naked and bleeding, after thieves steal her identity implant. She's rescued by a character named Spanner, which cements the novel as a science-fiction masterpiece.
23. For Self-Proclaimed Dirtbags: How To Grow Up by Michelle Tea
Everything Michelle Tea writes feels dirty and necessary, and How To Grow Up is no exception. It's billed as a how-to guide but is at heart a self-exploration, like Tea's Valencia, that tracks her journey from self-proclaimed "dirtbag" to full-fledged grown-up with a partner and a one-bedroom apartment to her name. It's also a potent reminder that you don't need an MFA to make it as a writer.
24. For People Into Zines And Comics: Awkward & Definition by Ariel Schrag
A graphic novel about high school drawn while the author was in high school, Schrag's Awkward and Definition introduces readers to a major talent and artfully recounts Schrag's real experiences in ninth and tenth grade.
25. For Recent Divorcees: Desert of the Heart by Jane Rule
The book that inspired one of the best lesbian films ever, Desert of the Heart is the story of an English professor who travels to Reno for a divorce and meets a young woman 15 years her junior who works at a casino and teaches her the ways of love. Seriously, though: see the movie.
26. For People Who Need to Start Dating Already: The Well of Loneliness by Radcliffe Hall
One of those classic books you're required to read even though it's actually quite dull, give this to someone who's been putting off dating again and needs a good kick in the pants. (Fun fact: this is definitely the novel Kerry Weaver gives Kim Legaspi in ER right before they get together.)
27. For Your Ex Because You Can't Stop Thinking About Her: Nightwood by Djuna Barnes
Hailed as a Modernist masterpiece and championed by T. S. Eliot himself, Nightwood is a searing exploration of love's hostilities. Set alternately in Vienna, Paris, and America, the novel shows us the passionate beginning and the slow decay of the love between Robin Vote and Nora Flood. It's a novel so good it'll leave you shaking and so rich it warrants multiple readings.
Image: nikolapeskova/Pixabay