'Carol' Is A Feminist Dream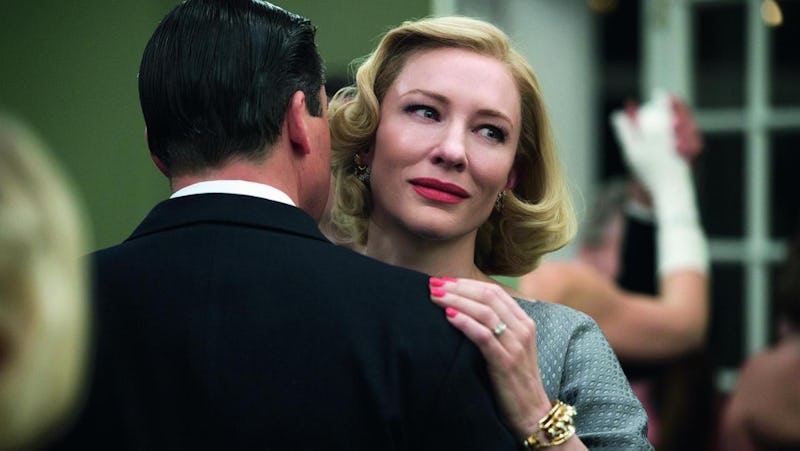 One of the coolest things about 2015 having so much female-driven entertainment (finally!) is that for the first time in ages, the upcoming Oscar season will likely be filled with movies starring, directed by, and written by women. From Room to Brooklyn to Joy, so many of the most prestigious films released this year are female-driven, a huge change from years like 2014, when all of the Best Picture nominees were male-led stories. Carol, in particular, is notable; not only does the period piece star two women (Cate Blanchett and Rooney Mara) as lesbians falling in love, but it's made primarily by female filmmakers, too. So it's a bit of a surprise that Carol is directed by a man, Todd Haynes — but according to screenwriter Phyllis Nagy and producers Christine Vachon and Elizabeth Karlsen, he couldn't have been a better choice for the undeniably feminist film.
"We're very aware of wanting the industry to be diverse in terms of gender and race, and that's a big focus for us and big objective to achieve," Karlsen tells Bustle. "But Todd just felt like he was the director who would realize the film in the most beautiful way, both aesthetically and emotionally."
Adds Nagy, "I felt like this material was absolutely for Todd... whether or not he's a female."
Haynes, best known for the Oscar-nominated films Far From Heaven and I'm Not There, might have made his best film yet with Carol , a gorgeous, heartbreaking tale of two women's illicit romance in the 1950s (in theaters now). Starring Blanchett and Mara, alongside Kyle Chandler and Sarah Paulson, the film is one of the year's most acclaimed, for, well, everything: its acting, its writing, its direction, even, simply, its existence. Yet according to Nagy, Vachon, and Karlsen, getting Carol to the screen was no easy process; according to the trio, plans for the movie began over a decade ago. Thanks to the loss of a few directors, the replacement of a few stars (Mia Wasikowska was originally slated to play Mara's Therese, Nagy says), and some events that all three say were out of their control, Carol dragged in production for years. Yet now that it's finally being made, the trio couldn't be happier; all of them say the movie's current version is the only one they've ever wanted to see.
"I don't think that even at a fantasy filmmaking level, I could've possibly conceived of a better group of people who just really are the top of their game in front of and behind the camera," says Karlsen.
They all credit the movie's original creator, Phyllis Highsmith (the film is adapted from her 1952 novel The Price of Salt ) as a huge inspiration. Karlsen says that when Nagy introduced her to the author's work, she was "immediately grabbed by this seminal love story," thanks to its rare portrayal of a lesbian romance. Yet making it into a film wasn't so easy. Even once they overcame its casting and direction hurdles, there was the issue of budget. Carol was reportedly made for just $11.8 million, a fairly small amount for a Hollywood film, and as Vachon puts it, "I'd say all of our ambitions for the film were considerably bigger than the means."
For some of the filmmakers, particularly Nagy, there was the bigger worry of doing right by the novel, especially after so many years had gone by since the initial possibility of Carol being adapted. Karlsen recalls how even when everything in the production started to fall into place, Nagy was hesitant to be involved, after all the dashed expectations that had already ensued. Says Karlsen, "It was as if she had a lover that had hurt her one too many times, and that lover was the novel." Adds the screenwriter, "I didn't know if I could really enter into that space again." Yet eventually the producer was able to "woo" Nagy to come on-board, even though she herself was terrified, she recalls, of letting both Nagy and Highsmith's publisher down.
But it was seeing firsthand what Haynes' vision for Carol was that truly put Nagy at ease. For the writer, it was the first time she'd ever felt that she could deliver a script to a director, and know that whatever happened in-between, the resulting film would be one she could be proud of.
And all three of the women say they are extremely proud of the film, a movie unlike any other made this year, or really, any year in recent memory. Carol is a breathtaking movie, and while it may not have had the easiest journey in getting to the big screen, the end result is something unforgettable.
Images: The Weinstein Company; Giphy (2)