How Did 'Jessica Jones' NOT Get A Golden Globe?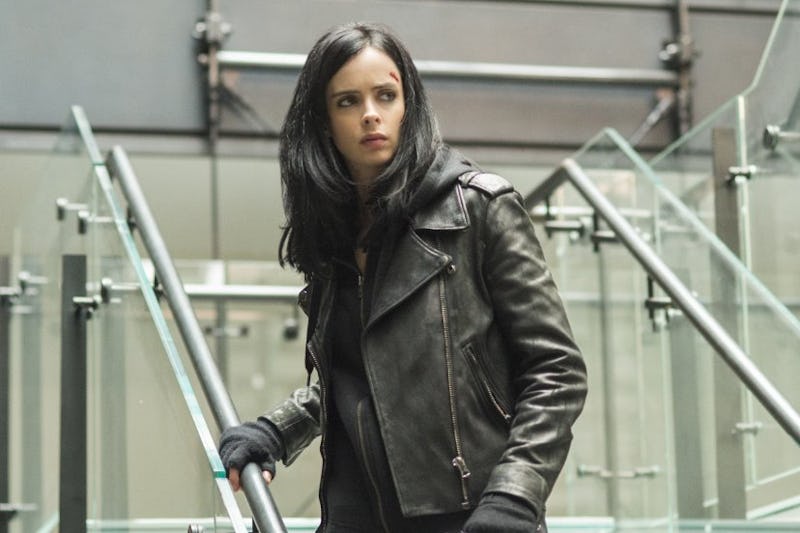 I watched Jessica Jones over 48 hours when it came out, and despite (or perhaps because of) the marathon watch, it was still a highlight of my TV-watching year. So I was as shocked as anyone when Jessica Jones and its incredible cast including Krysten Ritter and David Tennant weren't among the nominees for the television drama awards at the Golden Globes Thursday morning. Netflix's newest superhero show is a rare show that lives up to — and exceed — its hype: It's subversive, empowering, and offers a rare candid look at partner abuse and intimate violence, and it's all examined by proposing what it might look like if a really crazy ex were also actually a supervillain. So why wasn't Jessica Jones among the Golden Globe nominees on Thursday?
First off, Jessica Jones was eligible. Any show that aired during the calendar year 2015 can be submitted for nomination, so, even though Jessica Jones aired well after the Oct. 30 submissions cutoff date, Netflix could have sent in the entry regardless. But that might have been a risky move on their part, given that it hadn't aired yet, and the court of popular opinion hadn't yet had its say. (The response to Jessica Jones has been incredibly positive, spawning thinkpieces and devoted fans expressing their pleasure via social media.) And perhaps even by Oct. 30, less than a month before the series aired, Netflix was still fiddling with the final edit. Who's to say? The streaming network is notoriously secretive (as are all companies involved with Marvel), going so far as to keep its streaming numbers for even its biggest shows under wraps.
It comes as a surprise to many of us that Jessica Jones wasn't nominated. Indie Wire predicted a nomination for Krysten Ritter for Best Actress, and, given the great cast that supports her, a Best Series nomination wouldn't have been out of the question. Still, the first season is early for a show to be recognized, and so, perhaps, it might meet more success — and more awards — with later seasons. Fan-favorite Game of Thrones didn't win in its first season, either, though Orange is the New Black received some awards season love in its first season when lead actress Taylor Schilling was nominated, but didn't win. But it could also be due to the Golden Globes' reluctance to credit genre shows. (Jessica Jones is so, so much more than a genre show.)
Between Orange is the New Black, Daredevil, and Jessica Jones, Netflix was responsible for some of the finest television of the year. I'm glad that OITNB is getting the recognition it deserves, between its nominations for Best Comedy Series and Best Supporting Actress (Uzo Aduba). And, given how late Jessica Jones premiered this year, it's not too much of a surprise that it didn't gain enough momentum to earn a coveted spot among the nominees. It's a pretty diverse crop this year, featuring series from Outlander to Flesh and Bone, and How To Get Away With Murder to Game of Thrones. Maybe next year, once Jessica Jones is more established (and, fingers crossed, with a new order of episodes to tear through), it'll be more awards-season ready. Because Krysten Ritter really, really deserves all of the awards.
Images: Netflix (2)